During a trip to Pakistan for her brother's wedding, a 13-year-old Naila Amin found herself stuck in a forced marriage to her adult cousin in a traditional nikah ceremony.
Amin's uncle, claimed her for his 21-year-old son when she was only eight years old, since then, and against all odds, she survived the marriage and was able to break free.
She now works at the Naila Amin Foundation and hopes to raise enough money to open a shelter for girls and women who are escaping abusive situations. Amin also shares her story with politicians in an effort to give them the information they need to vote for the necessary laws to create change.
According to statistics compiled by Unchained at Last, the only nonprofit in the U.S. working towards ending forced and/or child marriage, an estimated 248,000 children as young as 12 were married in the U.S. between 2000 and 2010. More than 85 percent of these victims are girls and 77 percent of those girls were married to adult men with large age gaps. Child marriage in the U.S. is on the decline but we can only get rid of this practice if every state passes the laws to end it.
I had the honor of interviewing Amin, and after learning we were both from Astoria, N.Y. we decided to meet at a quiet hookah bar on Steinway Street.
Brown Girl in Astoria
Amin came to the U.S. from Pakistan when she was four years old with her two older brothers, baby sister and one sibling that was still on the way. Following her move, she said she had a confused upbringing and struggled at first with adjusting to cultural norms.
"I remember I got bullied a lot for being a brown girl," she said. "When I got my nose ring in the second grade it was like 'eww eww,' but by the time fifth grade rolled along they were like you are the coolest thing on earth."
However, as her cultural understanding improved with the growing number of South Asian and Arab immigrants what was once strange territory quickly became a familiar home.  
"I love Steinway Street, the shopping, the food is amazing," she added. "We have our own little community here, I feel at home."
An unapologetic woman was once an unapologetic little girl
Amin was only 10 years old when she first called child protective services on her parents after they beat her for lying to hang out with a boy. This would not be her last time calling CPS for help.  
"The first time I got taken away was because I told my dad I was going to a friend's house by the mosque but I was hanging out with this boy from Bangladesh," Amin said. "The girl I was supposedly hanging out with called my house and said: 'Is Naila there?' So the red flags went up, [and when] I got home, I got a beating."

"I remember I called CPS the next morning, I was 10 years old," she added. "But even since then, even at that age, I knew I was not settling for this crap. They took me away and I went to Elmhurst they did a rape kit because a lot of kids that get physically abused get sexually abused. But they put me with my aunt for three months and my parents got custody of me again."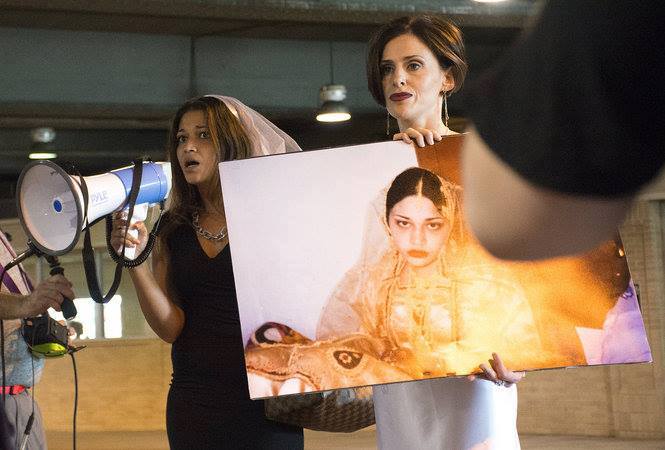 Adolescence
Amin spent many of her early adolescent years going back and forth between Pakistan and New York, she eventually skipped the eighth grade and spent most of that time in Pakistan for her brother's wedding.
It was during this time that her own marriage took place. Although this was what her family wanted for her and believed was right, Amin knew this was not her fate and that this was not a true consensual marriage. When she came back to New York she started high school in Baldwin, N.Y. where she describes meeting her first love, a Dominican boy named Eddie.
"He was really nice. He was like my first love, he took care of me. When my parents found out they beat me, they cuffed me by my ankles," Amin said. "I had to run away from the bathroom window, [since] they would cuff me in the house."
Her then boyfriend took her to a school social worker, shortly after the meeting she was put in the foster care system. She describes her time there as confusing, many people did not understand her or her culture.
In early October, when Amin was about to turn 15, she ran away from foster care back to the familiarity of her family, and after these events, Amin's family convinced her it was best to go back to Pakistan – promising that the situation between them would get better.
"So I turned 15 in Pakistan, and the next thing I know, we're shopping for lenghas which is wedding attire," she said. "I couldn't do a damn thing because I was stuck. It was either foster care or this, but if I had known then I would've chosen foster care."
The following January, Amin was forced to finally live with her husband. She recalls this time period with him as traumatizing and enslaving, having to cook, clean and sleep with her rapist. She would fake an illness just to keep her husband from touching her.
"It took something from me I would never get back. My childhood, my innocence was taken from me, my body and soul," Amin said. "To this day I still live on meds to deal with what I went through. I mean I'm doing much better, I go to therapy but I will always be traumatized I will always have that scar."
She describes trying to run away, and when she was caught her husband would beat her and psychologically torment her. Even her uncle attempted to get involved and was shamed by the family for it, luckily he contacted CPS about the situation but there was little that could be done while in Pakistan.
Coming Home
Amin came back to the U.S. after spending several months with her husband. Upon her arrival, she found out that because her parents took her to Pakistan when they were no longer considered her legal guardians, they were arrested for kidnapping.
And in this scary moment, she found her first real breath of freedom.
Since then Amin moved back in with her parents at 18 and they have been working towards repairing their family.
Because of her story, Amin's sisters were able to live normal healthy childhoods and didn't have to worry about child marriage. She has since been going to therapy regularly and looking for ways to reach people, trying different things like working as an emergency technician before transitioning to the nonprofit world, where she worked with organizations such as Women for Afghan Women and Unchained.
In 2015, a representative from Women for Afghan Women reached out to her for a story on forced marriage, since then she has shared her stories on several platforms, helping to move the needle on changing the legal age of marriage in the U.S. to 18. Amin traveled state to state and shared her story with different senators, and in June 2017 New York changed the age of consent for marriage from age 14 to 17 with judicial review.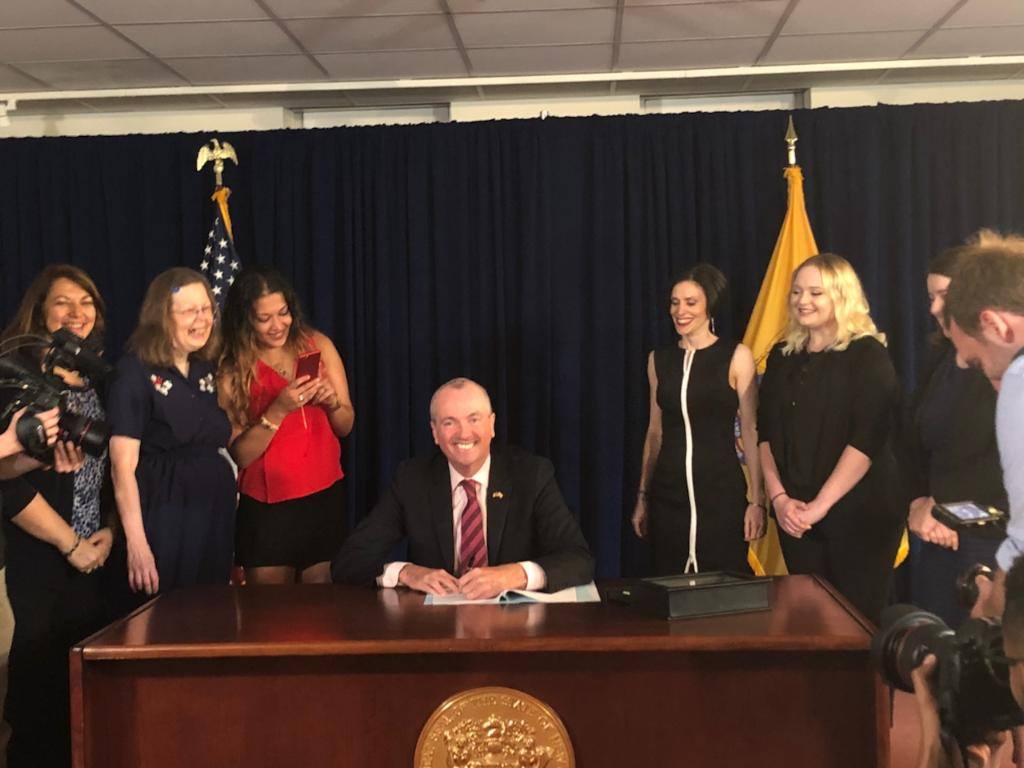 Healing while Helping
She has been shamed by people in her family and community for being unapologetically herself, and she often feels guilt but knows that she has to share her truth to help others.  
"I know that a lot of people look down on me," Amin said. "I don't like family gatherings cause they're always like you're bashing your parents or culture, or this and that. No, I'm not, I always tell people we have a happy ending."
Although turning her pain into purpose is still frustrating, she has made it a point to put her health and self first to make sure she is in a strong state to help.
"I have in the past year learned to say no. Because I can't be at your beckon call, and help you, going to different states and testify to help pass laws," she added. "I am still healing, I am testifying to help pass laws and these changes are happening and I don't even get any credit. But here I am putting my heart out to senators and legislators."
What to do if you find yourself or someone you know in a similar situation
"If she calls CPS and there's no abuse in the house they can't do anything. There's no law against taking your kid on vacation," she explained. "I met Jasvinder Sanghera of Karma Nirvana. So what I adopted from Karma Nirvana, and I tell women and girls, is to stuff your bra with screws, metal, quarters, anything that's going to make the machine go off to get you a personal screening. You tell that TSA officer two words, human trafficking, I am being trafficked. The minute you say that they have to step in."
To hear that a woman who lived a parallel life to many others in the U.S. was a victim of child marriage is a shock to many. Amin's story is important to share as stories of abuse are often hidden, which only further allows it to happen.
We often consider problems like child marriage an international issue outside of the U.S. borders, but few are aware of our justice systems' loopholes and lack of regulations when it comes to the minimum age for marriage.
It's imperative that women are present and our voices are heard. We must come together to support each other and help each other share our experiences to empower ourselves to make a change.
---
If you want to learn more about forced child marriage follow Unchained at Last and The Naila Amin Foundation – both organizations are involved in the footwork of ending forced child marriage state by state and always informing and taking in allies and volunteers.