By Rucha Desai – Follow @browngirlmag
When I was in middle school, my mother would make my favorite cheese and chutney sandwiches for lunch. She would toast the bread so that the cheese was slightly melted and sometimes, and sometimes it would include thinly sliced cucumbers and tomatoes. I loved this sandwich. 
One day, some of the thick green chutney fell from the folds of the surrounding saran wrap onto the white lunch table. Out of nowhere, a classmate pointed and shouted out, "bird poop!" The other girls started exclaiming in paralleled disgust.
I was torn between telling everyone that the green goop that apparently resembled avian fecal matter was, in fact, an essential – and delicious – part of my lunch, and simply joining the others in revulsion. I was 13, so I, of course, screamed "poop."
I was too ashamed to tell my mother that I had been too ashamed of chutney, and so I continued to bring in the same sandwiches, but I would eat in dangerously large bites, so no one would ever know what I was eating.
Fifteen years later, I discovered an entire culinary experience premised on chutney sandwiches. I recently attended the brick & mortar opening of the midtown branch of Bombay Sandwich Co., a healthy and vegan-friendly restaurant, "centered on cooking gently with just fresh fruits, vegetables, whole grains, and select Ayurvedic herbs and spices."  Inspired by a weariness towards the trite – and often fried and sodium-filled – options for vegetarians, Shiv Puri and Shikha Jain started Bombay Sandwich Co., initially a stall at the legendary Smorgasburg, expanding then to catering elite private events, and finally culminating in two storefront locations.
We first tried the French lentils, which can dress their bowls (brown rice, shepherd salad, kale-walnut pesto, apple-garlic pickle – or achaar – and hot sauce) and their platters (brown rice, kale-walnut pesto, apple-garlic pickle, hot sauce and a choice of five items). It was rich, deep brown, and the lentils were spicy.
We also tried a sample of the Yogi's Choice – almond milk, turmeric, cardamom, and crushed almonds – but it brought back so many memories of my father forcing me to drink hot haldi-dood when I was sick as a child. I instead finished a couple of the samples of the vegan mango lassi and was happily surprised at how rich and creamy and true to the original drink it was despite being made with almond milk.
My favorite dish was the chana masala sandwich. A play on chole bhatura, the chana masala sandwich was made with Shiv's mother's chole recipe, a layer of pickled red onions and sweet date chutney; the bread was not a fluffy Indian poori, but was actually a Tasca ciabatta roll from one of the most famous bakeries in the country, Orwasher's.
I asked Shiv if this chole recipe was a secret family recipe, one passed down for generations. He shrugged. He explained that if he has questions about a dish, he just calls or texts his mother. Being in touch with the past is so easy with the right technology.
We also tried a wonderfully fresh kale and sweet potato wrap, which included fresh ginger and carom seed and date chutney. The Indian flavors in this dish were more subtle, unlike the first sandwich.
Puri also offered us samples of the two grilled sandwiches on the menu—one was a mozzarella grilled cheese with honey, homemade hot sauce, and fennel and raisins and the other was also a mozzarella grilled cheese but with tomato chutney, pickled apples, fresh basil, tomato, and olive oil.
The mélange of flavors of the honey oozing on the hot mozzarella and the sweet raisins would be familiar to neither our Indian parents nor our American friends—it was a child of curiosity and disregard to preset categories.
What I focused on hiding for a decade of my life, Bombay Sandwich Co. has created an entire business around and shows off its chutney with pride. 
[su_divider]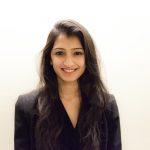 Rucha Desai is a recent graduate of NYU School of Law. She enjoys writing, hula-hooping, choreographing dances with her little sister and watching the "West Wing" with her husband. She has lived in NYC for almost a decade and is still constantly surprised by its many secrets and new adventures.