by Binoj Jacob
This post was originally published on our partner website India.com:
Whether or not you want to admit it, we've all danced to Beyonce's "7-11"—in private or in public. The club banger has seen nearly 300 million views on YouTube and quickly rose to the top of the Billboard charts, where it became Beyonce's eighth number one song on the list.
Indian dancer/choreographer Rohit Gijare released his own kathak dance to the track, and needless to say the performance was a mind-blowing fusion of hip-hop and traditional South Asian dance. The video has so far garnered more than 23,000 views.
"It is honestly surreal and humbling to see how many people have seen it, shared it, liked it and given positive responses" Gijare said.
Gijare, 24, has spent most of his life here in the states, had a passion for dance since he was young.
"My parents enrolled me in a local dance school," Gijare said. "After a year or two, they asked me if this was something I would want to do for the rest of my life. I always knew that I loved dance, and I loved to perform, but it wasn't until that moment that I discovered dance is my calling and that I want to pursue it."
Rehearsals for performances range anywhere from 3-12 hours, Gijare said, which requires constant dedication. The same dedication has landed him countless performances, one being the halftime show at a Philadelphia 76ers basketball game.
"It was absolutely amazing," Gijare said. "Having nearly 16,000 people watching you perform and several cameras capturing your every move was definitely intimidating, but it was just as exhilarating and exciting at the same time."
Now, while most would soak in the fame from having nearly 25,000 views on YouTube, Gijare instead released a follow-up video, covering Maroon 5's "Sugar" in hopes of gaining similar attention.
"'Sugar' is one of those songs that I instantly fell in love with after listening to it for the first time," he said. "I kept listening to it on Spotify or the radio and my habit of dancing while driving only seemed to be getting worse with this song. I knew I had to create something to this song."
Even though Beyonce's "7/11" dance cover helped him gain his popularity on social media , she is still not the artist who Gijare said he would love to become a backup dancer for—that would be Chris Brown.
"The chance to perform with Chris Brown would be very cool," he said. "Since he is a phenomenal dancer in his own right and I think that would be an unreal experience."
He said he is currently working on several different projects, both video and stage, that he is excited to share in due time.
And we are just as excited if not more to see what he comes up with. Now, excuse me while I put my "shoulders sideways, [and] smack it, smack it in the air."
---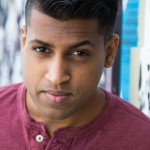 Binoj Jacob's strongest trait has always been his personality so he decided to make a career out of it. Currently an On-Air Talent for Power96, a Top40 radio station in Miami Florida. Also the Host for Raw Artists Miami, as well as a Contributing Writer for SB Nation covering the Miami Heat, an Entertainment Blogger for Power96.com, and a Freelance Contributor for India.com. His other passions include Songwriting and Acting. He also will now stop talking about himself as he is typing.