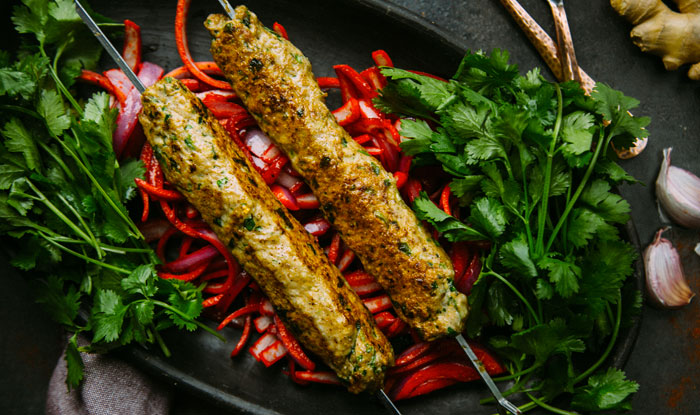 Here's a low down: So many people had been asking for this recipe after seeing me make it on my IG story one time, and I'm excited to finally share it with you! These chicken kebabs are a staple in my weekly menu, especially when my husband and I are trying to be healthy — this is one of my go-to "meal prep" recipes.
I like to serve these with my crack sauce and tandoori onions. You could serve these on a bed of rice, on top of a salad or cut them up and wrap them up in paratha or some naan for a delicious sandwich! They are extremely versatile and sooo flavorful!
Happy Eating!
Chicken Kebabs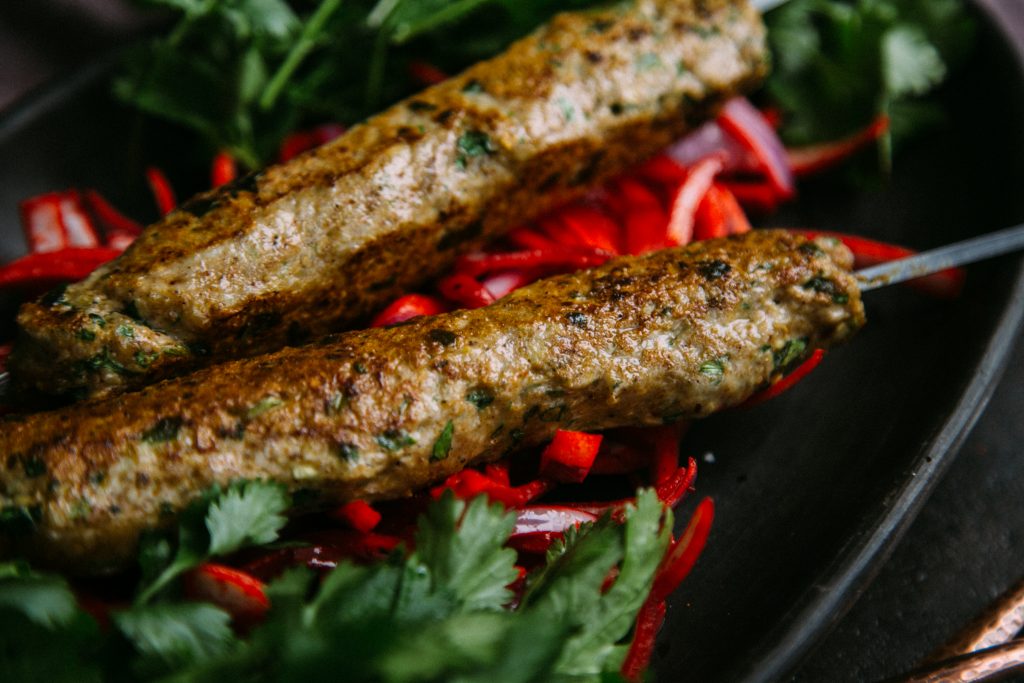 INGREDIENTS
2 lbs. ground chicken
4 tbsp minced garlic
4 tbsp minced ginger
2 tbsp chopped green chilis
1/4 cup finely chopped cilantro
1 tbsp garam masala
2 tbsp coriander-cumin powder
1 tbsp Shaan Lahori Fish Seasoning
1tsp salt
2 tbsp oil
GLAZE
2 tbsp melted butter mixed with 1 tsp chaat masala 
INSTRUCTIONS
Combine all ingredients, besides the oil, in a large bowl. Use a large fork or your hands to make sure everything is mixed well together.
Spread your hands with a drizzle of oil, take about 1/4 cup of the chicken mixture at a time and roll it into a long kebab onto a skewer.  (If you don't have kebab skewers, just roll them into long logs).
Heat a skillet over medium-high heat and add oil. When hot, add 2-3 rolled kebabs at a time and cook on all sides, turning frequently until the kebab is fully cooked through (about 10-12 minutes).
Remove from skillet, drizzle or brush with the chaat masala and butter glaze and serve hot with chutney, onions, lemon wedges and more chopped fresh cilantro.


---

Palak Patel is a passionate home cook and food blogger who has an affinity towards creating dishes that provide a fresh and modern take on the familiar flavors of Indian cooking. Her belief that food can empower us, heal us, and most importantly connect us, is the driving force behind her blog. She especially loves sharing recipes that incorporate global flavors with locally sourced and seasonal ingredients.