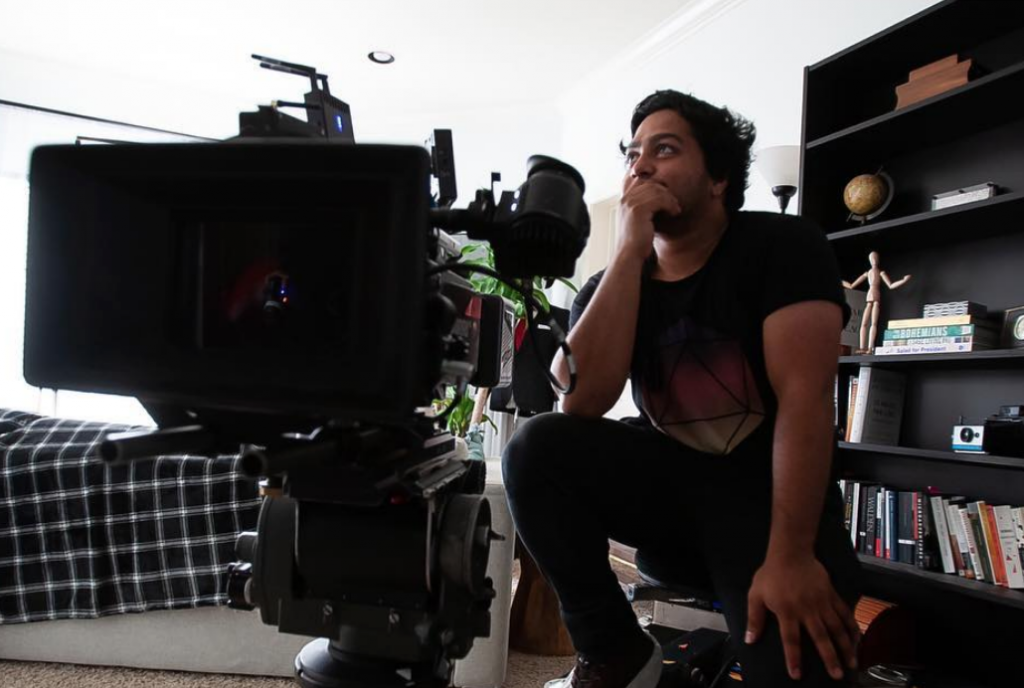 If you're looking to shoot a project with difficult subject matter, look no further for help than Samudranil, aka Sam Chatterjee. Sam is a Director of Photography, aka a cinematographer (though that term isn't really used much anymore), and in the last year alone, he has shot films about dating as a South Asian millennial, immigration, and postpartum mental health.
One of Sam's most recent shorts, "Cul-De-Sac" has premiered at multiple film festivals around the country, including LA Shorts International Film Festival, Product of Culture's South Asian Film Festival of America (or SAFFA), and Vancouver Asian Film Festival. The film follows a woman dealing with symptoms of postpartum depression and psychosis. We talked to Sam about his journey as a filmmaker and how he has chosen the stories he's helped tell onscreen so far.
https://www.instagram.com/p/Bt1TslpAXdr/
1. How did you fall into the entertainment industry — and specifically cinematography?
So both of my parents are heavily in the cultural world both in India and Australia. I kinda grew up with with music and photography and realized I fell in love with frames that could capture a moment and evoke emotions. From there on, I started looking in Cinematography in high school and ended up pursuing it as my undergraduate.
2. What were some of the challenges you faced while working your way up in the business? Did any of them have to do with being from another country, or especially because of your South Asian heritage?
I feel like a lot of us especially as South Asians have constantly been placed in our own boxes, especially since we do come from such rich culture and such bold statements. At the same time growing up in Australia also meant it took me some time to really understand what it is I want to say, and get a grasp on how I view the world and my place in it especially. I think we are often challenged by our own crisis of who we are and where we belong and its only recently that we have starting to get a voice for South Asian stories and especially Diaspora driven narratives that I think inform and empower us and gives us an understanding of where we fit into the whole picture.
https://www.instagram.com/p/By_AEhthY_1/
3. You recently worked on a short film called "Cul-De-Sac," about postpartum depression & psychosis faced by a South Asian woman. What was the experience of working on a female-driven and dominated project?
I think I was very cautious about postpartum depression. I've grown up with no real understanding of it, and especially as South Asian, and have never had to deal with any elements of that. As a cinematographer, if I don't understand how each beat is supposed to feel and the gravity of each moment, I can't possibly be a creative piece in photographing it. So I opened up a conversation with a few women who had gone through this process and who had actually suffered from postpartum depression and it was actually so interesting to see that in almost every society/race/culture/whatever, that postpartum depression is very much shunned and not taken seriously.

So it was quite an informative and emotional experience to shoot this film. I had a great collaborator and dear friend of mine Cara Lawson who directed this piece and Cara's research and breakdown was helpful for me to be on the same page in terms of the 'feel' of the movie. We didn't want to treat postpartum depression as a 'horror', rather than what it can lead to if left untreated.
4. What did you learn about how society — and especially our South Asian community — talks about (or rather doesn't talk about) this kind of after-birth experience?
It's definitely a problem. Depression is a topic inherently that we as South Asians tend to not give enough credit or time towards, much less postpartum depression in women. And of course that has to change. There is a huge deal of shame and 'underserving-ness' thats attached to postpartum depression in our community and we as a whole need to do better.
https://www.instagram.com/p/B8mg24MFvs2/
5. Has the experience of working on "Cul-de-sac" changed your outlook on any topics / or how you see the world? Has it changed how to approach filmmaking??
I think, before this film, postpartum depression is something I could probably give you the wikipedia definition to, but not really be able to empathetically understand, to the best of my abilities. The thing I realized is that I don't think Cul-De-Sac speaks only to South Asians, I think it actually speaks for women and especially minority women of all race and culture. I can only hope that at the same time it also reached out to the men and informs them enough for them to listen to the women in their lives when they do seek or need help.
6. Has working with South Asian women made you want to do more projects with South Asians? How has being South Asian helped shape your work, if at all?
I'm pretty much open to any good script and project. I think you have to be as a cinematographer. That said, the more and more I seek out to find my own voice, I'm really starting to see how growing up equally in both India and Australia have shaped my own world views and therefore my work. South asian heritage is a big part of that and I still constantly look that way to understand parts of myself. I think the more I shoot, the more it will naturally strengthen. For now, I'm just going to let the waves guide me and see where I end up with it all.
7. What are some other projects [you've been working on] and you're working on next?
I have a film titled "Single" directed by Ashley Eakin. I just recently finished another short called "There's Something to It" directed by Shivaani Sharma and Venk Potula, and it's the most South Asian-driven narrative I've ever shot. I'm excited to see where both of these films and their stories take me. Other than that, there's two features in the horizon this year, one of which I start pre-production on in the spring, which I'm really excited about.