by Sruveera Sathi ­ – Follow @browngirlmag
As an American, it is hard to miss the constant coverage of floods in Houston, Texas, brought on by Hurricane Harvey. What probably isn't as apparent to many Americans, however, is that around the world, catastrophic flooding has been unfolding for a month in South Asia.
The crisis in Houston began on Friday, August 25th when Hurricane Harvey made landfall in Rockport, Texas. It was the most powerful hurricane to hit the state in more than 50 years. On the other side of the world, massive rainfall considered the worst since July 2005, wrought havoc in Mumbai. This severe monsoon flooding has spread across India, Nepal, and Bangladesh, leaving more than 1,200 people dead since the rains started. In fact, the United Nations staff in Bangladesh has reported that two-thirds of the country is underwater and, in some areas, the flooding is the worst since 1988.
What both these incidents have in common, apart from their obvious tragedy, is that they are both consequences of climate change. According to David Helvarg, executive director of Blue Frontier, an ocean conservation organization, much of the damage has not been caused by the wind or tides, but by the massive rainfall.
Additionally, Helvarg states,
"[This] natural disaster [has turned] into human catastrophe by choices we make in terms of our energy choices, the pollutants we burn for energy and put into the atmosphere, as well as how we develop the coast and zoning choices…With the warming ocean and atmosphere, you have more moisture in the atmosphere, which rains out more intensive pulses of rain…"
This article will include some vetted organizations you should consider donating to for both tragedies. For those in the United States and abroad donating to Houston, please also consider donating to organizations in the South Asian countries mentioned below. Additionally, here are a few pointers to keep in mind while donating:
1) When in doubt, cash out
Even though donating to Amazon wish-lists is great, giving direct cash donations is often the best form of donation, even though it may seem impersonal. Furthermore, the flooding in Houston forced Amazon to close its fulfillment centers in the Houston area, which means it could take some time for items to get to where they need to go.
In a few cases, disaster relief can become disastrous itself. When people with good intentions donate things that aren't wanted in a disaster response, the consequences may actually be harmful. In 2004, following the Indian Ocean tsunami, a beach in Indonesia was piled with used clothing. There was no time for disaster workers to manage all these clothes, so the contributions sat there rotting and had to be destroyed. Local officials ended up pouring gasoline on the clothes and setting them on fire.
Cash donations, however, allow relief organizations to buy supplies locally, ensuring that the products are fresh and familiar to the victims. Additionally, there is less chance of waste accumulation and delivery is quick. To top it all off, buying products locally supports local merchants and strengthens the local economy in the long-term.
2) At this time, donating to local organizations is preferable to the Red Cross
Reputed reporting from National Public Radio and ProPublica has indicated that the Red Cross misstated how donations are spent. The Red Cross' go-to claim is that "91 cents of every dollar" are donated to their services. Upon closer inspection, the charity's own financial statements show that overhead expenses are much more than officials have claimed. In recent years, the Red Cross' fundraising expenses alone have been as high as 26 cents of every donated dollar, nearly three times the nine cents in overhead stated by the 91 cents claim.
3) Make the most of every dollar: Go a step further and donate directly to individual people who are most vulnerable
The term "natural disaster" can be misleading because it tends to absolve human forces in the negative impacts of the phenomenon. Of these forces, systemic inequality, in particular, limits the ability of vulnerable communities to prepare for and rebuild after catastrophic events. This is why it's important to identify who is at most risk when disaster strikes so that aid can be targeted and impactful.
Some at-risk groups in Houston are the LGBTQ, black and Latinx communities, as well as members identifying with more than one of these groups. Below, you will find links to donate directly to their individual Venmo and PayPal accounts.
4) Climate Change is a contributing factor behind both these incidents
You don't need to donate to a charity to tackle climate change. It starts at home with simple habits that can be modified like: taking public transportation or biking, cutting out meat, recycling, investing in energy-saving appliances, and much more. Additionally, you can call upon your legislators to let them know that you care about climate change and urge them to enforce important environmental regulations.
Donate to South Asian Charities
This list is divided by the country in which charities are based. All of these charities have been vetted by the nonprofit, Global Giving, which connects donors to grassroots initiatives worldwide.
India
Rajasthan Samgrah Kalyan Sansthan: donations go to the Western part of Rajasthan in Barmer Rural Area. Under this project, basic needs, dry grains, blankets, medicines, solar light, cattle, and a few other fundamental things will be provided to 150 flood victims' families.
People First Educational Charitable Trust Bihar: Provides blankets, mosquito nets, food, clothes, and medicines, especially to children.
Nepal
Janaki Women Awareness Society (JWAS): Heavy rainfall in Nepal caused devastating floods in 24 districts of the Terai region. Dhanusha, Mahottari, Siraha, and Saptari are some of the most affected districts. Donations can provide food, clothes, and shelter support to the flood victims.
IsraAID: Provides emergency medical assistance; water, sanitation, and hygiene (WASH) agents; psychosocial support; and shelter.
Bangladesh
Protibandi Shishi Shiekkha O Pricharja Samity: This project helps physically handicapped, visually impaired, intellectually disabled, and deaf and blind people, pregnant mothers, and the elderly.
Friendship NGO: The urgent and immediate needs identified are to: distribute food to 10,000 households for 5 days; install 50 tube-wells to ensure access to safe drinking water; install 50 latrines to reduce to open defecation; provide emergency medical care; distribute seeds to 2,000 households; and repair and reconstruct around 100 fully or partially damaged schools and community structures.
More information on all of the charities can be found here.
Donate to Houston-Based Charities 
These charities are organized by which vulnerable community they are targeting. All of these are local to Houston and this list is a modified version of the original list found here. Additionally, some popular charities ranked highly by Charity Navigator are: the Houston Food Bank, the Food Bank of Corpus Christi, the Houston Humane Society, the Houston SPCA, or the San Antonio Humane Society.
Support Houston's Trans/Queer/Intersex Community
Transgender Foundation of America: An organized community disaster fund will assist Gulf Coast trans, intersex, and genderqueer survivors recover from this disaster.
Support the Latinx Trans Community
Aqui Estamos!: An LGBTQ youth-led organization in South Texas is raising money to send menstrual hygiene products to people affected by Hurricane Harvey.
Support Black Lives in Houston
#SupportBlackWomenHOU: Please find details on how to directly support Black Women displaced by Hurricane Harvey in the Houston area. Instead of giving to organizations, we are encouraging you to give directly to those in need. Options include Paypal, Cash.me, or Venmo – details are provided below for each person.
Courtney Vs. Cancer/Houston: Courtney Chylane is a single black mom who was already suffering from cancer with her money for medicines cut off and she just lost everything in Houston.
SHAPE Community Center: One of the most visible and involved community centers in Houston's African-American community and the Houston community. Earmark funds with "Hurricane Harvey."
Support Undocumented Families
Houston Undocumented Communities Flood Relief Fund: An estimated 575,000 undocumented immigrant families live in Houston and its surrounding suburbs. Many have lost everything. Due to their undocumented status, hundreds of thousands don't qualify for government aid, such as via the Federal Emergency Management Agency (FEMA).
Support a Local Undocumented Artist Raising Money for Undocumented Families: Check out this site. Proceeds from the shirts sales will go to these families. #HereToStay.
Support Dialysis Patients
GOOD: Global On-going Outreach for Dialysis Patients) Campaign. Hemodialysis patients must get treatment at dialysis centers 3 times per week, 4 hours at a time. Dialysis centers have been affected by current flooding conditions. Organized by Maria Feris.
Support Those with Disabilities
Portlight: Click on the donate button, which will take you to the organization's PayPal. You do not need a PayPal account to donate. In the memo, mark that your donation is for Hurricane Harvey survivors.
Support Houston's Youth
KIPP Houston High School: Many of the students and staff at KIPP Houston High School (KHHS) have lost their belongings, cars, and even homes. A School Leader at KHHS will make sure that 100% of your donations will be dispersed as appropriately as possible. Fund Organized by Mohammed Maarouf.
EMERGE Harvey Relief Fund for Youth: Project started by Trisha Cornwell, an Executive Director of EMERGE, a Houston-based non-profit focused on preparing high-achieving students from underserved communities to attend and graduate from the nation's top colleges and universities.
Those affected worldwide sincerely appreciate your efforts and donations to help them rebuild their livelihoods. Please share with us any other organizations and initiatives meriting donations.
---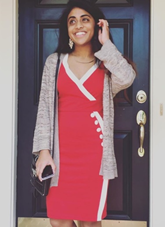 Sruveera is a graduate of William & Mary where she majored in Neuroscience and minored in Public Health. She also holds a Master's degree in Physiology from Georgetown University. She currently works for a health policy think-tank in Washington, DC. With community engagement as a driving force throughout her entire life, she hopes to one day combine her background in medicine, her love of public service, and strong advocacy for social justice issues to make a difference in the world.