Lakme Fashion Week was held August 22nd–26th and did not disappoint with its artful conscience. Every year, the poeticism of Indian design, capturing eons of history and ritual, is presented to the world during this legendary week. It is a sibling to the New York and Tokyo fashion weeks.
This season, we were taken by the emphasis on conscious and innovative design. So much so, that we're revisiting Lakme Fashion Week and bringing to you three collections we'd love to wear this Diwali.
"The Miniaturist" collection by Namrata Rathi for Good Earth, a sustainable and luxury retailer, personified the idea of "slow fashion," with each garment handcrafted by Jaipur artisans.
The innovation continued in the "smartwater presents 'The Platform'" show, where three young design teams pushed creative boundaries based on an assigned cloud theme. Kanika Goyal used holographic printing to create a print-design fantasy, Ishanee Mukherjee and Anirudh Chawla made unconventional forms inspired by the poem The Black Cloud by W. H. Davies, and Sakshi and Swasti Shah presented a modern take on indigo-dyed, handloom linen. Finally, Tencel™ and Rajesh Pratap Singh teamed up to create a gleaming, highly-stylized, and sustainable-fiber collection.
Read more about each collection below.
1. "The Miniaturist" by Namrata Rathi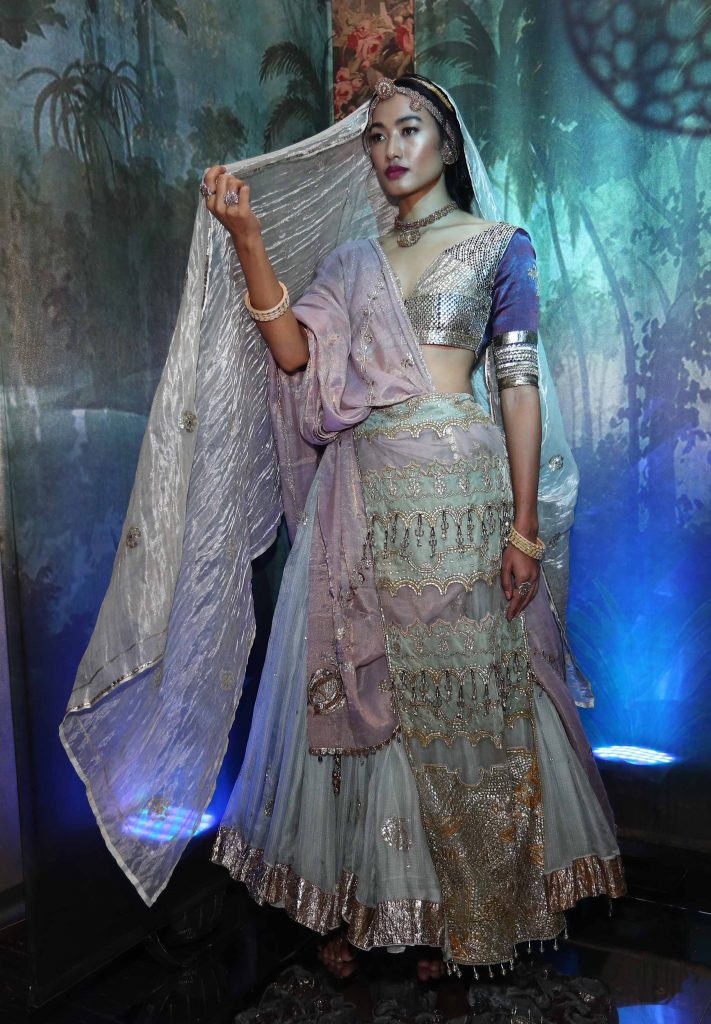 "The Miniaturist" was designed by Rathi, emerging from the creative vision of Anita Lal, Founder and Creative Director at Good Earth and the aesthetic direction of Deepshikha Khanna, Head of apparel line "Sustain." Lal told Lakme Fashion Week,
"Like a master miniaturist creates a world of wonder through the finest delicate strokes of his brush, so has our designer created the most exquisite patterns in minute detail that can best be appreciated when seen up close. A priceless tradition, fine gota work needs to be sustained through sensitive design intervention and presented to a discerning audience, which was our passionate effort through this show."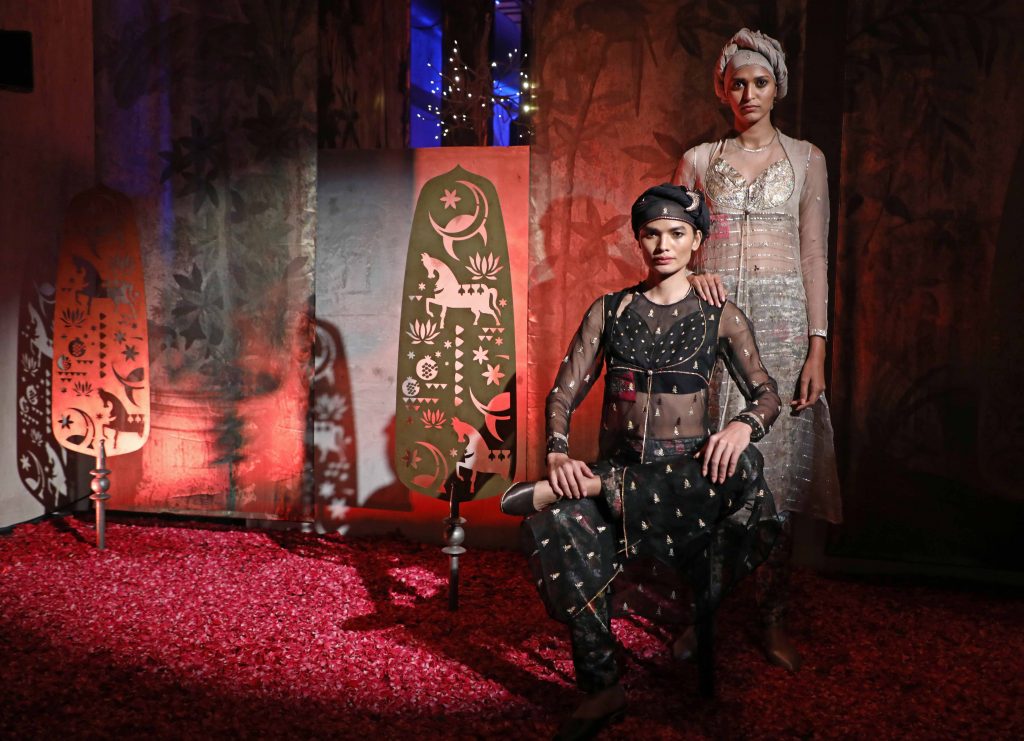 In honor of the collection, Pavitra Rajaram, Lead Designer at Good Earth, arranged the brand's flagship store into a museum-cum-tableau style exhibit. The exhibit detailed the historical, technical, and artistic nuance that went into the collection. On display were heirloom motifs and patterns, as well as vintage photographs of royal gota garments. Alongside were documents about the tools and methods used to create the pieces.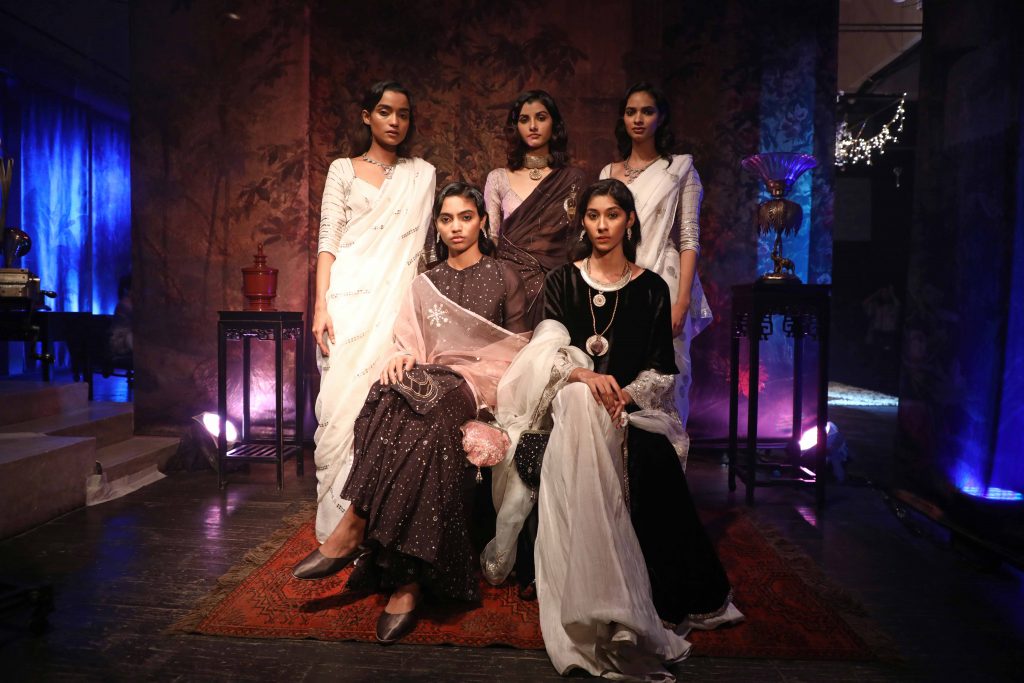 Rajasthani silhouettes, such as jama, the ghagra-choli, and the polo sari are translated into contemporary styles. Elements include patka (sash) and patua (tassels), in addition to textural, hand-cut motifs of chaand, anaar, and baadal. The wearer and viewer are presented with a feast of jaal patterns and floral embroidery. This collection is a testament to royal effulgence.
2. smartwater's "The Platform" Featuring Young, Emerging Designers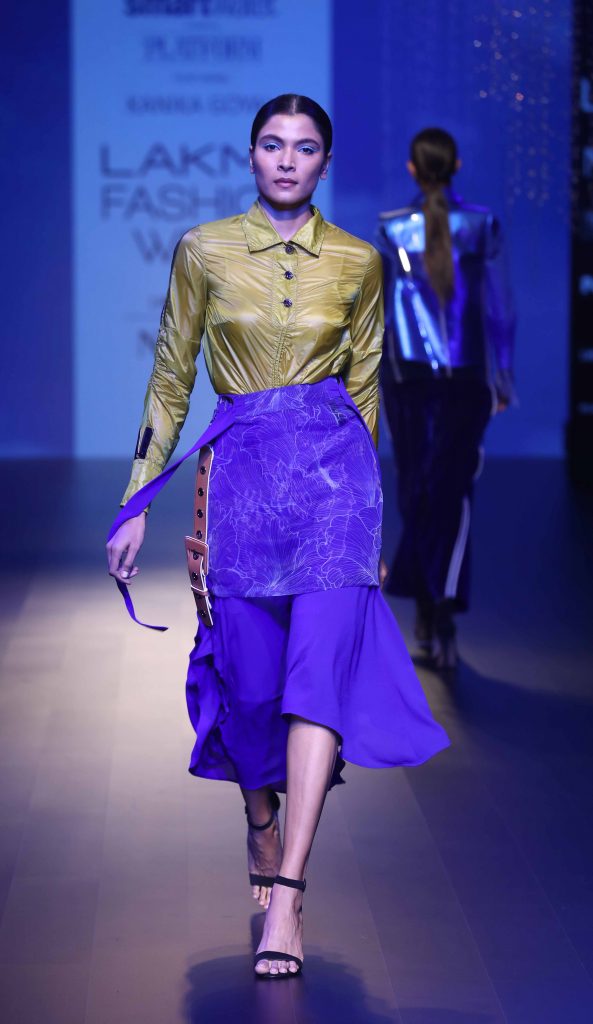 Goyal's collection is a force of reckoning when it comes to technique and materials. She used techniques like heat-set pleating, holographic printing, and reflective pleating. She dove deep into her toolbox, additionally calling upon screen, digital, rubber, and embroidery techniques. The materials were also vast, including viscose, cotton silk, linen, poplin, rayon, bonded, acrylic, wool, cotton knit, silk organza, glass nylon, Dutch satin, PVC, faux fur and leather.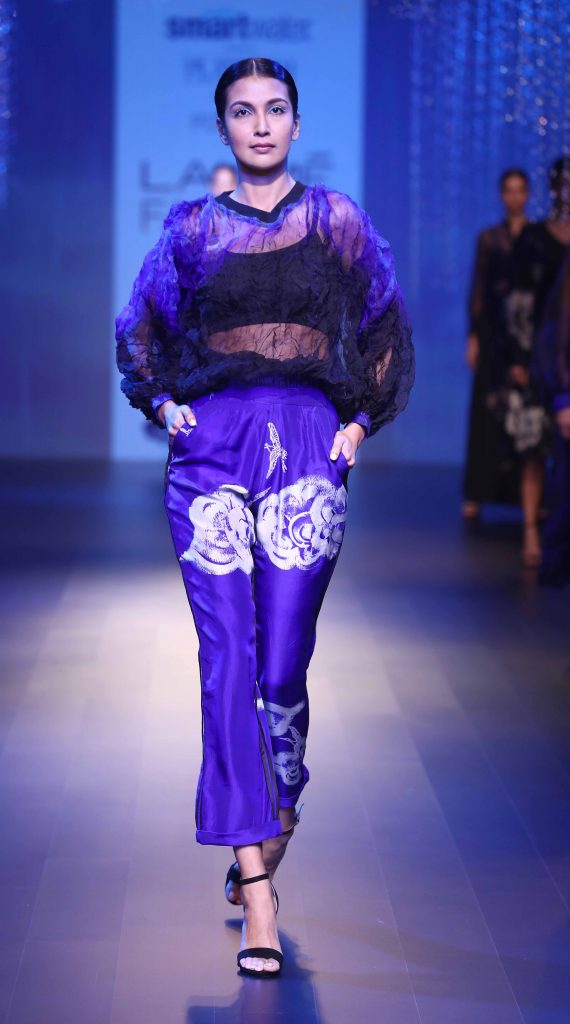 Mukherjee and Chawla were inspired by the poem The Black Cloud by W. H. Davis, which resulted in a story birthed from texture and shape. Diaphanous organza created the illusion of clouds. Crushed and crinkled fabrics created volume and density. And, as the models continued to walk down, more and more aggressive fabrics revealed themselves, as a story of a storm. The collection was punctuated with tie-dye and hand block prints.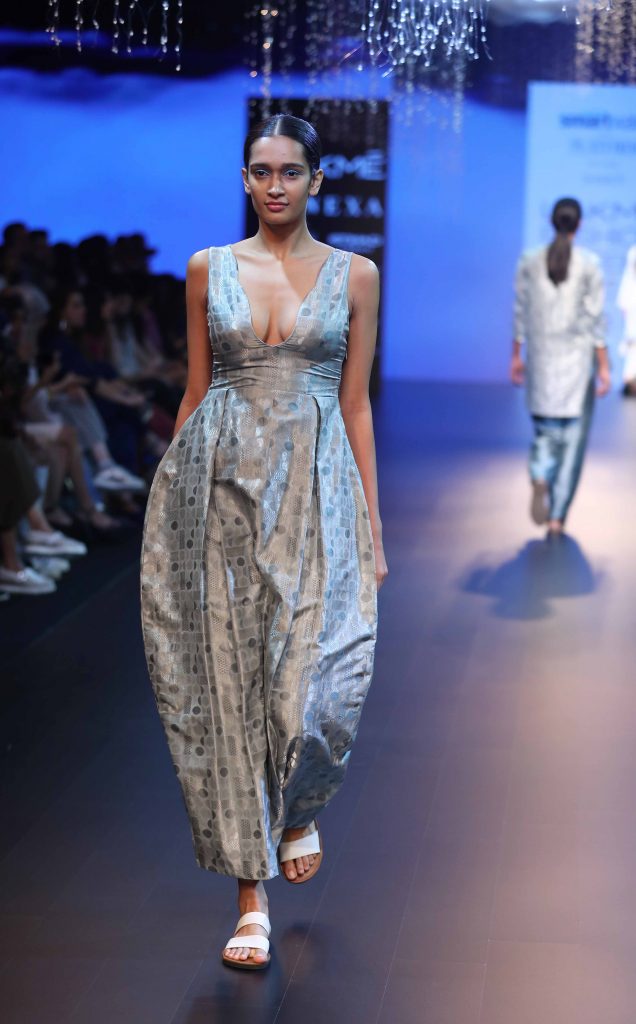 Sakshi and Swasti Shah breathed geometry into the classic, indigo-dyed handloom tale. Angular, single-button jackets with round-notched lapels were paired with ankle length trousers. They dared to give the classic sari silhouette calf-length pants, a bustier, and bolero. This collection is recycled – the designers use bulk fabrics that would otherwise be discarded due to small defects.
3. "Welcome to the Jungle" by Tencel™ and Rajesh Pratap Singh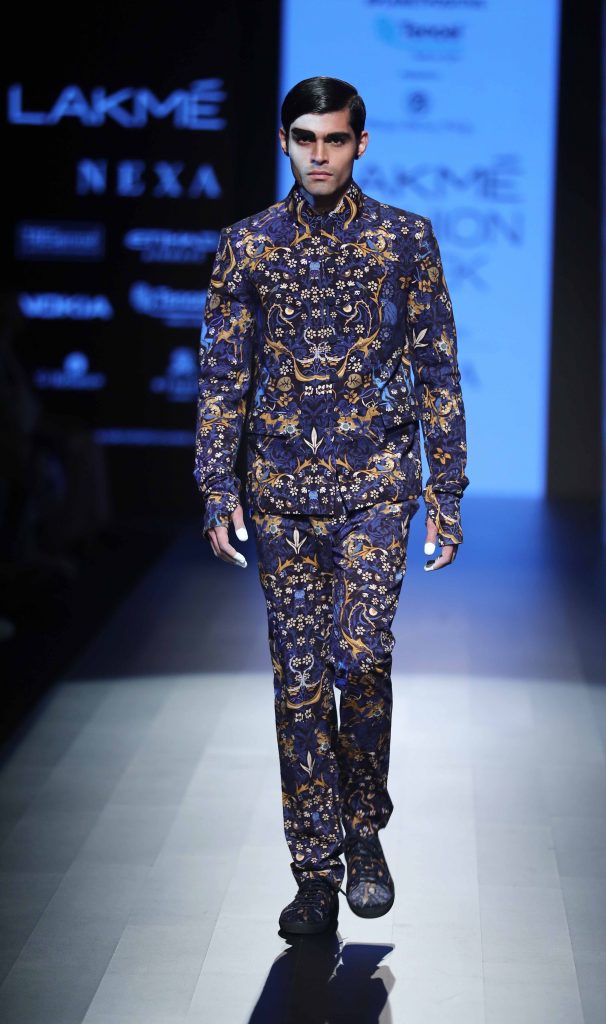 Tencel™ lyocell fiber is made from sustainable wood sources in a production process that transforms wood pulp into cellulose fibers, resulting in a low ecological impact. Processed water used during manufacturing is recycled at 99 percent recovery. Tencel™ fibers regulate the absorption and release of moisture, which makes the fabric breathable. In addition, the fibers are soft and can be smoothly draped. Tencel™ fabrics can also be engineered to provide warm or cool skin sensations throughout the day or night!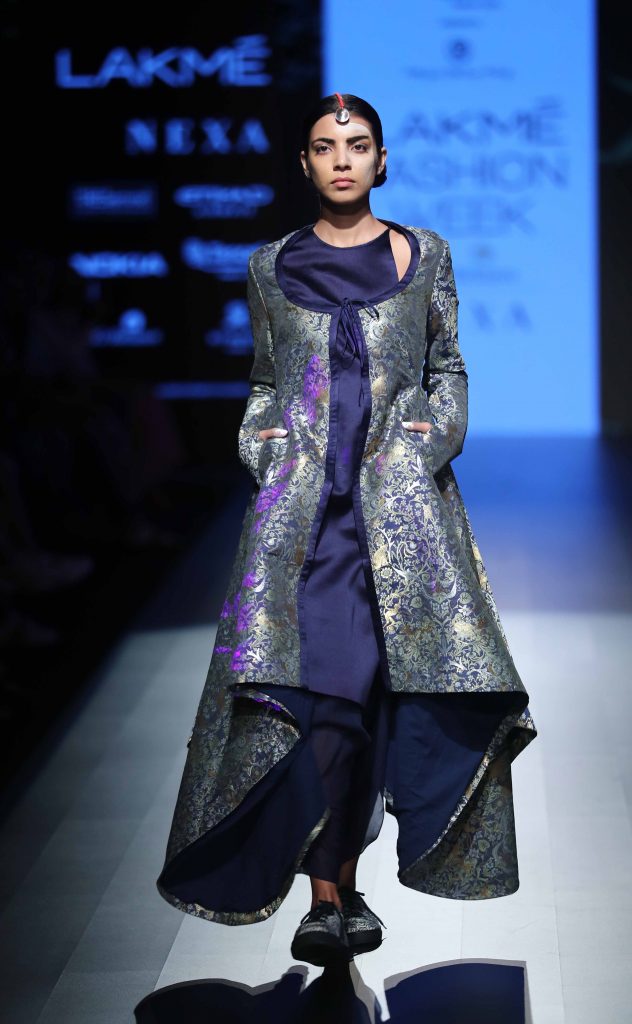 This is the second season that Singh has collaborated with Tencel™, debuting his "Welcome to the Jungle" collection. The garments feature Indian craft styles such as Chanderi, Banarasi, Jamdaani, and hand block prints. The animal prints were interpretations of artworks by William Morris. Singh was also inspired by Indian silhouettes like poshak and angarkha, as well as traditional Indian dancers' costumes. From here, a rich brocade of color was conceived: pastel blue, pink, gold, and silver woven in jewel tones.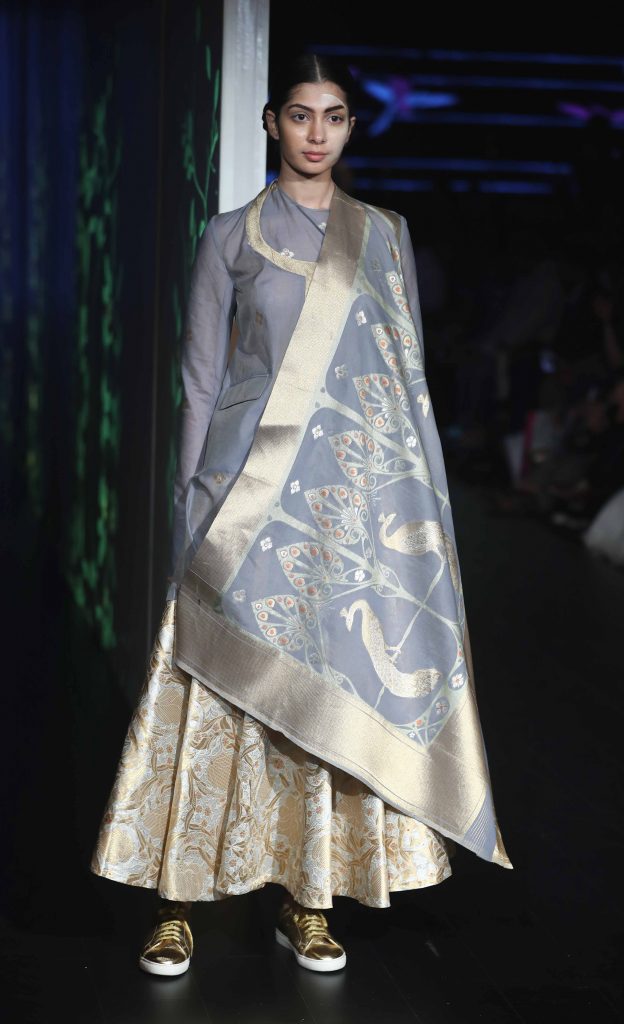 This intensely imaginative collection featured layered jackets, sharply constructed tunics, micro-buttoned coats, hooded maxis, dhotis, raja coats, kimono-style kurtas, and tie-up jumpsuits. Transparency danced with opacity, and fluidity flirted with structure.
We must say that Lakme Fashion Week really set the tone for what we should be looking for in our Diwali outfits this festive season.