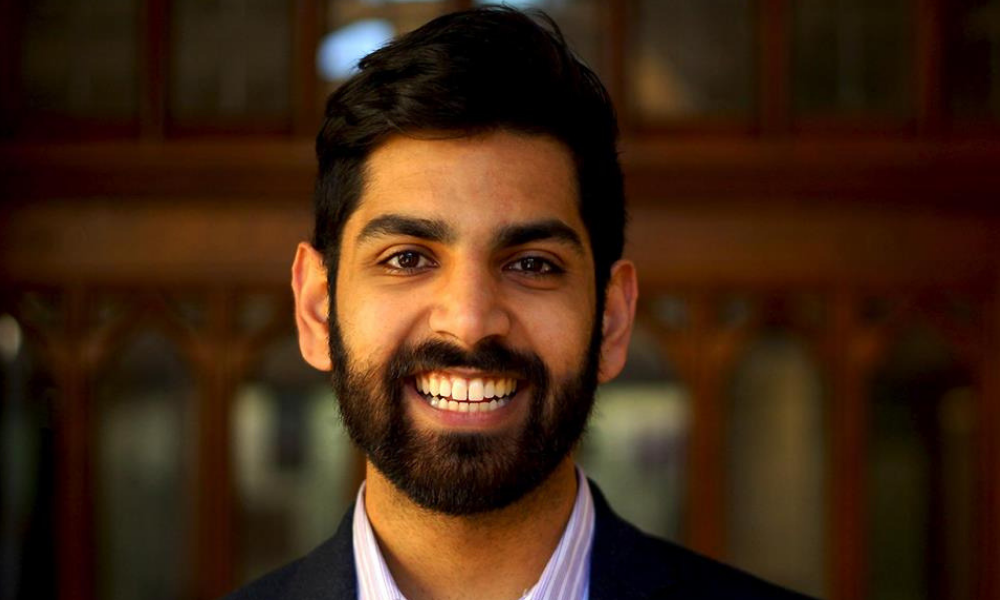 During the spring of 2018, Amol Jethwani burst into his local political scene. He was a third-year political science major at the University of Florida and a contender for the 21st district Florida House of Representatives seat. Jethwani ran against fellow Democrat and incumbent Jason Haeseler during the primary elections. His main goal was to win the Democratic ticket so that he could be on the ballot for his district's November midterms, where he would face off against Republican Chuck Clemons.
Before the August primaries, Jethwani had never run for public office, and what was even more daunting for the young candidate was the fact that there had never been a person of South Asian descent elected to the Florida state legislature – as if running a campaign wasn't hard enough. He also had the arduous task of fundraising while keeping up with school, his mental health, and other extracurricular activities.
For years, conservative figures like Bobby Jindal and Nikki Haley have been the most prominent desi figures in American politics. However, people like Raja Krishnamoorthi, Pramila Jayapal and Ro Khanna are shifting the face of South Asian American governance into a more liberal story. When Jethwani spoke to Brown Girl Magazine during his campaign, he was well aware of the herculean task before him.
"I want to challenge the traditional views of what a politician should be," he said. "Our campaign is changing the face of Florida politics by engaging in grassroots organizing in a style which is unique to millennial run campaigns."
Liberalism with a Progressive Twist
In April, Jethwani discussed the 21st district's economy, women's and minority rights, his upbringing in conservative Ocala, and his opinions on desis in politics – but what was surprising was his stance on gun control. While his opponent, Haeseler, aimed for more general gun regulations, Jethwani wanted an all-out ban on assault weapons.
"Common sense gun legislation, in my opinion, is a series of legislation aimed at creating a broad scale approach to dismantle the range of issues that are under the umbrella of gun violence," Jethwani said. "I support an assault weapons ban which will be a preemptive measure to decrease the incidences of mass shootings and their death tolls. I support closing existing loopholes, such as the gun show loophole. I support the establishment of a domestic violence registry and introducing legislation preventing those with previous domestic violence charges from purchasing a firearm due to the high correlation between perpetrators of gun violence and domestic violence.

Additionally, I support the introduction of ERPO's, extreme risk protection orders, that allow courts to seize the firearms of an individual considered to be a threat to themselves or others by a judge and community members involved in the individual's life," he added.
Another big-ticket item on Jethwani's platform was his take on prison reform, especially since a women's prison in his hometown was under fire for widespread sexual misconduct.
"We need to take a different approach to our prison system and focus more on rehabilitation of members of our society who end up in prison," he said on the topic.
"The stories of abuse and neglect that come from Lowell [Correctional Institution] are horrific and I think we as a state can do better. There is a dire need for prison reform in America."
Additionally, Jethwani, who is openly queer, discussed workplace protections for the LGBT+ community and said that it was "our time" as South Asians to get involved in politics. He harkened his immigrant background when he spoke about his political future.
"If elected, I would be the first Indian-American in the Florida legislature. As a result of my backgrounds, I have always been in the minority in any given room I would walk into, especially growing up in Ocala," he said. "However, it is the unique nature of the perspective I have in approaching these rooms, these people, and these problems which are plaguing Floridians, come as a result of the intersections of my identity and my experiences. Being the first desi in the Florida legislature is a great privilege. I look forward to spending my future career nurturing and developing a Florida Democratic Party Desi Caucus."
When It Hit the Fan
Throughout the summer, Jethwani continued campaigning and making new connections. The Progressive Change Campaign Committee placed him on their 2018 Champions List for successfully running and maintaining a grassroots campaign that didn't rely on major corporate or political action committee (PAC) support. He got an endorsement from his county commissioner and even sued the Florida secretary of state for their ban against early voting in colleges.
From the outside, it looked like Jethwani's trajectory was blazing upward. However, he was not well prepared for the emotional and financial burden of running a serious campaign.
"I didn't own a proper suit until the day of the primary when I purchased one—a legal campaign expense. But, if I had the money on hand, I would have personally purchased [one]. People have said, 'you could have asked your parents for the money.' Knowing my parents, they would have," he said. "But my internal conflict was that they already poured what they could into the campaign. I didn't want to burden them anymore… The same goes for expenditures such as campaign travel, campaign meals, as well as purchasing food at meetings with key Democrats, organizers and potential consultants, or expensing campaign transportation while at [political] conventions in Washington D.C., Tallahassee and Miami."
All of this came to a head on Aug. 27, the day before the 21st district Democratic primary election. A Florida news outlet reported strange expenses coming from Jethwani's campaign. The article cast serious doubts on his transparency. His own campaign staff felt that many of the charges, including an $81 trip to Zara, $100 bill to Superior Towing and an $84 bar tab from a hotel, were frivolous and careless.
With the public relations drama that was unfolding just hours before the polls closed, Jethwani resigned as president of the UF College Democrats (UFCD). He later stated that he stepped down "to protect UFCD from media scrutiny," and that he was going to pay back his campaign. Even with the intense stress of everything that was happening, he continued his final push to get last minute voters on board.
On Aug. 28 the final tallies came in, Jethwani received only 41.6 percent of the votes and lost the primary. While many candidates may see their concessions speeches as the most dismal point in their political life, Jethwani's was anything but – he gave his support to Haeseler, aimed to continue campaigning for other candidates in Florida, and ended with "I'm making sure that we flip Florida blue now, because, in 2020, we have to flip America back blue."
Where is he Now?
Though his run for office was unsuccessful, Jethwani still remains active in politics.
"For now, I am finishing up the 2018 cycle working as an organizer for Nikki Fried, a candidate who believed in me and who I believe can win," he said. "I am excited and eager to continue fighting for progressive change, supporting the now Democratic nominee attempting to unseat Chuck Clemons, working as a member of the Alachua County Democratic Party to get Democrats up and down the ticket elected, and of course, spreading the word and getting out the vote for Florida's next commissioner of agriculture and consumer services, Nikki Fried."
Jethwani also sent Brown Girl Magazine a full statement on his campaign and you can read it here. He reflects on how could've campaigned better, opened up about his struggles with mental health and sexual assault, told the story of coming out to his parents in the 9th grade, and even shared how he dealt with the tragic death of a close friend, who passed away just days after he began campaigning. We definitely suggest that you read his perspective on running for office as a college student.
For those of you who aspire to campaign for your local seats, here's what Jethwani has to say:
"Now is our time, get out there, build a team of people that you can rely on. Hit the pavement hard to knock on doors and talk to voters."