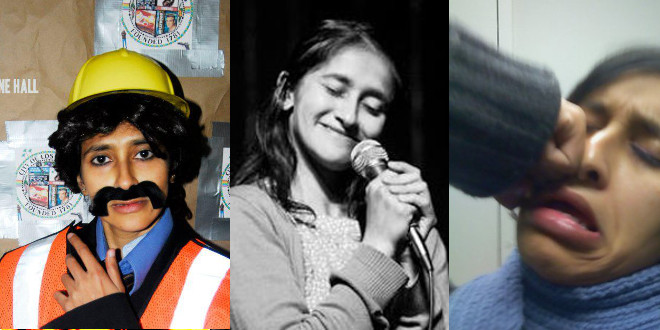 Aparna Nancherla is an Indian-American stand-up comedian, living in New York City. She is best known for her appearances on Conan and FXX's "Totally Biased." Nancherla's whimiscally genuine performance style is refreshingly hilarious and will surely have even the most serious audience members chuckling from the start. Now, you are probably wondering how the unassuming Nancherla started out in comedy and made it to where she is today.
In an exclusive sit-down interview with Nancherla, she shares her beginnings, performing and excelling her skill in the New York comedy scene.
1) She did not come from a comedic background, it just kind of happened.
"I was home from college for the summer, and I started going to open mics with my friends," said Nancherla. "We noticed that not all of the comics that went up, were at a professional level. So we thought we should try it. I went up on my birthday and I was really nervous, but I had prepared for a couple of weeks."

"It actually didn't go badly, I think if it had I wouldn't have continued with it. I took a break from it, but after college I thought if this is something I want to try I have to do it regularly to see if it sticks. That's when I started to hitting the mics," she added.
2) Her favorite comedians are introverts.
"I didn't have a big comedy background. I didn't watch a lot of [comedians] when I was little or read a lot of it. I had a sheltered life. Most of the writing and observing that I did was in my head – I read a lot. I came to know more about the comedy world after I started," Nancherla said. "The comics that resonated with me were the ones who were introverted and lived in their heads a lot. One of my favorites is Maria Bamford, she's a comic that does a lot of voices, she talks about her family and personal experiences. She's one of my favorites. I always loved Seinfeld, I feel like everyone references him. Paul Tompkins, Eugene Mirman, and a newer person is Hannibal Buress."
3) Nancherla found comfort on the stage in public speaking class.
I was a really shy kid growing up. To the point where my mom worried that I wasn't out of my shell enough and I wouldn't be assertive. She signed me and my sister up for a public speaking class, and it felt like a safe controlled space for me to speak. Being on stage makes me feel safe. A lot of comics are introverted because you are observing the world around you. But I definitely still get nervous going on stage," said  Nancherla.
4) She's never been roasted, yet.
I've never been roasted. I've never been apart of one, and I think they honestly scare me," she said. "Like many of creative people I have a thin skin, although it has been built up by reading internet comments. I don't have the meanness to do a roast. Why can't we do an opposite, where it's a toast and we do really nice jokes to each other. But I don't know if that would appeal to anyone."


5)  She puts a spin on stage freight.
I think that stage fright is just the anticipation, but if the set isn't going well, then I still have to be up [on stage] and make the best of it," said Nancherla. "It becomes like any other job and I just dig in and make the most of it from this experience. Even if you have a bad set you are still learning. The bad times are when you are learning the most. It's never a waste that you did it."
6) Social media opened doors for Nancherla.
Twitter has been hugely helpful to me. My friend was like "you should set up an account," and it took me a little bit to get into it. But I do post funny little lines I come up with. Since then it has become a habit to post things everyday, and I've gotten a lot of opportunities from Twitter," she adds.

7) She has a message tell us all. 
The overall message is, you don't have to always meet people's expectations of what they want or what they assume you to bring to the table. It's good to make people think in a different way then they are used to," said Nancherla.
Kamini Ramdeen is quite astonishing. She graduated from Saint John's University with a B.A. in history, is best friends with Beyoncè, and has tea with MIA on the weekends. Maybe not that last part, but when she is not day-dreaming of ridiculously funny stories, and using her crafty clever humor to capture the hearts of millions, she is editing content and creating graphics for Brown Girl Magazine and India.com. She also strategizes SEO for kicks. Follow Kamini on Twitter for her daily observations of the wonderfully bizarre City of New York.