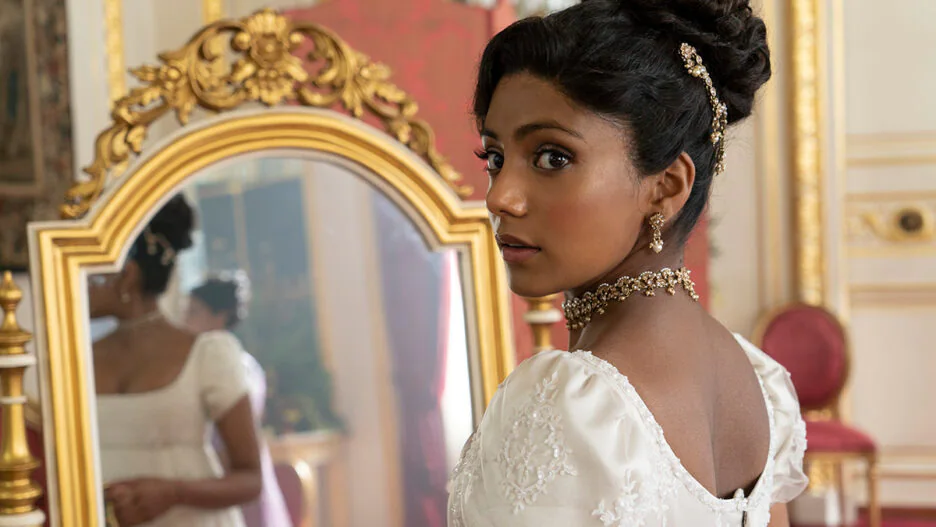 If you haven't already binge-watched the latest season of "Bridgerton" and had a chance to meet the Sharmas; the latest members of 'The Ton' we've so desperately been waiting for, you need to change that now.
Mary (Shelley Conn) has just returned from India with her two daughters, Kate and Edwina (played by Simone Ashley and Charithra Chandran respectively), and the family is adding drama and colour, quite literally, to Shondaland's Netflix series, like we've never seen before.
As an English Literature graduate myself, I have always loved period dramas and modern adaptations of classic novels but couldn't help feeling disappointed with the issues of race and gender that tainted them. Besides the lack of diversity and inferior portrayal of women, brown women specifically, are never shown to be attractive or autonomous.
Slowly but surely though, more brown women are coming to the forefront on our screens. I wondered if this genre would be driven to change such issues, often disguised as 'unchangeable' as it was claimed they reflected society 'of their time'?
Thankfully, "Bridgerton" does exactly that and I could not wait to see Simone Ashley and Charithra Chandran playing the leading ladies in season two of one of Netflix's biggest shows. Even more so, when I got a chance to speak with Charithra Chandran about all things "Bridgerton", acting and being the brown representation we all love to see.
View this post on Instagram
The 25-year-old British Indian actress landed her first-ever screen role as Sabina in Season 2 of Amazon series "Alex Rider" before joining the "Bridgerton" cast. A completely different life plan to what was expected when she landed a corporate job after studying philosophy, politics and economics at Oxford. When the pandemic hit, she finally decided to pursue her passion for a career in acting.
How did you begin your acting career and what was your first audition like?
So, my first professional audition was when I was like 11 and I was doing sort of West End tour musicals as a child. And then local theater and some stuff at school – nothing major. But I did a lot of drama at university. My university was very well funded and I feel so privileged for that. In the pandemic, I cold emailed various London agencies, met with a couple, signed with the one I liked the most, and a couple of months later, I auditioned for "Alex Rider" and "Bridgerton".
What was the acting scene at Oxford like, it being a predominantly white university?
It was hard. I'll first say that my time at Oxford was the best three years of my life. I loved it, and I would do it all over again and recommend it to anyone. But specifically, the drama scene was really tough.

Even when I got there, it sort of felt like everybody already knew each other and everybody already had connections. And I was like, but guys, this is a fresh start – what is happening?

It's also hard because it feels like less roles are available to you. And it feels like when you do get a role, you're there because they have to choose someone that is an ethnic minority. So, I spent a lot of my time at Oxford feeling quite insecure.

When I felt most confident and most comfortable doing drama at Oxford was when my friend Fran, who's an incredibly talented musician, actor, performer and who was the president of Oxford University drama society, put on the first all BAME show. That was the first time in the Oxford drama scene that I remember being like, oh my God, these are my people.

And, you know what? It sold out immediately; it was one of the most successful shows in Oxford's history. So, there we go.
View this post on Instagram
How was it leaving a corporate job to pursue acting? Is this something you always wanted to but had to go the traditional route first?
So, I'll just sort of explain the timeline. Basically, I graduated and I had the job offer and they offer anyone a year out if you want it. So, you could start after you graduate or you can take a year off. I thought okay, I'm going to take this year out just to get the acting out of my system because it's going to be such an intense job and I'm not going to have any time to do anything else. So, let's just do as much as we can.

But then six months into that year the pandemic happened and during the pandemic, we all sort of became a little bit more self-reflective. It was like when our lives stopped. We really had to think about what brought us joy, what our purpose was, and I thought this; it's now or never, I have to do this, which has then led this crazy journey.

Two interesting things from that is; one, my whole career has been in the pandemic, and two, it's hard to rationalise that something that has caused so much pain and suffering for millions of people is kind of the best thing that's ever happened to me inadvertently or has led to the best thing that's ever happened to me.
Why Edwina? Do you think you are like her character?
Edwina is really important to me because she actually just represents the reality for a lot of women across the world, particularly brown women. And if women can feel represented on screen or get anything from Edwina's story then that means the world to me.

But no, I don't think I'm like Edwina at all, which is obviously the fun part. It presents the challenge. I think to be honest, at the beginning, I really sold Edwina short and then obviously, this is such a fluid process. I really grew to appreciate her and love her so much. I really wish I was more like Edwina.
View this post on Instagram
Edwina is meant to be 'perfect' and she has so much pressure on her the whole time. Can you relate to that with your acting career and also being brown and going to Oxford? Do you think you've sort of been like the 'diamond'?
Definitely. Also, because I'm an only child. I've definitely felt the pressure to be perfect. I definitely feel that how I do, is a reflection on my parents. My parents are the most important thing to me and I want to make my parents proud. They are the biggest driving forces in my life.
Are your parents supportive of your career? Have they seen the first season of "Bridgerton"?
They've seen season one. They've also seen a few episodes of season two. In terms of being supportive, they are happy that I'm happy because my happiness and my satisfaction is the number one priority for them and I've never doubted that. But they are immigrants. They don't have anybody else in this country. Like their fundamental driving force was survival. So, they want stability and security for me and this career provides so many things but stability and security is not one of them. So, of course they're scared because they love me. I have a lot of empathy for my parents, and I don't expect them to suddenly be on board and really back it all. But they are making progress and that is everything.
How did it feel when you got the call about "Bridgerton"? And how did it feel being 'the new brown girls' on set?
I mean, my process of casting was so long that when I got the role, it was just kind of like a release of thank God, it's finally come to an end. I was so excited and grateful, and just like, wanted to crack on with the work. I was ready to just get going! Joining the cast was great – everyone was so lovely to me so it was no stress at all.
And how was it working with Simone Ashley and Shelley Con who play the fellow Sharmas?
I think I was really lucky. With Simone and Shelley, we just had such a natural chemistry. And you know, you sort of feel lucky when you have that.
How do you navigate your own kind of inner struggles and imposter syndrome as both an actress and a South Asian actress?
I'd say there's actually very little way of tackling that directly. If you have imposter syndrome, you're gonna have it. I don't have a solution to that. It might go, it might not. But what's helped me is to take control of as much of my life as possible. So, whether that's like going to acting classes and improving your skill, reading more, getting more advice, finding mentors. Take as much control of your career and your life as possible. I've noticed that that has certainly alleviated some of the insecurity, anxiety and stuff. But it's not something you can control.
Lastly, how do you feel about being the brown representation on screen now?
I love it. It's one of my favorite parts. I didn't have any role models that look like me growing up. And if I can be a role model to even one girl, then it's all worth it.
And she really is, which is quite evident from her most recent Teen Vogue cover. While "Bridgerton" is a win for the brown community in representation, Chandran is also a talented actress who portrays the complexities her character Edwina entails, so beautifully.
View this post on Instagram
In her love for both family and herself, it made me emotional to see Edwina's coming-of-age journey into a young brown woman who was kind and most importantly, brave in making the choice she did in the final episode. A shining example of a brown woman determined to take charge of her life, despite being penned down by duty to family and expectations of society.
Although I loved all of the powerful brown women in the latest season, I couldn't help but root ardently for Edwina by the end of it, who Chandran aptly described as, "the reality for a lot of brown women."