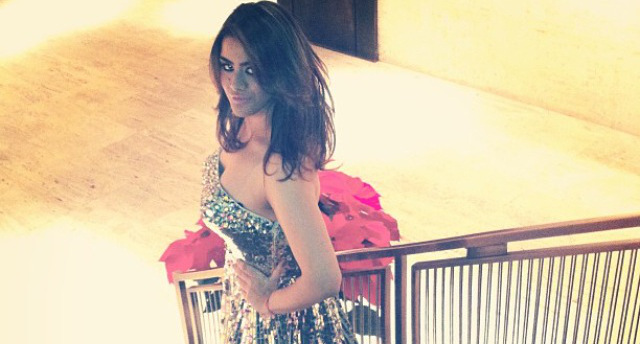 Ever wonder what it feel likes to grow up in a famous Bollywood family? What kinds of pressures must one face or what kinds of luxuries does one have? To weigh out the odds we spoke to Trishala Dutt, the daughter of Bollywood actor Sanjay Dutt and granddaughter of actor\politician Sunil Dutt and actress Nargis Dutt. More so, Trishala is the founder of DreamTresses Hair Extensions. Although her family is regularly part of the spotlight, she is one of the sweetest, most down to earth girls I've ever had the pleasure of profiling.
Trishala, 25, born and raised in Queens, N.Y., said she loves to have fun and laugh. She said she is a lover of beauty, forensics, fashion, fitness and she's a true foodie. She's obtained a bachelors and masters degree in Criminal Justice from John Jay College of Criminal Justice in New York City.
"I love watching Forensic Files and I originally wanted to become a FBI agent or be in the CIA," Trishala said. "However, I was told I had to become a cop first, which was something my family and I didn't like, so even though I had a degree in criminal justice, I decided to pursue my other passion which was beauty."
You have made a lot of changes the past few years – one of them being getting more in shape, how did you lose the weight and how do you stay in shape?
I lost weight the old-fashioned way – diet and exercise. I've tried all the shortcuts you could imagine. I've tried fasting, detoxing, cutting calories, limiting carbohydrates, etc. While some of them worked for a short amount of time and have shown results, the minute I started eating normal food again, I would gain all my weight back along with additional un-wanted pounds.

One day I decided to join a gym, invest in a trainer, eat healthy in limits and the pounds started to melt off on its own. The key is to get your heart rate up for that one hour you are working out and you will see results. You must go to the gym three to four times a week for one hour to see results. I continue to stay in shape by going to the gym daily and eating healthy. I still splurge here and there but when I do, I make sure I work out harder the next day at the gym.
You have a great sense of style! Any style tips for our readers? What are some of your favorite brands?
Thank You! The best style tip I could give and it is something that I live by: 'Create your own style, let it be unique for yourself yet identifiable for others.'

Dress that way you feel most comfortable dressing. Once people see that you have a unique sense of style, they will be able to recognize you from a mile away. Be creative when dressing and using accessories. I have a lot of favorite brands! As for brands without a logo, I think Bebe is very stylish and it's always moving with the current fashion. Expressis very chic and casual, Forever21 never fails when it comes to the basics and experimenting with color. I love Victoria Secret and"Cute Booty Lounge" by Kelly Nishimoto for loungewear.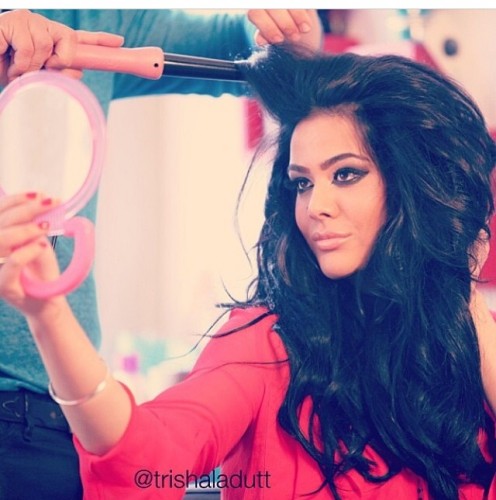 Your makeup is always flawless! What are a few of your favorite make up products? Any must haves?
I have a lot of favorite must-have makeup products! Since I don't like full coverage foundation for everyday wear, a must have is MAC's Face and Body Foundation. It's light coverage and blends in with your skin beautifully. It's buildable, light on skin, long-lasting, and has a nice dewy finish. It's perfect for winter and summer.

If you are opting for a full coverage then I would recommend Tom Ford's stick foundation called "Traceless." Stick foundations tend to be higher coverage and the more coverage you get, the more the color match matters and the less forgiveness you have if there is a mismatch. It is a heavy foundation and it can be built up over any problem areas for more coverage.

As for eyeliners, a must have is MAC's "Graphblack" or Revlon's ColorStay Pencil. My favorite Mascara is L'Oreal False Lashes Mascara and Lancome's L'Extreme. For my lips, I think Tom Ford's lipsticks are the Holy Grail! The formula is creamy, long-lasting and non-drying. They feel like butter when applied. I also love the colors "Blankety" and "Snob" by MAC.
On the subject of beauty, your hair is very voluminous as well! What's your secret to gorgeous hair?
My secret to gorgeous hair is clip-in extensions! When I was younger, I had extremely thick hair. Unfortunately, after attending many media events and photo shoots, I completely damaged my hair. My hair went from thick to thin! Also, when I was younger I had liked someone and decided to change up my looks (hair) to please him – biggest mistake of my life. I completely ruined my hair! My only options were to incorporate hair extensions to achieve that big, voluminous look.
Speaking of it, congrats on the recent launch of your very own hair extension line!
In the past, I could not find affordable, high-quality human hair options that gave me the thickness, length and volume I desired without it damaging my hair, so I decided to create my own! DreamTresses clip-in hair extensions are Grade A 100 percent Remy Human Hair. I know a lot of hair extensions on the market claim that they sell genuine, human hair, but they don't. While they claim it's human hair, it can possibly be mixed with synthetic hair. I stand by my quality and products 100 percent and more so, I want all women to feelempowered and beautiful without breaking the bank!

Whether you have fine/thin or medium/thick hair, you can achieve that true 'Victoria Secret' bombshell hair with DreamTresses Hair Extensions. I've also created a hair powder and hairspray to really give you a boost of extra body and volume. While my products are targeted for women, men can use my hair powder as well to make their hair appear full with lots of body.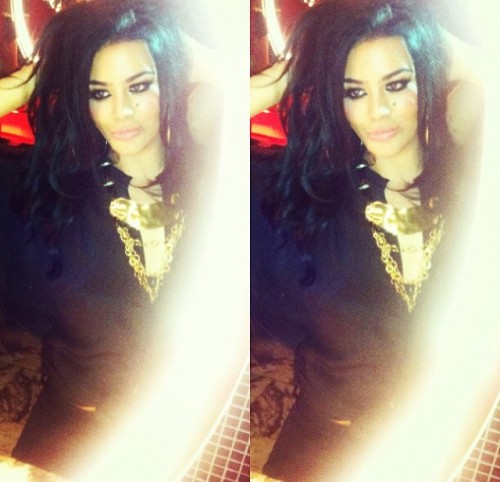 Being younger, I know you have mentioned you faced a lot of self-esteem issues, how did you overcome them?
I overcame my self-esteem issues by accepting the fact that I am who I am. I was obese at one point and then I got a mean, unsupportive, harsh reality check from my boyfriend then. I decided enough was enough and it was time for me to make a change in my life. I knew I needed to lose weight and I did! Being overweight (in my opinion) is a curse. I remember, I used to avoid all social events, run from people when I would see them walking my way, and I never had many friends because I never wanted to meet anyone. I'm glad that time in my life is over. No doughnut or pasta dish is going to make me go back to what I was. I worked too hard, cried too much and sweated more than eight glasses of water a day to be where I am today. Even though I lost weight and look different, my attitude has not changed one bit. I'm still the same friendly girl who I've always been.
The tabloids in India have said some pretty vicious things about you and your family, even though you have tried to stay away from the spotlight. How did you cope with the constant media attacks?
It used to be annoying when I saw the media saying certain things about me. The latest was, 'Trishala doesn't want to date an Indian boy.' It's ridiculous but amusing at the same time. I learned not to care and just move on with my life. I could be a saint and someone will still say something about my family and I. It's the price you pay for being born into a Bollywood family. I don't mind what they say about me anymore because I know it's not true.

People can believe whatever they want, but as long as my family and I know the truth, I could care less what others say. When my father went to jail last year, a few girls rudely asked me on Instagram, 'Your father is in jail, how are you still posting happy things on Instagram?' Well, what am I supposed to do? Make people feel sorry for me? Post something depressing and ruin everyone else's day because I'm going through something? I don't get them and their logic. It baffles me!
When it comes to dating, what's the best advice you have given yourself?
The best advice I've given myself is to never change for anybody. A boy should never ask you, or give you hints to change yourself. If you happen to be overweight and he encourages you in a nice way to lose weight while being supportive and standing by your side, then that's totally different. However, if he asks you to change something about yourself that you think is fine just because he "prefers" something else, than that is totally wrong and he is not the one for you. I'm living proof of that today and wish I had someone to tell me this years ago!

You are beautiful just the way you are. If you want to change something about yourself for you, then by all means do what makes you happy. If you change because someone is telling or hinting at you, then tell that person to take a hike! He does not love you, trust me!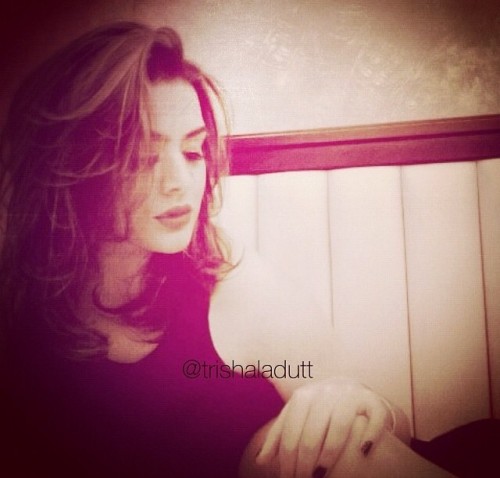 Keep up with Trishala Dutt by following her blog, Instagram and Twitter. 
Order your newest genuine hair clip-ins from Dream Tressses Hair Extensions. They offer worldwide shipping with two locations in New York!
 All photos provided by: Trishala Dutt