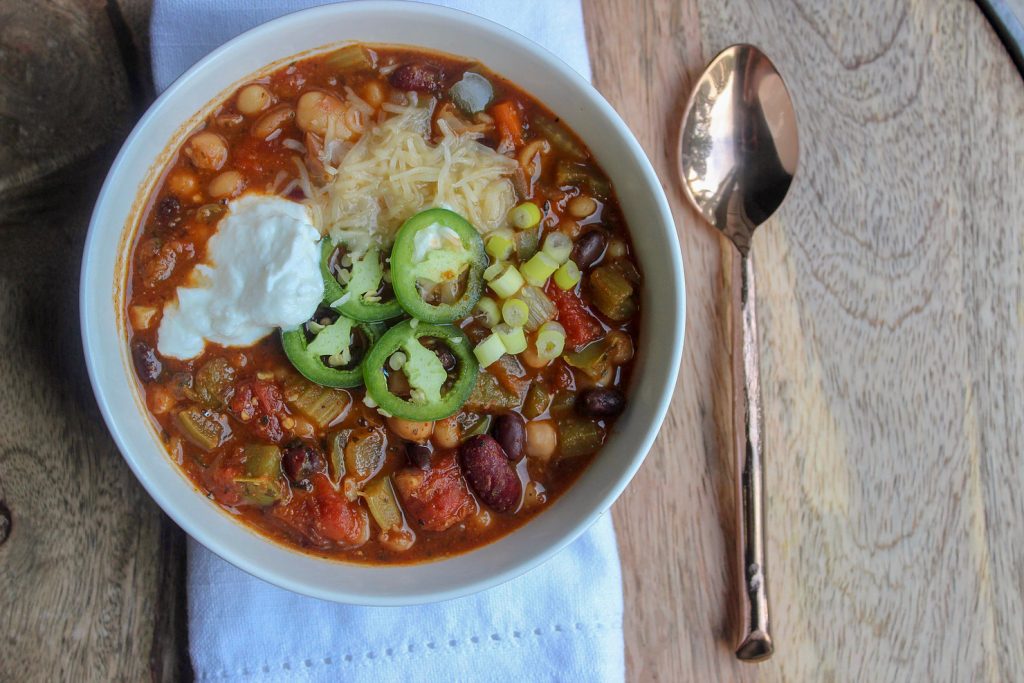 Nothing beats summer time, but I think there is something even more special about the fall. Fall is my favorite season because there are sooo many reasons to love this time of year. The crisp air, the warm smells, foliage, chunky sweaters, apple-cider donuts, and of course pumpkin spice EVERYTHING… Yes, I know I'm basic AF, ohhh well!
What better way to welcome the fall than to have a bowl of hearty warm chili on a crisp cool night? It's a one-pot wonder, filled with beans, vegetables, and deep warm flavors; topped with sour cream, cheese, and jalapeños.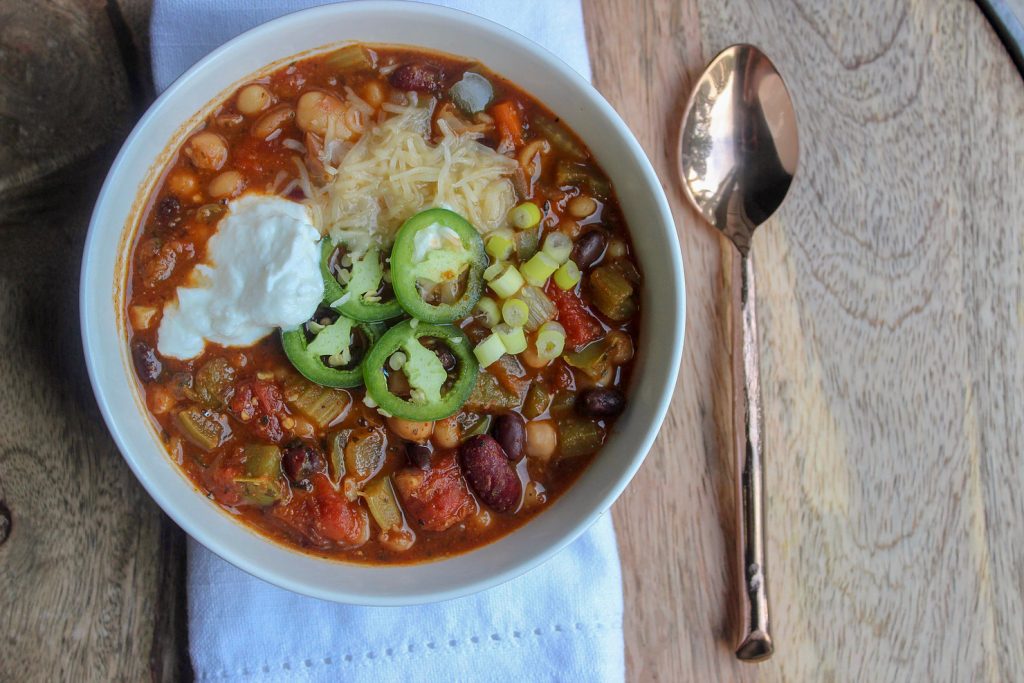 This chili is my go-to meal for the fall, its super easy and quick to make. And best of all, it only requires one pot! Which means easy clean up, giving you more time to cuddle on the couch with Netflix and your loved ones! Hope y'all enjoy this warm bowl of happiness.
Prep time: 10 minutes
Cook time: 30 minutes
Total time: 40 minutes
Serving: 6 People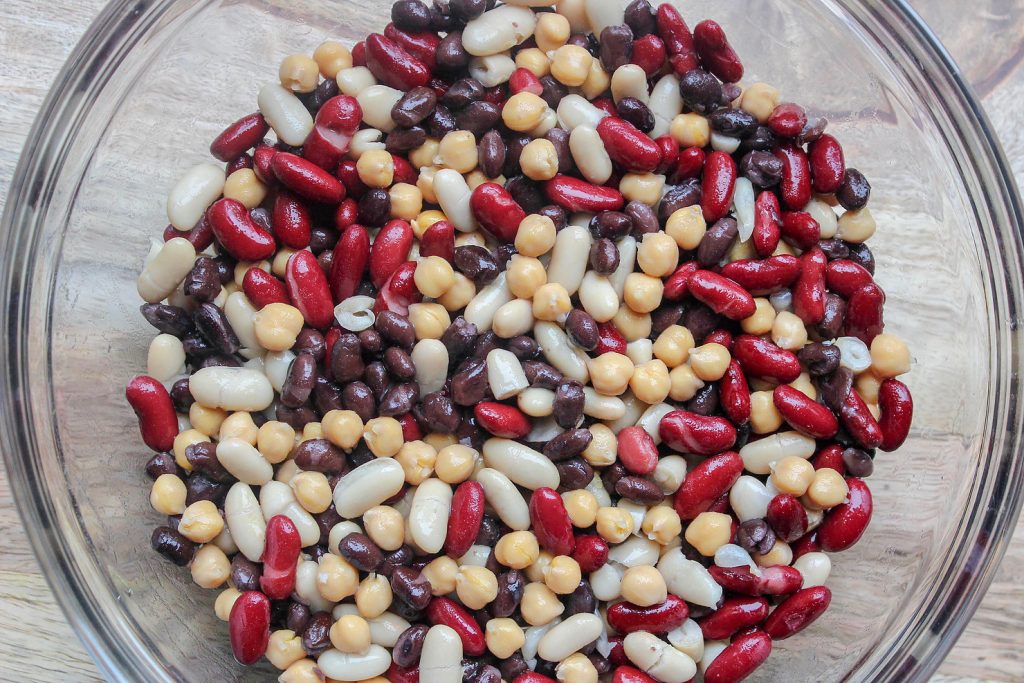 Ingredients:
· 1 can black beans
· 1 can garbanzo beans
· 1 can red kidney beans
· 1 can white kidney beans
· 1 large onion, chopped
· 2 celery sticks, chopped
· 3 carrots, chopped
· 4 garlic cloves, chopped
· 1 green bell pepper, chopped
· 2 jalapeños, 1 chopped/1 sliced
· 1 tomato, chopped
· 1 tbs olive oil
· 3 tbs chipotle adobe sauce
· ½ cup of salsa (optional, highly recommended)
· 1 pack Old-El-Paso taco seasoning
· 1 tsp red chili powder
· 1 tsp paprika (optional)
· 1 tsp garlic powder
· 2 cups water
· 3 cubes vegetable bullion (you can use vegetable stock instead as well)
· Salt to taste
· Sour cream, for topping
· Cheese, for topping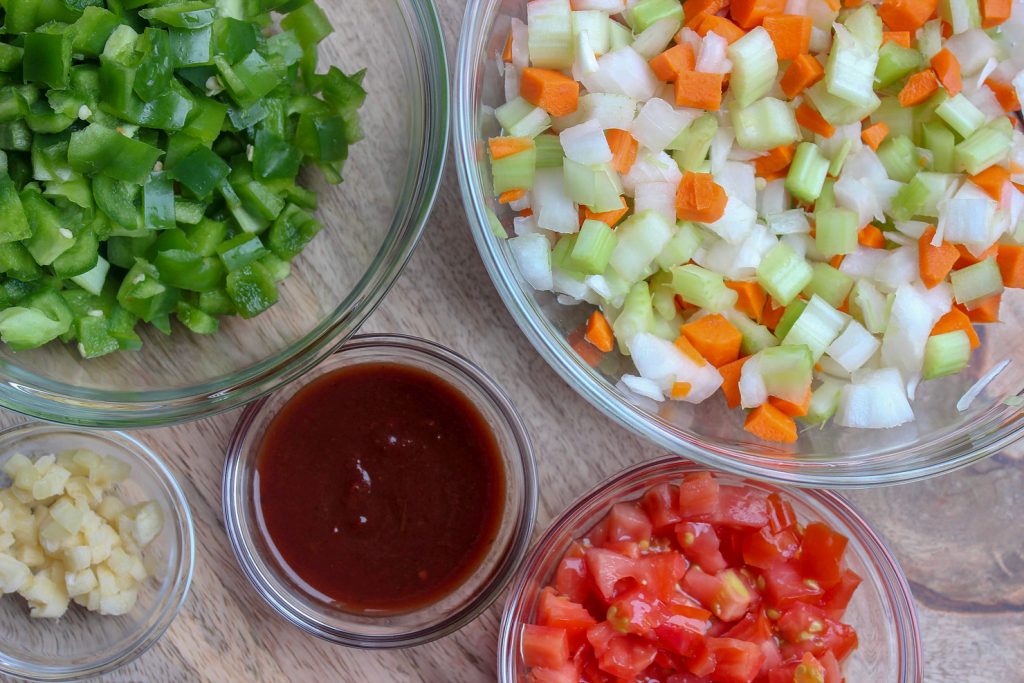 [Read Related: A Perfect Weekend Brunch: Red Curry Shakshuka]
Directions:
1. In a large colander, add all the canned beans and rinse thoroughly with water. Set it aside until ready to use.
2. Heat a large stockpot to medium high heat, add the oil to the pan then add the onion, celery, and carrots. Cook for 5 minutes or until the onions are translucent. Add the garlic and cook for another 2 minutes. Then add the peppers and jalapenos and cook for additional 2-3 minutes.
3. Add the tomatoes to the pan with a little bit of water. Add all the seasonings, spices, chipotle sauce, and the bullion cubes. Mix everything thoroughly and let it cook until the spices are fragrant (1-2 minutes).
4. Add the salsa, beans, and water. Mix well and let it cook on medium heat for about 5 minutes. Then turn down the heat and simmer for 15 minutes with closed lid, stirring occasionally.
5. When serving, top it off with jalapeños, cheese and sour cream.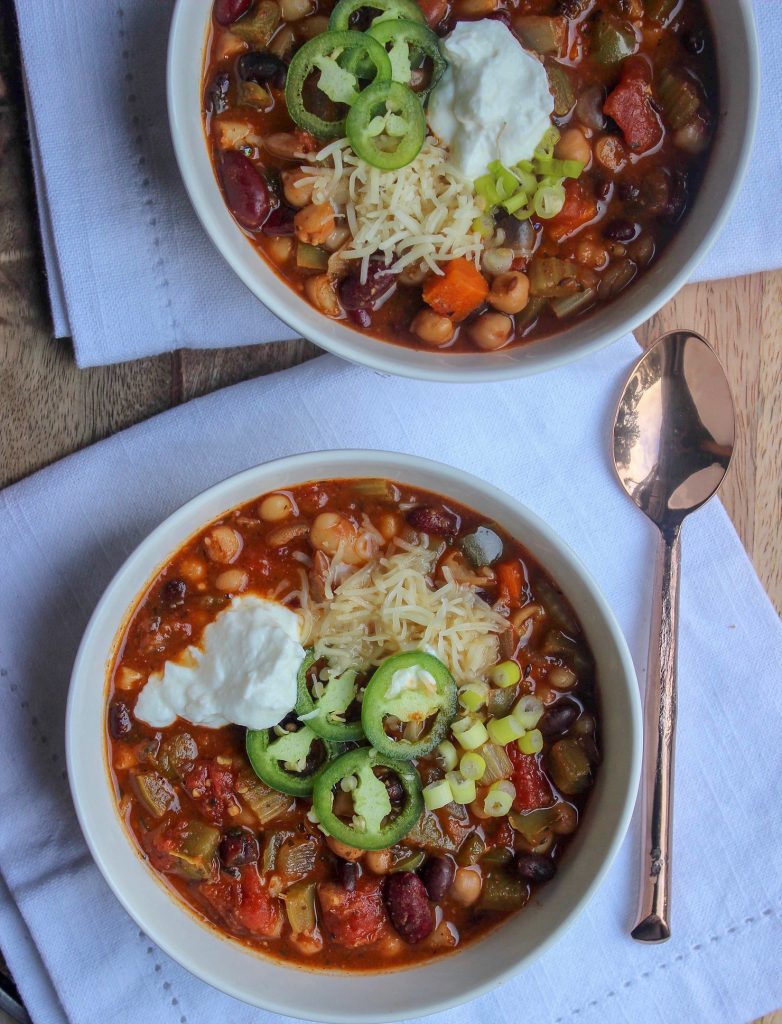 NOTES:
· You can use any beans and vegetables you like.
· Chili can be served over quinoa as well.
· This dish can also be made in a crock-pot or slow cooker.