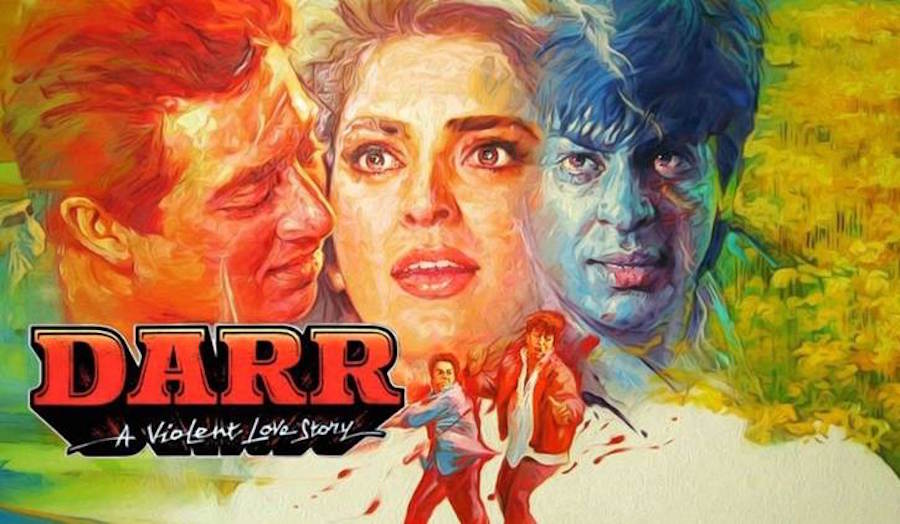 "Darr" is the kind of movie that makes you want to double check if the doors are locked and the curtains drawn shut. This romantic drama-cum-thriller marked the first of Shahrukh Khan's collaborations with YRF productions and the late director Yash Chopra. It was also the birth of the famed Rahul alter ego — albeit the more chilling than charming version.
The film was an instant success with the masses upon its release in December of 1993, making a whopping 25.73 crores back on its budget of 3.25 cr. Shahrukh was fresh off the heels of success in "Baazigar", and the accompanying YRF banner attracted the likes of Juhi Chawla and Sunny Deol who had both been having an incredible year due to "Hum Hain Rahi Pyar Ke" and "Damini" respectively. The two had been paired together in "Lootere" to resounding accolades and almost guaranteed Chopra a successful return.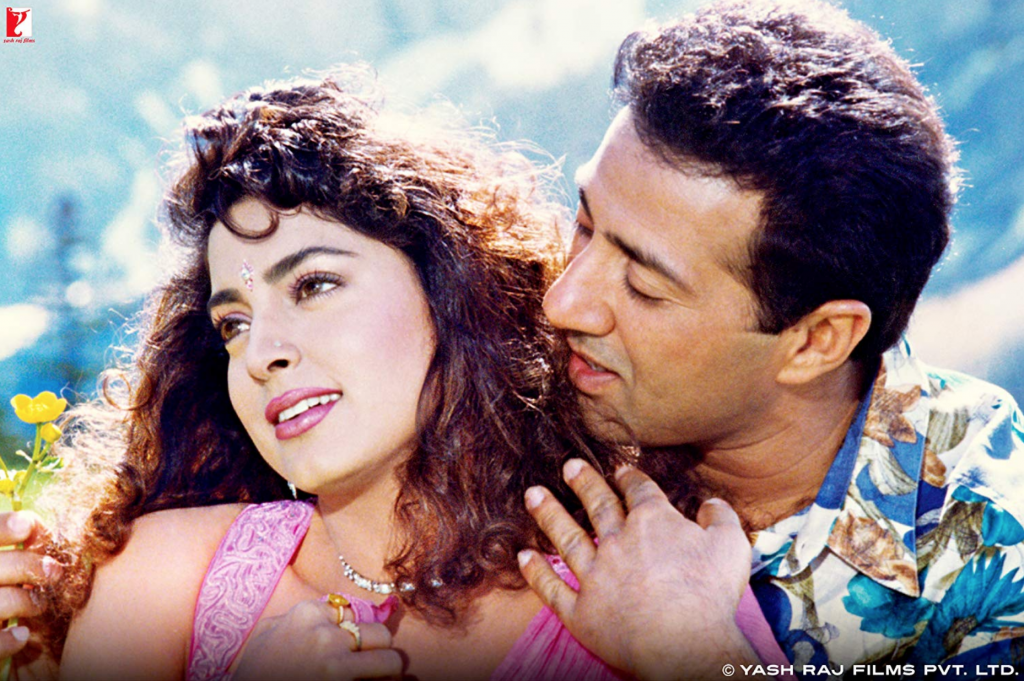 College-going Kiran is madly in love with her navy commando boyfriend Sunil. On a college outing in Shimla, she is serenaded by a beautiful song (the iconic and eventually creepy "Tu Hai Meri Kiran") that she assumes is sung by Sunil. Upon arriving back to the home she shares with her brother and bhabhi, she is troubled to learn that it was not in fact Sunil, and panics further when the man appears in front of her home and calls out to her in the darkness. The man in question is the obsessive, incensed and downright dangerous Rahul. A rich boy with an absent father and long-deceased mother, Rahul loved Kiran all through college, but was too shy to speak to her.
In the nearly three hours that follows, Rahul tracks Kiran across various places in India and abroad; he hounds her on the phone constantly, invading her personal space and vandalizing her home, and trying to kill her boyfriend (then fiancé and finally husband) Sunil. It is a sharp contrast to the loving and heart-breakingly delusional way he speaks to her pictures, projecting them onto his wall and caressing her tresses.
"Darr" was a resounding hit at the box office with a palpable cast chemistry and soundtrack. The film opens with the "Tu Hai Meri Kiran" moment in Shimla, at first glance and listen gorgeous and as romantic as can be. As the threat of Rahul looms larger and larger over Kiran and her family, a slowed down version of the song becomes more ominous, a promise rather than a plea, warning Kiran she cannot escape.
The same tactic is repeated with "Darwaza Band Kar Lo", which takes place in Sunil and Kiran's new apartment and follows the montage of them setting up their home. After Rahul breaks in and vandalizes it with his declarations of love, a mournful version of the song plays in the background as an unconscious Kiran lays in bed, a stony-face Sunil watching over her while the camera zooms in on the blood-red graffiti. Dramatic, but effective.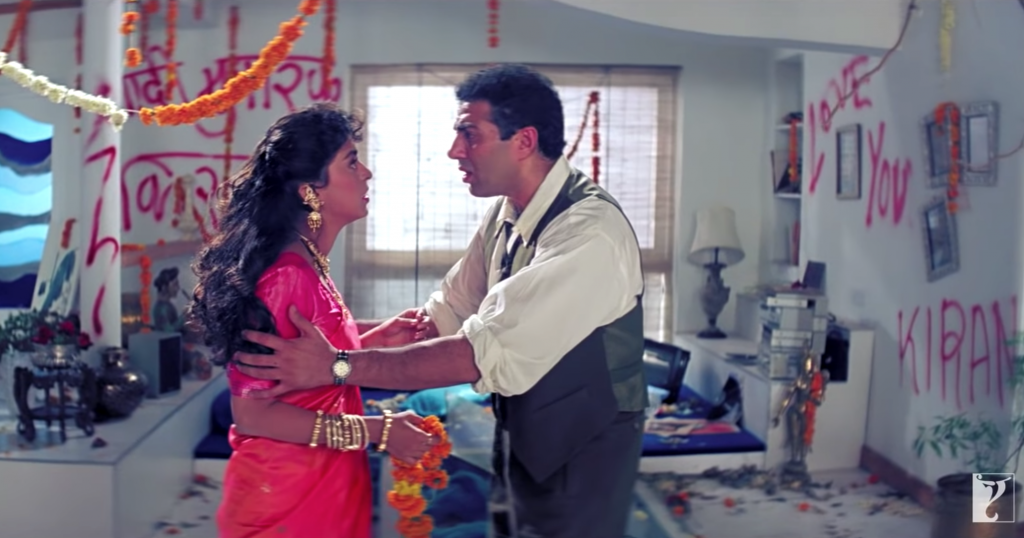 Cut to 25 years later, "Darr" hits only about 70% of its marks. It does not know from which era it wants to be. A corny voiceover and reedy tune proclaim that this story contains the love and obsession of Heer-Ranjha, Romeo-Juliet and of course, "Darr", as blocky red letters flash across the screen in an Amitji-reminiscent 80's title sequence. Though the concept is different, its execution follows the same scene to scene playbook.
A particular scene that made me snort with laughter was when Rahul's father catches him on the phone "speaking to his mother". The camera zooms into his father's face and abruptly cuts to a doctor's cabin. The puzzled doctor asks Rahul's father "So what if he talks to his mother from time to time." His grim faced father replies "His mother has been dead for eight years." Plot twist!
Juhi Chawla is still impeccable, she looks undeniably gorgeous in every variation of salwar kameez and off-shoulder dress in which she's styled. Her smile is contagious and the chemistry between her and Deol is strong. Her portrayal of a near-mad with fear Kiran is gut-wrenching even amongst the melodrama. No one takes her stalker seriously at first, save for Chawla herself, whose sudden change in expression from blushing joy to nervous fear formed a pit in my stomach. Her emotional graph goes up and up from there.
While she misses a few of her beats in scenes with Deol and struggles around some clunkier potboiler-esque dialogues, her scenes with and about Khan won me over. The sound of his voice leaves her blood running cold, and each time Deol tries to calm her down or Rahul evades the cops, the anxiety intensifies. Her face-to-face scenes with Khan are the most memorable; the tension looms and builds as she befriends him first without knowing the truth, and her gentle, fearful pleading with him in the climax stay with you.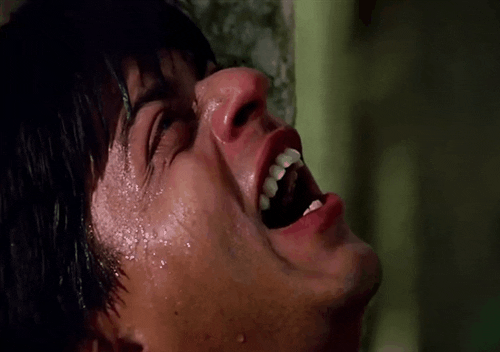 Perhaps this is why the Shahrukh-Juhi pairing was so talked about post film. Scores of women lamented that they would never find a lover like Rahul, interpreting him as a lovelorn, sad, starstruck boy and heaping all of their sympathies with him. To these women I say, "Are you mad?!"
Rahul's "love" in "Darr" is an expression of insanity and mania, the woman he "loves" is little more than an object to acquire, and he relentlessly strips her of her own agency. Scenes in the film seem lifted from real-life incidents we've experienced first and second-hand. I love Shahrukh Khan, and he always works for me, but this was absolutely nauseating.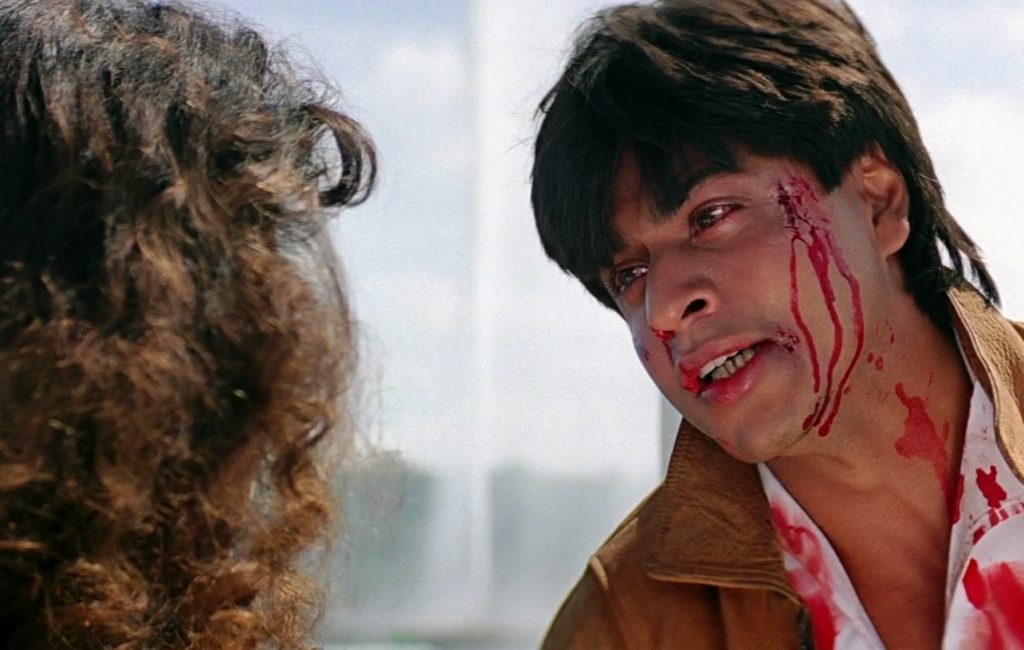 Through the whole viewing, I remained at the edge of my seat, so uncomfortable with his language and his violence. It troubles me to think about how many women were actually floored by his actions, and the men that would have suddenly felt justified in their approach.
Still, "Darr" does show Khan at the start of his prime. Hammy in certain areas, but believable for the sheer passion and the freshness of his character. He had a meaty role to play (which upset Deol upon release) and he took advantage of every frame. While personally he made my skin crawl, he did affect me. I felt myself cringing, shaking my head and panicking for Chawla. I was grateful for the protection afforded to her by the police and Deol. And yet, as he laid bloody on the ground, I felt myself pitying him slightly, wishing he'd gotten help.
I finished "Darr" around 1:30 that night, and flicked off Amazon Prime as I went to go wash my face for bed, still incredibly troubled. About 12 minutes into my skincare, I realized I had been humming the very same "Tu Hai Meri Kiran" the whole time. Rahul has a way of getting under your skin.
Darr is worth the watch. Just remember, "Darwaza Band Kar Lo…"