The first week of April marked a historic moment in Canadian history. For the second time ever, young womxn and non-binary delegates from across the country participated in Equal Voice's Daughters of the Vote program. 
According to its website, Equal Voice is "a national, bilingual, multi-partisan organization dedicated to electing more women to all levels of political office in Canada." More than 300 delegates were selected through the program to represent each federal riding in the country. The week-long conference was marketed as a tremendous opportunity for young leaders and became all the more relevant as we lead up to the Canadian federal election set to take place on October 21. Its major goal was to inspire political awareness and engagement and encourage young womxn to pursue a career in politics.
Daughters of the Vote has made headlines for the decision some delegates made to exercise their right to protest. As a result of the backlash, directed largely at racialized delegates, along with the treatment of minorities over the course of the program, it is important to recognize for whom these sorts of events are truly meant. When racialized individuals are invited into these spaces and are then ironically excluded, it demonstrates exceptional negligence in our understanding of diversity and inclusion.
No one better confirmed this than Canadian Prime Minister Justin Trudeau himself. In his speech at the House of Commons, Prime Minister Trudeau told the Daughters of the Vote delegates, "Diversity only works if there is trust."
For those of us from these so-called "diverse" backgrounds, hearing that our inclusion in the political world is both limited and conditional on obeying colonizers is disturbing—but also unsurprising. There is much work to be done in Canadian politics to truly include racialized individuals while living under a system that remains ruled by white supremacy.
Personally, Daughters of the Vote highlighted the complicated structures that uphold racism in Canada. It taught me that there is much more to fight for and that I must continue to endure trauma if I want to be a part of creating the change that Canadians need.
In spite of the hardship, there remains some hope. As the Daughters of the Vote delegate for the riding of Kitchener-Conestoga, the child of South African refugees, a first-generation Canadian and the first person in my family born with the right to vote, I took my place in the House of Commons to represent my family's history.
In 1985/1993 my parents came to ?? escaping Apartheid. In 1994 ?? elected @NelsonMandela in our 1st democratic election. In 1995 I became the 1st person in my family born with the right to vote. In 2019 I sat in the House of Commons representing this history. #DaughtersoftheVote pic.twitter.com/XrrtlOyxa7

— serisha (@serishaiyar) April 4, 2019
I also had the support of my sister, Trisha Iyar, who participated alongside me as the representative of the riding of Perth-Wellington.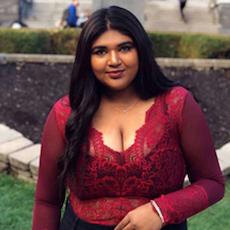 Iyar is in her final year of undergraduate studies at McGill University, majoring in political science with a double minor in communications studies and world cinema. She has served on the Youth Council for the Ville Marie, Le Sud Ouest, Île des Soeurs constituency and as an ambassador for McGill Women in House.
For Iyar, Daughters of the Vote highlighted the dangers of white feminism in politics.
https://twitter.com/trishaiyar/status/1113280281006338048
In addition to me and my sister, several other South Asian delegates were among the 338 young leaders selected for the program.
Together, we demonstrate the importance of representation in Canadian politics and the rich diversity that exists within our broad South Asian communities, ancestral lands, and diasporas. Our experiences at Daughters of the Vote vary, and it is imperative that each one is showcased:
Jasleen Bains, a young Punjabi woman, represented the riding of Surrey-Newton.
The daughter of immigrants, Bains has built a strong connection to India and the issues that impact South Asians throughout the globe. She is in her last semester at Simon Fraser University, earning a degree in international studies and communications. As a member of SFU's Active Bystander Network, a student-led initiative through the Sexual Violence Support and Prevention Office, Jasleen strives to create a culture of zero tolerance for sexual violence. In the fall, she will begin a master's program at Simon Fraser University in communications. As one of the few people selected to provide a member's statement in the House of Commons, Bains decided to focus on her community.
I chose to speak about the issue of gang violence within my city," she said. "I think it's extremely important to knock down the labels and stereotypes that prevent comprehensive programs and policies. It is a complex issue, one that is not spoken about enough, and many delegates didn't understand where I was coming, but that was the entire reason I was there. I wanted issues that are not 'mainstream' to be brought forth.
Talking about such issues can be extremely difficult, but for Bains, she was able to find support while trying to shed light on her own community:
Gang and gun violence is not simply a Surrey issue or a South Asian issue, because like I said in my statement 'this impacts us all.' Many of the support workers and volunteers at Daughters of the Vote that I had a chance to speak to were very helpful. They understood my fears and supported me throughout the process. Being able to represent my riding and present my statement was an incredible and challenging experience, one that I will never forget.
Bibi Saleema Hakim is a 21-year-old student who represented the riding of Kitchener South Hespeler.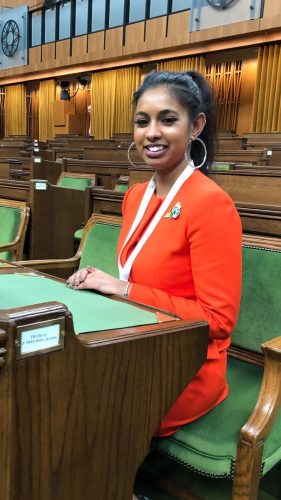 She is a first-generation Canadian born to Guyanese parents with ancestral ties to India. Her family was brought to Guyana by the British and worked in the sugarcane fields. A few generations of her family still live in Guyana while her mother had the opportunity to immigrate to Canada.
Hakim recognizes the importance of representation in politics.
We need more women, we need more diversity in positions of power especially for the laws that concern us," she said. "When I look at Parliament, I don't want to just see the people I call role models. I want to see representation, someone who looks like me. I want a sense and the feeling that I have a place and I belong.
Currently, Hakim is attending the University of Ottawa where she is enrolled in a joint honors political science and public administrations program. She is an active volunteer in both Toronto and Ottawa and has aspirations to one day be Canada's prime minister.
Mithila Mia Jeganathan is a 22-year-old South Asian student representing the riding of Brampton South. 
She is currently pursuing an honors biology degree at Ryerson University. According to Jeganathan, her experience at Daughters of the Vote evoked mixed emotions.
[It was] inspiring, but it was also disheartening," she said. "I loved being with empowering young women who wanted to create positive change within Canada. But I realized not all privileged feminists act as allies for minorities and that people can discredit your experiences and opinions.
For Jeganathan, structural racism and a lack of intersectionality were apparent.
It also opened another door where political party leaders assistants absolutely detested the speeches given by the DOV delegates and made social media postings about it," she said. "Racism in any form will not be tolerated, and it's time these politicians stand up for anti-racism or else the progress of Canada will dampen. Us women are the future and our voices need to be heard. The future is not just female. It's minority women, LGBTQ2S+ women, women with disabilities. It is diverse & inclusive.
Despite enduring racism, she remains positive:
Overall, I loved the experience because it forced me out of my comfort zone, and I learned to take up space, rather than shying away.
Jeganathan is incredibly passionate about advocating for marginalized individuals and aspires to pursue a career in healthcare.
Sal Sabila is a 19-year-old, Bengali Muslim woman who represented Toronto-Centre at this year's Daughters of the Vote.
She is pursuing a Bachelor of Science at the University of Toronto, majoring in mathematics. At age 16, she founded her first not-for-profit organization called Youth Gravity, aimed towards providing necessary resources to young leaders to thrive in their own communities by accomplishing projects they are passionate about.
One of the best things that I was able to take away from this conference is that now I know that I can connect with a sister from almost any corner of this country," she said. "During our breakfast on the first day, we met delegates from different corners of the country, and being able to connect almost instantly and being supportive of each other reminded us that women leadership is about empowering and lifting each other up.
While an enjoyable experience, Sabila doesn't see herself becoming a politician in the future.
I still don't think I will be running as an elected official," she said. "However, it has definitely changed my perspective on how I see politics now. Politics impacts almost every aspect of our lives, so we should never use any excuse to hinder our political inactiveness. Instead, take opportunities to be aware and to raise awareness on how to make our voices heard. Our identities should never be compromised for power and the politics of others. It's our differences that bring us together.
Sabila hopes to pursue a career in teaching, through which she hopes to impact her students' lives and inspire them to be the best versions of themselves despite coming from different walks of life.
Damanjit Sandhu is a 20-year-old, first-generation Punjabi-Canadian who represented the riding of Calgary-Skyview.
She is currently studying social work at the University of Calgary.
This was especially impactful after growing up in a community where I have seen many instances of young women being discouraged from pursuing non-traditionally feminine roles," Sandhu said of her experience at the conference. "One thing that was clear is that there is much more work to be done in advancing the agency of all underrepresented groups in our institutions and for the political culture to be sufficiently supportive to facilitate this.
Through advocacy, she hopes to improve the outcomes of vulnerable groups in the future.
Rubab Qureshi was born in Quetta, Pakistan. The 20-year-old represented the riding of Edmonton MillWoods.
The best part of this conference was, without a doubt, the women I met," she said. "Delegates attended from across the country, and everyone that I met was outspoken, active, educated and passionate. Each one was willing to organize behind others, and each one was willing to put up a fight to systemic injustice. I was, and still am, in absolute awe of the bravery and ferocity of these women and the strength with which they challenge authority figures. Women who refuse to conform to society's standards are the revolution.
She was also one of the delegates who faced extreme Islamophobic and racist harassment online for participating in the program.
For me, I think the worst of it was the backlash I received online in response to my question and even just in response to me existing as a brown hijabi woman in that space," Qureshi said. "I've been active politically for almost three years at this point, and it was the first time it hit me with full force that I'm not entirely welcome in political institutions. It was the first time I really truly realized that if I ever do run for office, I could be endangering my life, as well as my loved ones. Not that it's going to stop me though. If political institutions aren't seen as spaces for women like me, I'll create space.
Qureshi is in her third year of psychology undergraduate studies, with a minor in women and gender studies. She is passionate about creating communities that serve all.
Representing the riding of Vancouver-Kingsway was Guneet Pooni, a 19-year-old, first-generation Sikh, Punjabi-Canadian.
Pooni also noticed the lack of intersectionality within the program.
Daughters of the Vote promoted representation and intersectionality," she said. "However, the program didn't practice what it preached. I did not see myself represented in the panels and speakers that were brought in.
However, the community of delegates she formed around herself created the safe space that should have existed.
Where I did see myself was in the incredible and empowering young South Asian delegates I met," Pooni said. "My greatest takeaways from the program all come from my fellow delegates, where I saw women who look like me, taking their space and using their voices. I am a full supporter of having representation in power positions, but I have never really been able to experience that. Even as an attendee of social justice workshops and conferences throughout high school, I was usually the only or one of a very few South Asian women.
A first-year arts student at the University of British Columbia, Pooni practices intersectional feminism and is passionate about social justice issues and learning about the experiences of others.
Throughout the program, I met many Punjabi women, and I had the chance to share my experience as a Punjabi woman growing up in British Columbia and hear others experiences," she said. "Some things differed based on the cities we grew up in, depending on if there was a large Punjabi population there, but many of us had similar experiences growing up as Punjabi women in Canada. We shared stories about feeling like we had to assimilate to Western culture. This opportunity to connect with other Punjabi women provided me with a sense of belonging that I will forever be grateful for.
The riding of Sturgeon River-Parkland was represented by 20-year-old Muslim student Misbah Mahal.
Born and raised in North America, having lived in both the United States and Canada, Mahal's parents are originally from Pakistan and immigrated to Canada more than 25 years ago to create a better life for the family they dreamed of starting. She holds close ties to her Pakistani roots having been actively involved with the Pakistan Canadian Association of Edmonton. Mahal became interested in politics from an early age, drawing inspiration from her mother's career in the federal government. 
The third-year, neuropsychology student from the University of Alberta categorized her Daughters of the Vote experience as eye-opening and encouraging.
I was taught the importance of having women in politics but, more importantly, the need for more women of color in politics," Mahal said. "It often seems to come across as a linear issue of whether we need to include women in politics for equality, however, the underlying message–that the marginalized groups within that category also need to be highlighted—is not brought forth.

"There are many women that are repressed from pursuing their goals due to cultural barriers that need to be addressed. The experience I had with this program was informative, yet I would have hoped they would have brought more diversity to their panels. I did not see many desi women in politics that talked about their journey and so it was hard to relate to the speakers. I would have liked a segment on how we can tangibly fundraise to run in politics, as many marginalized groups lack the funds to get in positions of power in the first place.
Mahal has been an organizer for social justice rallies in her city, bringing media attention to issues impacting Muslims abroad, such as the persecution of Muslims in Myanmar and the 1 million Uyghur Muslims currently being held in concentration camps in China. She is passionate about helping her community and hopes to continue these efforts and take part in raising more awareness for the issues that matter most to the people around her.
Leena Parhar is a 19-year-old young Indo-Canadian who was selected as the delegate for the riding of Abbotsford in British Columbia, where she was born and raised.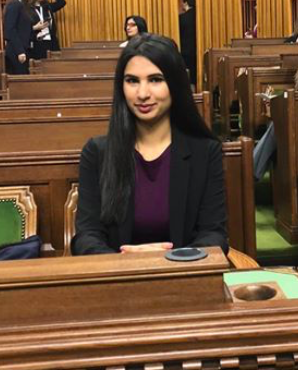 Daughters of the Vote was an incredible experience that deepened my interest in politics and policy in Canada," she said. "[It] gave me the amazing opportunity to meet other young women from across Canada, who are also inspired to have a greater voice in our society and increase female representation in Parliament.
Parhar plans to major in political science and minor in law and society within the Faculty of Arts. She said her choices are a reflection of her desire to learn about pressing issues in Canadian society, such as climate change, intersectionality and its impact on women and wealth inequality.
As a second-year student at the University of British Columbia, Leena said she "gained the valuable experience of learning what it means to govern a diverse nation that always has pending issues and that women play a critical role in creating a more representative and better Canada."
The perspectives these delegates share are diverse, unique and individual, but the one thing they all have in common is the yearning for more representation. Sharing the stories of racialized women in politics is critical to ensuring the needs of the marginalized are met and highlighting where change needs to occur.