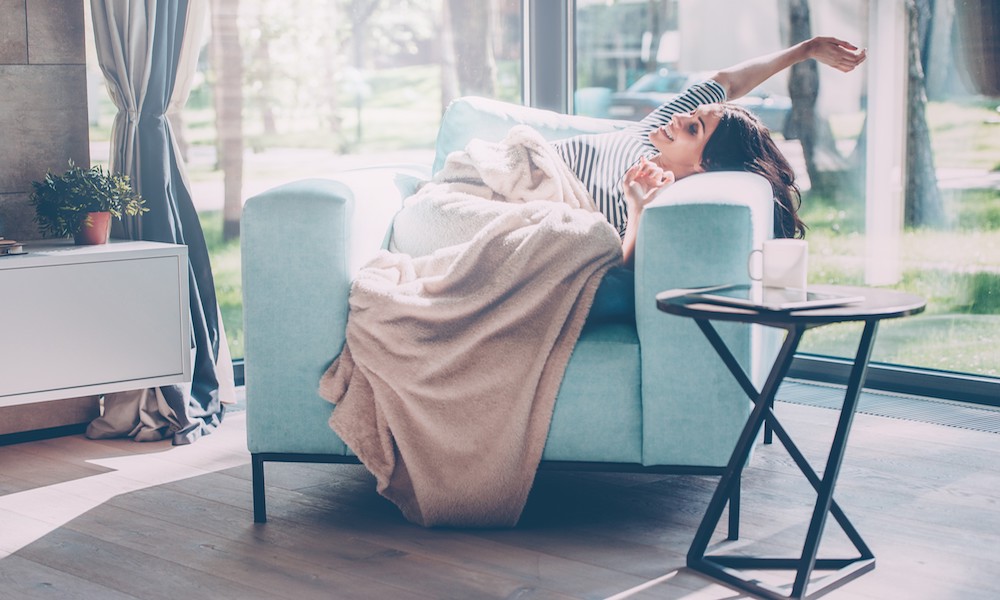 You feel happy.
You are humbled that your belly is home to a growing miracle. You want to feel prepared for your baby's debut, so you sign up for all the free childbirth and baby-care classes at the local hospital.
You lather on cocoa butter to your stretching abdomen and religiously gulp down your daily prenatal vitamin. You take great care of yourself because you know your baby is depending on it. He is already your number one priority and you can't wait to finally meet this little human.
The moment you first hold your baby is as close as you can get to stopping time. In that moment, a spell is cast, and you will never see the world again the same way. Now and for a very long-time hereafter, nothing else will matter.
The thing is, your priority list will shift so fast, you will hardly realize it's happening. You will vaguely remember a time when you would plan out your week filled with dinners with friends and after-work errands. Now, you can barely catch a window in your day to brush your teeth. You will put your own basic needs on the backburner, all in the name of love.
Sacrifice. Nurture. Unconditionally love.
Those are all actions we hear associated with a "great mom." Even in today's world where the "modern day" woman juggles many more things than she has ever had to before, these descriptions remain at the top of the list for being the ultimate mom—you know, the stuff that gave us Mother's Day.
The truth is, I happily put the people I love the very most ahead of me most of the time. And I do this completely by choice.
There is an indescribable joy in seeing your kids happy and sometimes it indeed comes at a small price:
They might look totally put together while I rock a messy mom-bun and t-shirt from last night.

Their bellies might be full from a well-balanced meal, while a bowl of cereal fills mine.
They got full cycles of REM sleep next to me, while I cemented myself to the edge of the bed.
The point is, being a parent will no doubt cause you to selflessly take care of these little creatures. You know you would do it one hundred times over. 
But at some point, you will also feel depleted, exhausted and perhaps, even momentarily forget who you were before you became a mom.
You may ask yourself, does it need to be this way? And for how long? Can we actually have it all—be an amazing parent and also nourish our own selves?
Yes. Yes, we can.
In fact, by continuing to grow as an individual, taking care of ourselves both physically and emotionally, and taking time out in our day just for ourselves, we recharge our batteries. We fuel ourselves. We become better parents.
Yes, we become better parents.
When we identify our needs in order to nurture ourselves… When we can find ways to become efficient and make time for ourselves… When we have the knowledge and skills to prioritize our kids and prioritize ourselves… That's when the magic happens.
Imagine a life where your kids are well-behaved and feel loved. You mindfully parent with your heart and don't need to resort to constant yelling or absolutely any spanking. You feel tired (it's part of the gig!) but you feel like you're on top of your life. You are able to spend quality time with your baby and accomplish all the major goals you have for him and for you. And you are able to carve out time to replenish yourself and have a chance to do what makes you happy outside of motherhood…every, single day.
Yes, this is possible. It starts with investing in yourself.
It happens when you put on your own oxygen mask before helping others. It happens when you love yourself. It happens when you make yourself a priority so that you can be the best version of yourself for your loved ones. It happens when you add to your "mom toolbelt" so that you can accomplish all that you desire.
The downward effects of this are tenfold on your spouse, work, and most importantly, that little baby of yours.
To get started, you can try a few easy ways to carve out some time to love yourself no matter your current status as a mom:
Engulf yourself in nature and be aware of your surroundings and how you are a part of the world around you. No electronics.

Play music and relax to your favorite song and maybe even learn the words.

Create a short "to-do" list that is achievable and cross off the items as you get through them. Remind yourself you're doing a great job. 

Spend some time doing mindful breathing. Close your eyes and focus only on your breath and how it makes you feel. 

Make yourself a tasty snack or favorite drink and enjoy it without distractions. 

Read a chapter from a new book if reading is your thing. You can set aside some time to read just a chapter a day. 

Put on your favorite perfume or aromatic lotion. Maybe you have a fragrance that has fond memories attached to it. 

Spend a little extra time getting dressed as if you were going somewhere special. Look good, feel good.

Look at photos that make you happy and remind you of your accomplishments. 

Look at yourself in the mirror and tell yourself, "You are awesome!" It will feel silly but it's also important. 

Do some yoga stretches, take a walk, go for a run: Do something active that is a mood-lifter.
This is just the tip of the iceberg of ways to love and nourish yourself, even just a little bit every day. Once we become aware of our personality, triggers, goals and game plan, we can achieve absolutely anything.
It begins with loving yourself. Don't forget to love yourself today, mama. You got this. You're a strong mother.
---
The opinions expressed by the guest writer/blogger and those providing comments are theirs alone and do not necessarily reflect the opinions of Brown Girl Magazine, Inc., or any employee thereof. Brown Girl Magazine is not responsible for the accuracy of any of the information supplied by the guest writer/bloggers. This work is the opinion of the blogger. It is not the intention of Brown Girl Magazine to malign any religion, ethnic group, club, organization, company, or individual. If you'd like to submit a guest post, please follow the guidelines we've set forth here.