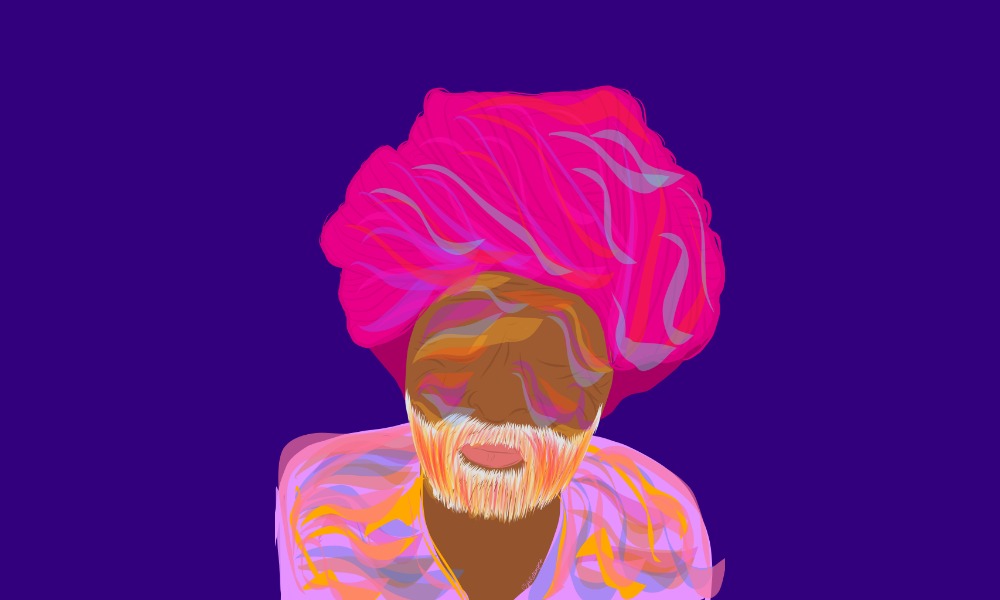 While many of us (definitely guilty at Brown Girl Magazine) created new traditions surrounding Holi — now more widely known as the festival that celebrates new beginnings and spring — it derives from the death of Holika, a Bahujan woman, and evil.
I'd be remiss if I didn't write a brief of its origins here: Holika was the sister of Hiranya Kashipu, a demon king, who was enraged over his son's ardent devotion to Lord Vishnu. So when Hiranya Kashipu decides to punish him, he took the help of his sister, Holika, who is immune to any damage from fire. Holika carries the small boy Prahlad into the fire but a divine intervention destroys her and saves Prahlad from getting burned. According to some, Holi is celebrated to mark the burning of the evil Holika.
Historically, the act of 'burning' Dalit Bahujan women is seen as patriarchal and Brahmanical practice — which, unfortunately, and unbeknownst to many, is rampant in modern day India.
To further understand how casteism unfolds in the case of the burning of Holika, one must dive deeper into how the Vedas and Puranas have historically portrayed the Asura, Rakshasa, Dalit, Bahujan women as evil, immoral and sexually promiscuous as against the 'upper' caste/ Brahmin women who epitomise purity, morality and chastity.
One of the primary struggles we face as a hyphenated identity is understanding the origin of creation versus cause of continuous participation in the modern day.
Like many, born and raised abroad I've been celebrating Holi my entire life but none of my Hindu family or friends ever shed any light on the roots of Holi. I venture to say it's primarily because they themselves do not consider the celebration of deaths or caste-ism while its origins may be correlated to such ideals.
View this post on Instagram
Sonalee (@thefatsextherapist) sheds light on a variety of issues surrounding Hinduism and it's propagation of casteism via different holidays, while we all have different experiences with religion — this excerpt of her post struck me.
ask yourself why. what do you know about your caste? how does your fam talk/not talk about caste? what forms of cultural casteism does your fam practice like having diff plates and utensils for meat eating or only accepting money with your right hand? ask yourself if you value marginalized and persecuted people over holidays that celebrate the genocide of their people. bc hindu holidays are kind of obsessed with dalit atrocity. so maybe we need to find some new festivals to play at school that don't involve casteism.
How people interpret a religion and which facets of it they identify with is an individual experience but I second the sentiment of it being imperative that the new generation be weary and informed of the habits and celebrations we take part it in and where they come from, more importantly how to ensure we don't echo those antiquated and offensive ideals.
Individuals of many faiths often believe in certain aspects of each faith and as time has moved on in some ways, I feel sharing the celebration of color, joy and spring with other nationalities, races and ethnicities across the world is a way of everyone dismantling what once was an anti-Dalit celebration and making it inclusive and diverse, open to all.
Religion and how it is interpreted, taught and passed on is a flawed system but within that system lies the influences of culture and humanity. What may once have been provided in context of religion and caste-ist systems has become a global celebration that brings happiness and connects people through music, color, dance and food — all principles integral to all South Asians.
As we celebrate Holi in multiple forms, we must first acknowledge the flawed conception of the festival but also embrace its progress and evolution into an event that has connected the South Asian Diaspora and other communities in a time where polarized divides are causing such turmoil internationally.
This year, as we celebrate with our loved ones, we encourage you to learn where your celebrations began and acknowledge how they've changed. Is the new narrative a more inclusive one and if not, how can we help it become so?