With the holiday season amidst us, and the preparations on in full swing, why not get yourself ready for the hustle and bustle to come with a fun cranberry eye makeup look.
Cranberry colors are a great look for the winter season and can be quite flattering on darker skin tones. The bolder the better! Bring out that inner bombshell Brown Girl using gorgeous cool-toned, berry colors!
But before we get into the details of the look, always remember something: Makeup is fun and isn't meant to be taken seriously. At the end of the day, it all comes off and you're still your beautiful self.
Not everyone in life will approve of you (and your choices), but in the end, life is too short to care about these insignificant things. Go out and do what makes you happy! And in this case, happy really is trying this cranberry eye makeup tutorial for yourself!
So without further delay, tune into the video above and follow along to get the look—the product details are listed below. So what are we waiting for, let's get ready for the holidays:
Products
NuBounsom lashes (style: Bella)
Tools and Brushes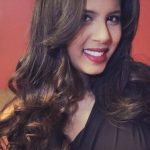 Fazelia Mongru is a beauty enthusiast who reveals the latest makeup products and trends. She is recently married with two beautiful baby boys, but still manages to have her highlight beaming to the Gods at all times— and all while working full time, and maintaining her household. Although she holds a MBA, beauty has become such a passion in her life. Her goal is to show all working mothers out there that you can always look, and feel, great.