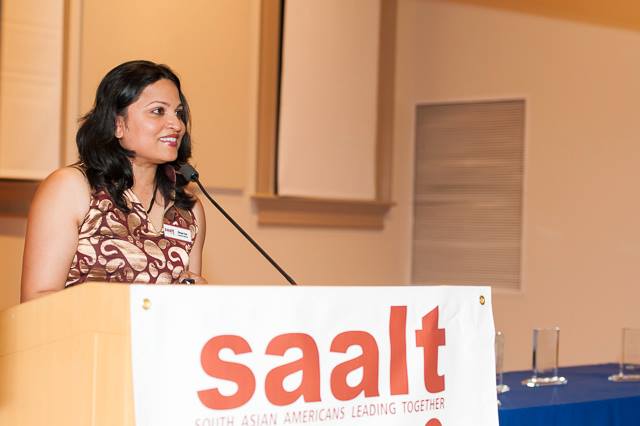 Do you ever find yourself reflecting on your passions? On your goals, dreams and ambitions? Do you ever think to yourself, "enough thinking and wondering, I just have to do it." Well, Deepa Iyer, an author, professor and former executive director of South Asian Americans Leading Together, encourages us to leap into action.
For those unfamiliar with SAALT –  it's a national nonprofit that works to elevate the voices of South Asians and organizations to build a more just and inclusive society in the U.S. The organization does that by conducting public policy analysis and advocacy, building partnerships with South Asian organizations and allies, mobilizing communities to take action and developing leadership for social change.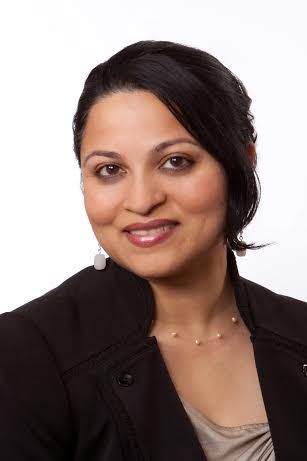 Iyer identifies herself as a woman of color and an immigrant, who moved to Kentucky at the age of 12. While growing up, she said she always felt like she was "the outsider and on the margin" and wanted to understand why that was. Iyer said she felt the backlash of being a woman of color, whether it was in school, at the local supermarket, and it was no secret to her that her family felt the effects of racism in the community.  For Iyer, feeling like an outsider, pushed her to take action and pursue a passion to help the South Asian community.
Iyer's community activism began during her time at Vanderbilt University, where she completed her undergraduate degree.  Along with her fellow classmates, she worked to identify issues they needed to discuss in the South Asian community and it led to asking each other some important questions.
One of those questions – how can we increase faculty diversity and curriculum diversity – was one she sought to carry out herself.
In the late 1990s, after graduating with a Juris Doctorate from the University of Notre Dame, she began working in Washington D.C. It was there she joined several Asian American civil rights organizations and found a community where she felt comfortable in. During that time, Iyer said her focus was on voting and language rights issues.
Prior to her tenure at SAALT, Iyer served as the Legal Director of the Asian Pacific American Legal Resource Center, worked as a trial attorney at the Civil Rights Division of the U.S. Dept. of Justice and as a staff attorney at the Asian American Justice Center.
We all have our moment of awakening and for Iyer, it was the Sept. 11 World Trade Center attack.  She said she found the attack and the post-9/11 time period to be a "watershed moment," which pushed her to take on a bigger leadership role. Soon after the catastrophe, she began receiving complaints from people who were victims of hate crimes and discrimination. Iyer recalled many accounts of people who were forced to take off their turbans and girls who wore hijabs were constantly harassed in school.  Iyer said it was her goal to make sure innocent victims of hate crimes had a safe place to turn to for help.
When she joined SAALT in 2004, Deepa said she felt this "organization was a vehicle and voice for South Asian Americans."
During our talk, she reminisced about the first time the National South Asian Summit was held in Washington D.C. She said she remembers the crowd of people and the up-beat energy in the room. She also recounted the time she facilitated a meeting with President Barack Obama and 15 national Asian American leaders, who spoke about key issues facing Asian Americans today.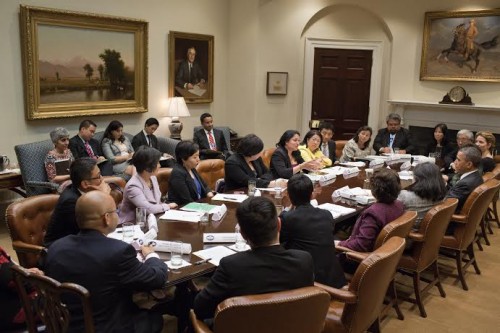 As executive director for a decade, Iyer said she had three goals in mind for SAALT's success. The first goal was to make sure South Asians are present at policy making tables in Washington D.C. Second, it was to convene all local voters around the country, and finally, build SAALT's own infrastructure. After successfully guiding SAALT's direction on public policy and advocacy, she leaves a strong legacy behind, as well as big shoes for the new executive director Suman Raghunathan to fill.
Suman Raghunathan
s direction on policy advocacy, programs
s direction on policy advocacy, programs
Iyer left SAALT with a great legacy.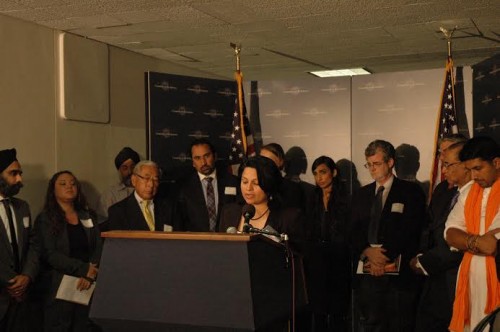 After overcoming her personal obstacles of being an immigrant and a woman of color, Iyer said she believes that South Asian women need to have times when we share honest conversations about the struggles we face and we need to have spaces where we can be open and say, "yes I am tired, and yes I don't know how to manage this obstacle." Even though she said she believes we need to have spaces where we celebrate triumphs, we also need to share our challenges.
As of now, Iyer continues to serve SAALT in a consulting role as their strategic advisor. More so, Iyer is taking some time to step back and reflect on her years of work. While spending time with her three-and-a-half-year-old child, she is pursing her passion for writing. Her upcoming book is about the changing racial landscape in America, which will be in stores in 2015. Iyer is teaching a class at the University of Maryland about South Asian American communities and is on the board of directors of Race Forward.
It is safe to say, Iyer is an inspiration for all young South Asian American women because she encourages us to be proactive and stand up for what we believe in. So, let me leave you with this one question, what is your "call to action?"
To learn more about Deepa Iyer, visit her blog and follow her on Twitter.