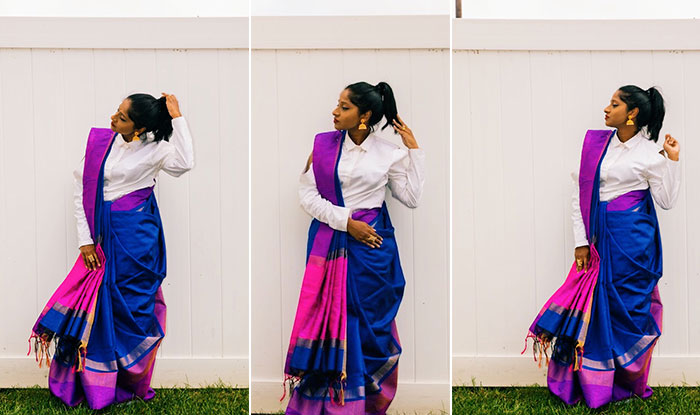 by Liya Thachil – Follow @liyabobiya
Welcome to the first installment of our new Brown Girl Magazine Series call Myth Busters: Desi Dressing Edition. (Full disclosure: That name might change, so don't get attached.)
Have you spent hours on the gram, seeing all of these oh-so-fashionable bloggers wear their oh-so-cool desi clothes, and then wonder how the heck do they do that? Let it be known: Girl, I'm right there with you. So on behalf of us confused desi dressers, I've decided to embark on a quest for y'all and give you the step by step to these trends that pop up on Insta. But WAIT. We are not just busting the myths on trends; we are ALSO busting the myths of age-old desi dressing rules that have no place in the 21st century. So hold on to your cholis, gals, it's about to get real.
First up, we have the button down blouse as a saree blouse alternative trend. That is a mouthful, but how does one cleverly name it? I have seen Sonam Kapoor execute this look flawlessly on the red carpet a few times, but she is also a 1000 ft. tall goddess with a perfect figure, so, really, she doesn't count.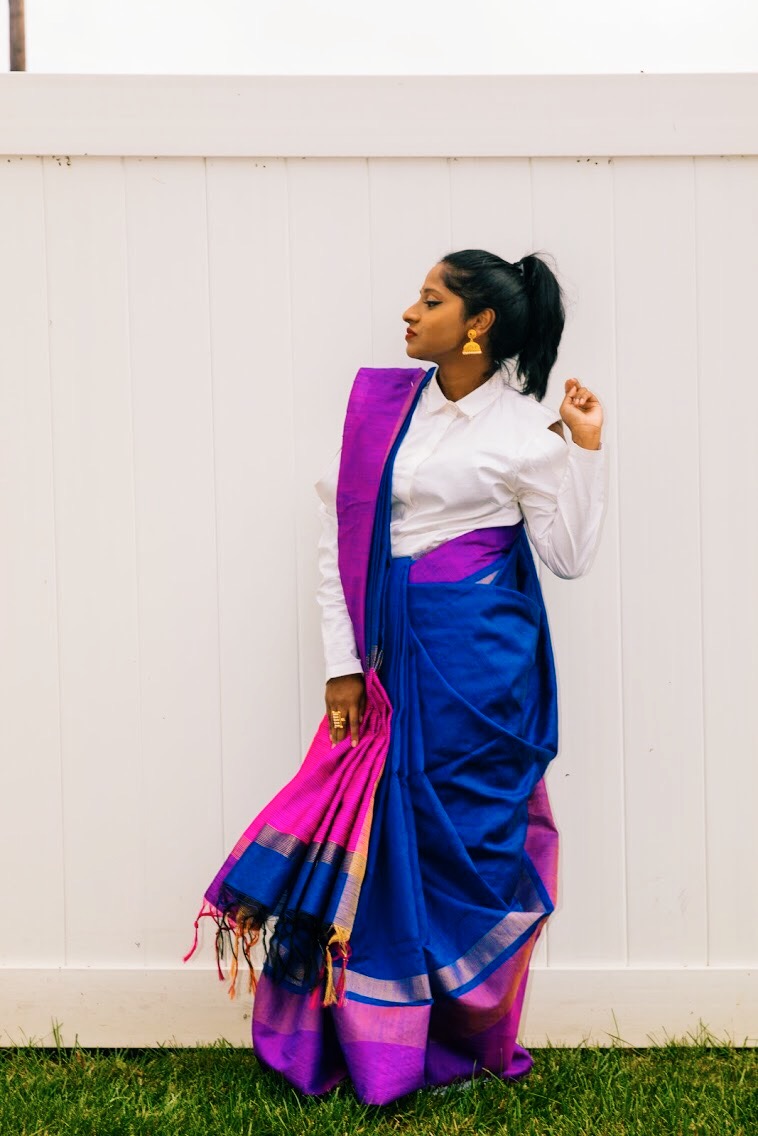 But never fear, us mere mortals can also rock this look by keeping a few things in mind:
1. Use stiff fabrics for the shirt, like cotton or raw silk.
Pair it with a raw silk or cotton saree. It isn't supposed to be a glam look. It's great to maybe wear to a personal event of friends, such as a bridal shower, a mehndi, or even a nice dinner. It is relaxed chic.
2. The look is about lengthening your torso.
I tried this without heels, so my saree was much higher on my waist. If you are petite and have a short torso, such as myself, you will need to make sure your saree is exactly on your waist and doesn't move up. For those with longer torsos, regardless of height, you can get away with no heels. However, I do recommend heels with this look because the effect is so much better when there is height.
3. Since the shirt covers your entire upper body, don't drape the saree the traditional way.
Make it a bit more fun. I did this over my left shoulder, so it almost looked like a shirt and shawl combo. Other options include draping it across your neck like a dupatta or doing a very, very, very thin pallu drape. It can be max three inches wide, to keep a clean look.
4. This is a look that has a lot of fabric, so my shirt actually had a cold shoulder to give some balance.
You could do a short sleeve, or a mandarin collar for balance as well.
This trend is pretty easy to pull off, just need to have the right ingredients. I urge you all to try it because quite honestly if sarees are uncomfortable for you, this look will change your mind. It was effortless to move around in, I wasn't always adjusting my saree, and I wasn't worried about overexposing myself. It is a great modest look without looking like an aunty. So five stars from me. Send @BrownGirlMagazine your attempts at this look. Happy desi dressing!
[su_divider]
Liya Thachil is the co-founder of WESTxEAST, which is a retail brand aiming to provide South Asian inspired basics. It was created because of the need she and her co-founder, Tania Chackumkal, discovered for sari blouses, petticoats, kurtas, etc. They believe the silhouettes of the subcontinent should be more globally embraced. WxE aims to be a movement towards style beyond borders. Liya is an avid collector of vintage saris and believes all women should own at least one Kanchipuram sari.