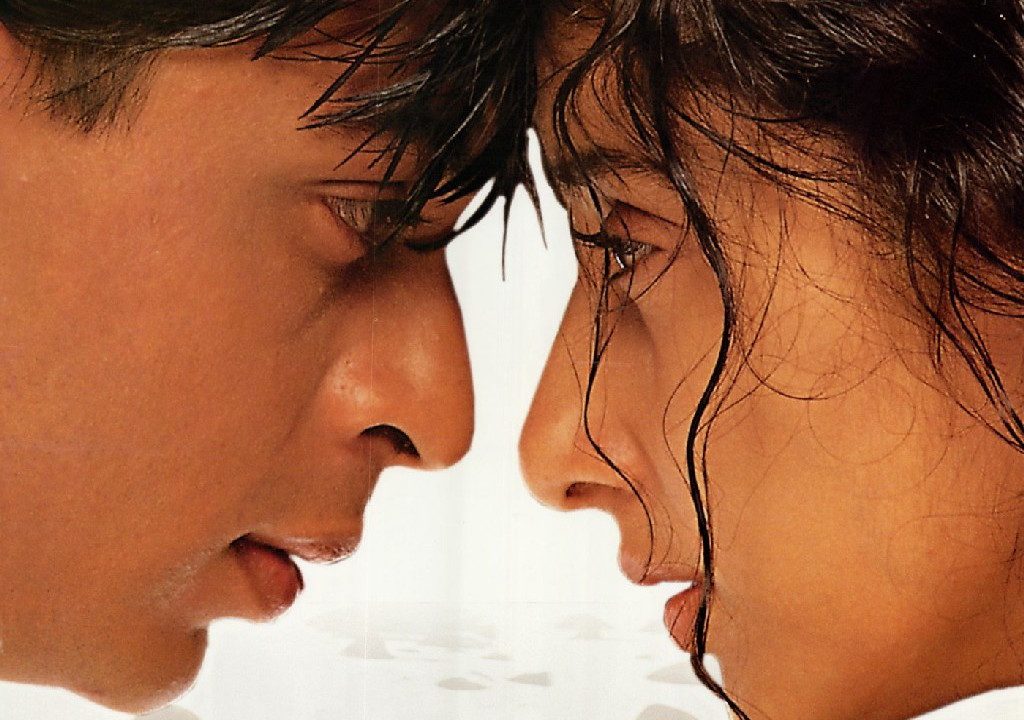 It's hard to imagine that it's been 20 years since Mani Ratnam showed us a complicated romance that ended in death and heartache in "Dil Se." There are a lot of ways we can celebrate the major anniversary of "Dil Se," from its incredible songs (Thank you, A.R. Rahman!), to its gorgeous cinematography. But for now, we pay homage to its core: the tragic, complex love story.
Here are some (of the many) tragic love stories to "pre-game" the 20th birthday of "Dil Se." These are the Bollywood films that left us teary-eyed with a half-eaten samosa in hand and a subscription to Saavn we probably didn't need.
1. "Mughal-E-Azam" (1960) – Our parent's "Romeo & Juliet"
https://www.youtube.com/watch?v=6Au_J6jHKE0
We may be celebrating "Dil Se" now, but "Mughal-e-Azam" will forever be the benchmark for Bollywood tragic love stories. K. Asif's historical drama follows the epic love between Prince Salim and his court dancer, Anarkali, and their battle with Salim's disapproving father, King Akbar. Akbar refuses their plea to marry and imprisons her to keep them apart. Salim rebels against his father with a physical battle (Anarkali quite literally got a knight in shining armor. You go, girl!).
When he fails, he is sentenced to death UNLESS Anarkali dies in his place (cue suspenseful music *duh duh duhhhh*). Ultimately owing Anarkali's mother a favor, Akbar frees her under the condition that she is exiled and can never tell Salim that she is still alive. Not only is this film iconic in the production barriers it broke, but themes of love, religion, and history make the tragic ending that much more painful.
2. "Qayamat Se Qayamat Tak" (1988) – The tragic "smooch fest" you didn't know you needed…
Considered Bollywood's first attempt at adapting the classic Romeo and Juliet story, "Qayamat Se Qayamat Tak" is the romantic tragedy that brought Aamir Khan and Juhi Chawla into the Bolly-sphere. Raj Singh (Aamir) and Rashmi Rajput (Juhi) are from disputing families (shocking, I know) and when their families disapprove of their love, they run away to the countryside to have a life together.
In a dramatic finale, Rashmi's dad hires a hitman to hunt down Raj. Except the idiot henchman ends up killing Rashmi. As she breathes for the last time in Raj's arms, he grabs a dagger and commits suicide. This film captured the innocence of young love in a way that was groundbreaking, even though the story paralleled the Shakespeare classic, and set the stage for all romantic movies in the 1990s. Sidebar: There is A LOT of kissing in this movie.
3. "Devdas" (2002) – A love "-angle" that never quite becomes "tri"
https://www.youtube.com/watch?v=mcILZ21m6Wk
I would be ashamed to call myself a Bollywood fan if I didn't include Sanjay Leela Bhansali's "Devdas" (2002) on this list. When Devdas (played by Shahrukh Khan) returns to India after having spent the past 10 years of his life studying in London, all he wants to do is marry his childhood best friend, Paro (played by Aishwarya Rai). But, because Paro is of a lower class than Devdas, his parents deny them marriage. Paro eventually marries another man against her will and Devdas turns to alcoholism, and it kills him.
The tragedy of the film is truly felt through Shahrukh Khan's performance; it's visceral. You feel him drinking away the pain, you feel his body and heart physically hurt, and you see him do everything in his power to forget about Paro, who never stops loving him – it's truly heartbreaking.
4. "Fanaa" (2006) – She's blind and he's a terrorist… What could possibly go wrong?
"Tere dil mein meri saanson ko panaah mil jaye … Tere ishq mein meri jaan fanaa ho jaye."
Did you just get chills? I know I did.
Kunal Kohli's "Fanaa" tells the story of a New Dehli tourist guide, Rehan, (Aamir Khan) who falls madly in love with a blind Kashmiri tourist, Zooni (Kajol). On the day of her eye surgery, Rehan is reportedly killed by a terrorist attack and Zooni is never able to see his face. It is later revealed that Rehan was not killed by the attack but was one of its masterminds and is alive. Many years later, fate brings the two back together and when Rehan's true identity is revealed to her, she is forced to kill him herself. She has to kill him because she loves him (a version of love I hope I never have to go through).
The ultimate validation of their love is seen in the end when Zooni takes their son to visit Rehan's grave. She doesn't tell him that he was a terrorist, she tells him that he died fighting for what he believed in.
5. "Guzaarish" (2010) – Hrithik Roshan plays a magician AND it's on Netflix. What are you waiting for?
Truly one of the most compelling Bollywood films ever made and quite frankly Hrithik's peak role (yes, we're on a first-name basis), Sanjay Leela Bhansali's "Guzaarish" (2010) narrates the story of a paralyzed magician, Ethan, who files a petition with the Indian high court seeking permission to end his life through euthanasia. Ethan's petition is ultimately rejected by the court, but that's not why it's included on this list.
The love story here is between Ethan and his caretaker Sofia (Aishwarya Rai), whom you question the entire movie because her loyalty to this paralyzed man is baffling. Why does she stick around for so many years? I would think it's for the money and at one point so does Ethan, but that's not the case. When his petition is denied, Sofia offers to mercy kill him fully knowing that her fate will be jail – because she loves him and he loves her.
6. "Aashiqui 2" (2013) – A reminder to romantics everywhere to date someone who owns more jackets than umbrellas.
Mohit Suri's "Aashiqui 2" tells the love story between fallen musician, Rahul (Aditya Roy Kapur) and rising musician Arohi (Shraddha Kapoor) which comes to a tragic end when Rahul's alcoholism leads him to suicide. Rahul's suicide is prompted by his undeniable love for Arohi, who puts her singing career on hold to help him fight depression.
In the end, he believes that the only way to help her move forward in life is to end his. When I first watched this movie, I was annoyed. Rahul makes the same mistakes over and over again, and Arohi always puts her life on hold to help him. You just want to grab her by the shoulders and shake some sense into her to leave him. But then it hits you that their love is tragic because there is no conclusion; it's an infinity sign with no room for growth or a sigh of relief.
With "Dil Se" turning 20 years old, you'd think the ingredients for a romantic tragedy would change with the times. But the root of tragedy and the root of love have proven unaffected by time.
Tragic love always requires a massive sacrifice; I don't think any other film industry has been able to beautifully tell these stories than Bollywood, and "Dil Se" is among the most fascinatingly told.