The year 1973 saw the birth of a star; legendary actor and filmmaker Raj Kapoor cast the 16-year-old Dimple Kapadia in 'Bobby,' and her natural ease on the big screen shot her to instant fame, touted her as a 'cult figure' in Indian cinema, and made her a household name.
Kapadia has worked in over 70 Bollywood films in her career that now spans over 40 years, taking sabbaticals here and there, but always returning to roles that challenge her craft and prove her capabilities. Still making a pivotal impact with her recent roles in films like 'Dabangg 3' and 'Angrezi Medium,' major money-spinners at the box office, at this stage in her career, Dimple Kapadia needed an opportunity of a lifetime, and that came in the form of esteemed Hollywood director, Christopher Nolan's film, 'Tenet.'
Nolan's movies are no stranger to mind-bending and non-linear narratives and 'Tenet' takes these elements, and the thriller-action genre, to a whole new level. The film's distinct storyline of a secret agent setting out on a "time-bending" journey to prevent World War III, paired with Kapadia's phenomenal screen presence along with her counterparts, makes the movie a compelling watch.
In an exclusive chat with Brown Girl Magazine, Dimple Kapadia talks about her experiences with shooting 'Tenet' at length. Here's what she had to say:
For those who haven't seen the film, can you please give the audience your take on 'Tenet.'
"What can we say about Christopher Nolan's film 'Tenet'? Words are just not enough. It's absolutely mind-blowing, riveting, it's a huge experience — I mean films are an experience — and it turns your brain inside out, and that's what's so fascinating about it. It's just not visual. It completely throws you off and you have to see it a couple of times to see the beauty of the film. It's fabulous!"
You mention that the film is mind-blowing. Its plot is also mind-bending, consisting of concepts like entropy, inversion, and non-linear thinking; Christopher Nolan even said that this is his most ambitious project yet. What inspired you to take on this role?
"The way I became part of the film was very strange, actually. I got a call from this number I didn't recognize, and I picked up and it was an agent and she said, 'Christopher Nolan wants to audition you for this film.' I don't watch a lot of movies, but I've seen 'The Prestige' about four times — because his movies have to be seen 4-5 times — and I went crazy! So, I went and told my nephew that I got this call and 'some Christoper Nolan wants to audition me.' He's like to me, 'that's your favorite director! Don't you remember 'The Prestige?' What are you saying?!' I told him not to get too excited thinking why Christopher Nolan would want to cast me? I thought somebody was pulling my leg. So it started off like that. But then I saw that this was a reality; I just kept thinking whether I would be able to pull this off. All this fear was in me and I actually shut myself off and said I don't want to do this. I can't do this. And this was not because of anything else but my own fear and insecurities. But then I gave it a shot and just my good luck, he [Nolan] was coming here to India and he wanted to do an audition with me."
I understand that this was the first role you ever auditioned for in your career that spans over 4 decades. How was the audition experience for you?
"I still didn't think I stood a chance, but I went to the audition and took my nephew with me saying we'll get a picture with Nolan and that would be the best part of our day. I went in there expecting nothing at all. I was just stunned by this huge man, one of the biggest directors in the world, and he was so simple and kind. I left the meeting still thinking that I didn't get the part but I was just happy meeting him and getting a picture for my nephew.

But then, oh my god, I got the part, and I still can't explain what that's done for me. I still haven't been able to take in all of it. At one point, he had the camera in his hand and he was taking the audition and I was like, 'oh my god, Christopher Nolan is taking my audition!' During the meeting, we had a cup of tea, and at one point I forgot my lines which is nothing new, and it just went on. I came back thinking wow I just did an audition, I've done it. The fear of auditioning was gone. He made me so comfortable.

So, how I started my audition was: 'Hello, I'm Priya Singh, mujhse dosti karoge?' I started from there and I've come here. I'm extremely grateful. I told Christopher that he pulled me out of my grave. I didn't think I would get the part, I genuinely didn't think anything."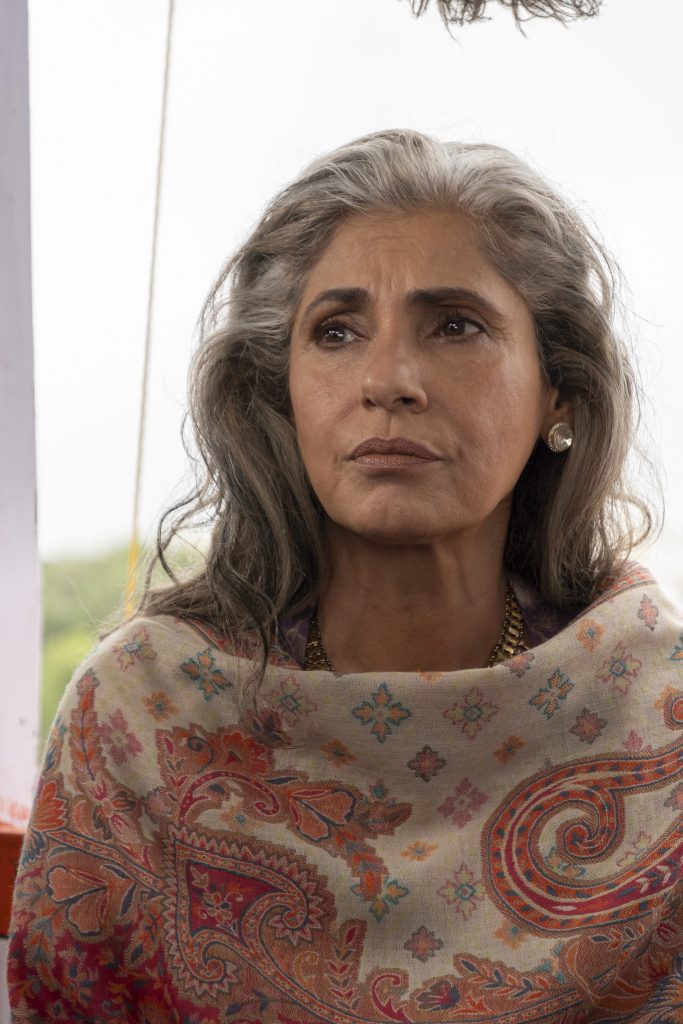 [Photo Courtesy: Warner Bros.]
Talk to us about the character of Priya Singh. She's multi-layered — intelligent, powerful, and mysterious. How did you find essaying this role?
"Honestly speaking it was a breeze because I was just adopted by sir [Nolan] and all I had to do was just stand there and do my stuff. Chris put everything together, I really didn't have to do a thing. He has us get it all out. I don't know how he does it. His passion and concentration to bring his story to celluloid are so infectious, so you can't help but to try and put your best foot forward."
'Tenet' offers a powerfully diverse cast — a black lead, and a South Asian star playing the prominent role of an arms dealer. How do you think the diverse casting effects the positive impact of the film on the audience?
"It's wonderful because the casting gave a lot of credibility to the characters. At the end of the day, it's not about your skin color and where you come from, it's about your talent and what you can bring to the table, and if the audience sees that then you've done your job."
The film also marks your debut in Hollywood.
"That's right! I remember I did an interview eons ago, where I said at 15 I became a star, at 20 I sort of divorced, at 30 I'm back, and at 50 I'll be in Hollywood! So I was 13 years late but look how it happened! I feel absolutely blessed. I actually went up to Christopher and asked him what the short form of his name is, and he said 'Chris.' I said to him, 'no, for me it's Christ.'"
How was it working on a bigger budget Hollywood film like 'Tenet'?
"The passion and drive on the set were so strong, and every member of the unit strived for just one goal and this sets the whole meter for you. It was absolutely fantastic! Each member of the unit was a contributor to the film. I was made to feel so comfortable on set. They didn't make me feel differently because I was from India or as if I was a smaller star. They all made me feel very special. There was no attitude from anyone on the sets and that's what I love about them — they've achieved so much in life, yet they're so humble and so grounded. It was an absolute pleasure."
What are your parting words for the Brown Girl audience?
"I just want to tell the audience to not even bother watching a pirated version of the film — it's a big-screen film and you have to go see it there, it's an experience! You'll probably have to see it twice or thrice — it's a Christopher Nolan film — because there's so much happening that you miss out on the little things! I know times are bad, but it's worth the watch."
'Tenet' marks the Hollywood debut of a multi-talented Bollywood actress who proves that she's far from being labeled as a "yesteryear star." The filmography of Dimple Kapadia may prove to be nostalgic to many, but her career graph continues to grow as she explores new realms for more promising roles in the West.