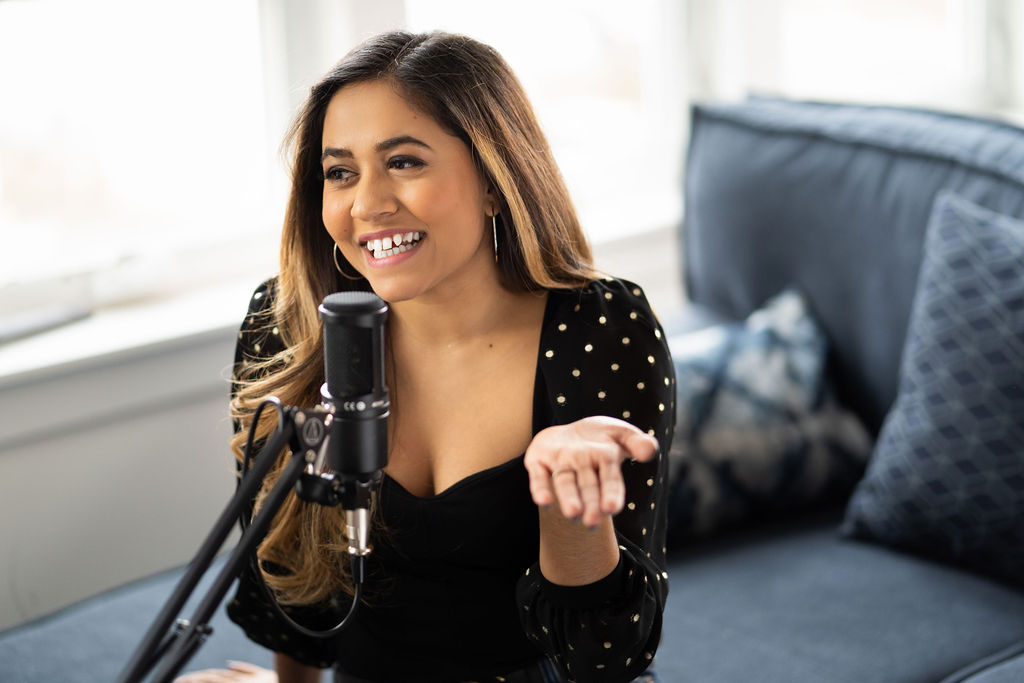 Disha Mistry Mazepa launched her new podcast titled "But What Will People Say" in mid-January, discussing the nuances of balancing and navigating romantic relationships along with her South Asian identity. Coming from a conservative Gujarati family, it wasn't easy, especially when she started dating her non-Indian now husband. Each episode of her podcast she discusses love, relationships, and identity with different guests.
Recently, Brown Girl Magazine had the opportunity to chat with Disha and dive into her own relationship and inspirations for "But What Will People Say."
1. How does your relationship contribute to this podcast?
My relationship is the inspiration of this podcast and is the topic of the pilot episode. I was born in Gujarat, India but raised in New Jersey, while my now husband, Michael, is both Italian and Ukrainian and has lived in New Jersey his whole life. I kept him a secret from my family for three years before I told my Mom about him since I was raised in your typical South Asian household where dating was forbidden and I was expected to marry someone who was Hindu and Gujurati and I spent years ignoring any and all marriage proposals my parents sent my way. 

My relationship gives me the insight it takes to relate to all of my guests, the shared feelings, the brown girl guilt, the anxiety that comes bringing home someone you fear your family will never accept. I'm the oldest of all my cousins here in the states and the first to get married so the pressure to "do what's expected" was really high and the stress of tearing that expectation of apart was terrifying. 
View this post on Instagram
2. What inspired you to start this podcast and what you hope to achieve with it?
Part of the inspiration came from how often Mike and I would be out in public and random people would ask us about our relationship, especially in areas that were densely populated by South Asians. When we were planning our wedding we had so many people in the shops in Edison ask me how I convinced my parents to let me "marry a white man." It was the young women who looked at me and said things like "you're so lucky" or "my parents won't even let me date" that really broke my heart and made me angry that they felt like they would never be with who they wanted to be with or that my decision to marry Mike was an exception to the rules. I don't want my story to be such an anomaly.  

Besides my own experiences, I stumbled across a Facebook group called SAWIR (South Asian Women in Interracial Relationships) which was the first time in my life that I felt like there were a group of women who knew EXACTLY how I felt. By the time I was introduced to the group I was already married but reading the posts in that group finally made me feel heard while also removing some of the guilt knowing that I wasn't the only one because for such a long time it really felt like that was the case. 

In our communities when you hear about interracial relationships you hear the condensed version, "I kept him a secret, I told my family, they reacted in typical Bollywood dramatic fashion, there's a happy ending OR I got disowned" What that group really showed me is even though we share a lot in common through our experiences they are also very different. There is SO MUCH grey area that gets missed when discussing interracial relationships. There's a lot of fear of disownment/of being abandoned, but also questions of how to discuss religion with your partner, how to raise kids, living together before marriage, etc. and I just felt like besides this group no one was talking about and really getting into the details of it. 

This podcast was a way to really open up that dialogue in a very public way, make other men and women in interracial relationships feel heard, and give them a chance to share their stories and talk about the issues they face in a very long-form kind of way while working to de-stigmatize interracial dating in our culture and redefining what it really means to be Indian American.
View this post on Instagram
3. What are some of the people/stories on this season and how do they resonate (or are different from) with your experience? Are there certain consistent themes?
Some guests we've had on include Dipa Patel, who is the founder of SAWIR. Her family found out about her relationship through the grapevine, her husband eventually lived with her family and even took on her last name when they got married! 

Another guest, Disha Smith shares her own story which ultimately ends in being disowned but she gives a voice to those who are in her shoes and shows that life goes on and that sometimes choosing to live life on your own terms is the best thing you can do for yourself. 

Sushmita shares her story of being raised in a traditional Hindu household and choosing a date and now lives with her boyfriend who is West African and Muslim. She chose to immediately share her relationship with her parents instead of keeping him a secret. 

We also have a 4-week Fusion Wedding series that we did were talked about planning a fusion wedding planning with my maid of honor and different wedding vendors to help provide tips on how to navigate planning such a unique wedding. 

We have a lot of guests who are now happily married and share their fusion wedding stories and navigating sharing their cultures with their new family members. 

We also share stories from the LGBTQ community, interfaith relationships, and more!
4. Why specifically the podcast format (over a blog or blog, etc.)?
I chose the podcast format because I had spent years listening to podcasts so I had a pretty solid idea of all the creative ways one can use podcasts as a platform and I'm a much better "talker" than I am a writer. Nowadays most people don't sit down and read a blog, and most popular blogs present content in a "listicle" fashion where every article is in the form of boldly fonted print highlighting the main points.

My guests are people first, they are not the bullet points of their stories so a blog format just didn't feel right. Podcasts allowed the time and space to really have a long-form discussion with my guests without giving them a character limit or a time limit. Most of our episodes run a little over an hour and are very minimally edited. In an audio format, it also allows our audience to listen while on the go, such as during their long commutes or doing chores around the house on any of their devices; on all major streaming platforms including Apple Podcasts and Spotify.
5. What did you expect going into producing this podcast and how was the actual experience similar or different?
I honestly didn't think anyone would listen so my expectations were fairly low. I just wanted to get my story out there and hoped that if even one person listens and feels heard it would be worth it. I recorded the first episode in my living room with my friend Akhil who is the guest co-host on episode 1. I didn't even have intro music because of so many copywriting rules. I run a small Instagram blog called Dishes By Dishes which was mainly a food and baking blog so I didn't even make a separate page for the podcast.

When I launched the show on that account and I was absolutely shocked at the response. At the number of people who shared that post, told their friends, and DMed me with such positive feedback, sharing their own stories in private, and the immediate rush of people offering to be guests. Since then things haven't slowed down much, we've been growing slowly and expanded to include more relationships and topics that fall under that "log kya kahenge" mentality (hence the name of the podcast) and I'm excited to see where it goes!
View this post on Instagram
6. What was the most enlightening part of the whole process?
The most enlightening part I would have to say was the response from listeners, I've gotten numerous people messaging me just to say thank you for creating the show or that when they hear my story they hear themselves. To be heard and to feel like you're not alone is all I wanted for the folks tuning in and I know that when I was younger and just starting to date I was so desperate to have someone tell me I wasn't a bad person for dating or choosing to explore outside of my own culture. It's been so amazing being able to do that for someone else.
7. Did it make you see your relationship through a different lens?
I think more than anything it made me a little more reflective and take a pause to really look at how far we've come. It made me try to see things from my parents' point of view and give them credit for proving me wrong and embracing Michael into our family with open arms. Mike and I are just two married people worrying about when we'll get around to grocery shopping on most days. My husband has never seen me as his "Indian" wife or girlfriend, I was just the girl he thought was smart and funny and kept asking out on coffee dates. It's more how others saw us and immediately noted our races that really made us pause, especially Mike, since my race has never been something he thought twice about. He shares his perspective on episode 2 of the show!
View this post on Instagram
8. Where do you hope to go from here?
I hope this podcast can spark a conversation, not just on the topic of interracial and interfaith relationships but encourages folks in the South Asian diaspora to start conversations on so many topics our culture just doesn't address.
9. Any upcoming content you want to highlight?
We are currently in the middle of our Women's Wellness collection for the month of March. We're taking a break from relationship talk to discuss topics like skin care, mental health, nutrition, and disabilities but with a South Asian twist. Our guests are all medical professionals and provide some insight into these areas. For example, we discuss things like brown girl skincare, laser hair removal, stretch marks, and hyperpigmentation on our skincare episode. Or on mental health, we provide resources on where to get help, how to explain therapy to South Asian parents, and addressing the stigma associated with taking medication. 
With "But What Will People Say," Disha dives into the hard parts of relationships. Disha discusses the navigating of two cultures and how to bring up hard conversations about compatibility, and this podcast makes it clear, no one is alone in trying to find this balance.
Listen to the podcast here.