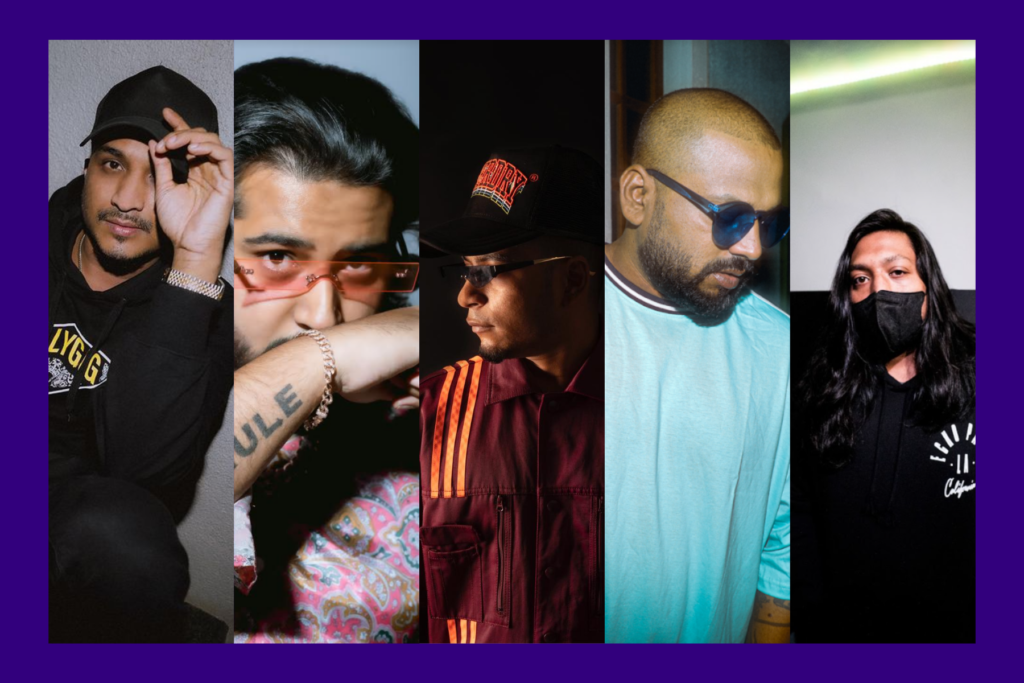 The hip-hop scene in India is defined by India's top MC, Vivian Fernandes, also known by his stage name DIVINE, whose global reach is unmatched by any hip-hop artist coming out of India — thanks to lyrics like "Itihaas Likh Diya Tujhe Classics Diya 5x Plat (Platinum) Gully Waale Ne Diya" from the song "3:59 A.M." He has consistently been cited as one of the most prevalent hip-hop acts in the country. DIVINE has played a huge role in the rise of the "gully rap" movement and has created a legacy for himself. If you're wondering how big of an influence DIVINE has in terms of a global presence, check out his streaming numbers across all platforms which are over ten million streams.
He is best known for his lyrical complexity and relatable storytelling. His autobiographical rap touches upon the trials and tribulations of inner-city life, which relate to his experiences. His success has offered a blueprint for rising South Asian artists that wish to break into the genre while his music has found an authentic appetite among listeners.
With his heart-rending life story, DIVINE influenced Bollywood director Zoya Akhtar to create the award-winning blockbuster Bollywood hit "Gully Boy," which featured DIVINE on five tracks of the soundtrack, including the popular "Apna Time Ayega."
Following several successful singles, including "Yeh Mera Bombay," "Kohinoor," "Jungli Sher" and "Kaam 25" and his breakthrough track "Meri Gully Mein," DIVINE released his debut album, "Kohinoor" in partnership with hip-hop legend Nas through Mass Appeal.
The album has received widespread acclaim, with nearly all tracks topping the audio streaming charts in India. As the follow-up to 2019's "Kohinoor" album and inspired by the unprecedented pandemic, DIVINE released a collaborative compilation album titled "SHUTDOWN'" in 2020 through Gully Gang and Mass Appeal India.
"PUNYA PAAP" debuted at #1 on Apple Music and Spotify charts in India. DIVINE was the first Indian rapper to feature on the New York Times Square billboard by Spotify. Fresh off the success of his sophomore album, DIVINE started 2021 by releasing his global collaboration "Jungle Mantra" featuring Pusha T & Vince Staples for Netflix's original film, "The White Tiger."
Continue reading to learn about the artists on the Gully Gang roster.
Shah Rule (Rapper)
With musical influences ranging from Kanye West and Michael Jackson, Shah Rule has been an active voice in the community for more than 15 years. He calls his music "commercial conscious," because it has a mix of hooks, verses, catchy elements, and, most importantly, something to ponder. During the pandemic, Shah dropped his E.P. "Hooked" — a huge learning and collaborative process for him. Besides selling millions of highly respected records, his long-term vision is to own a label, perform at the Grammys and explore avenues such as fashion, films and food. Shah tells me what the Gully Gang movement means to him and what he wants listeners to take away from his music.
It's a movement of creatives who are hungry, dream big and driven to achieve their goals. People will listen to my music and always hear the quality factor being driven higher every time. I aim to always push my creative boundaries and try new things with my sound.
D'Evil (Rapper)
D'Evil started off as a songwriter writing lyrics and posting them on the internet. He credits his inspirations to American hip-hop artists Eminem, Snoop Dogg, Jay-Z, Kanye West and Kendrick Lamar. His goal is to motivate and inspire young children and give back to his community. He tells me, "My music is Mumbai. This is the hip-hop revolution [that] was pioneered in South Asia but takes inspiration from America." His first mixtape album was called "Madman" and was written in English, and his favorite collaborations are with DIVINE on a track called "Disco Rap" and 7Bantai'Z on a track called "Bas Kya Ba." He signs off by talking about what Gully Gang means to him.
Gully Gang is a family, and we are trying to grow it into a community to help more and more artists from India.
MC Altaf
MC Altaf fell in love with hip-hop music by watching B-Boy competitions and championships. When he started listening to hip-hop, he did not fully understand the lyrics so he relied on his peers for translations. Throughout his listening journey, he was highly influenced by Nas, Rakim, and Tupac, and fell in love with hip-hop culture from the style, clothing and the way these artists carried themselves. MC Altaf uses rap as his tool for storytelling and talks about his experiences growing up in the Gully. His favorite project to work on was called "Soch" and was filmed at 3 A.M. in the morning in New Delhi, India, and it was 37 degrees Fahrenheit outside. MC Altaf talks about what Gully Gang means to him.
Gully Gang is very supportive of their artists, and they recognize artists for their talent. We have such great producers on our roster such as Stunnah and Karan Kanchan with the type of beats they make, so I really enjoy the creative process with them.
Karan Kanchan (Producer)
As a highly talented producer from the Gully Gang camp, Karan Kanchan was inspired by Skrillex, Dr. Dre, Timbaland, as well as composers A.R.Rahman, Vishal Shekar, among others. A journalism and mass communications graduate, he is very interested in creative collaborative processes where he can bounce ideas off in a room similar to his Saturday Sample day series. His favorite project that he has worked on to date is DIVINE's "Jungle Mantra" for the Netflix film "The White Tiger." It was an exciting and challenging process for him, as it also featured U.S. rappers Vince Staples & Pusha T. Lastly, he talks about what Gully Gang means to him.
It feels amazing to be a part of a team that's working on game changing and cool stuff together. There's so much more to come with this movement, and I am really looking forward to it.
Gully Gang is more than just a record label, it is a family. Each of the artists on this roster has a unique story of how they were inspired by American hip-hop. Through their unique nuanced experiences, they tell stories, dream big and push the boundaries of music coming out of the Indian subcontinent.
Photo courtesy of Gltch