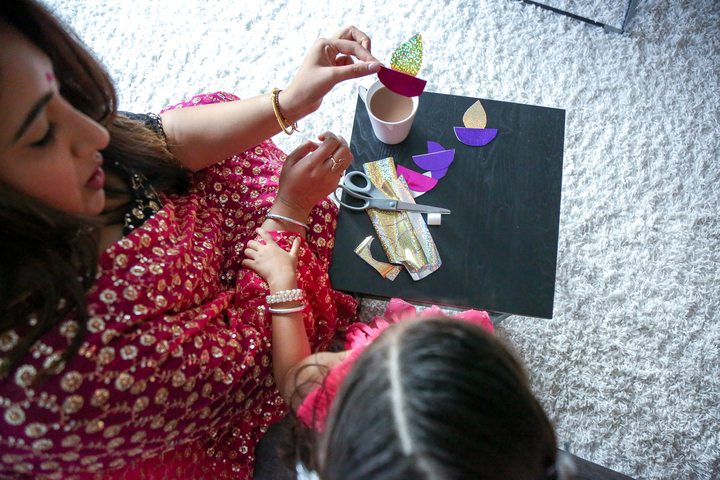 by Nisha Vedi Pawar – Follow @lovelaughmirch
This post was originally posted on Love Laugh Mirch and is republished with permission. All photos are courtesy of the blog's founder, Nisha Vedi Pawar. 
As Diwali approaches I look for more and more activities to keep Little Mirchi (yes, that's my little one) engaged and enthusiastic about the upcoming festivities. I believe it's important to include children in everything from cooking together to decorating the house, so that they feel the spirit of the celebration. This year I wanted to do an easy craft where she could take the lead, we decided on making a diya garland from gift bags and wrapping paper. This is lovely fun craft for Diwali to enjoy with the children.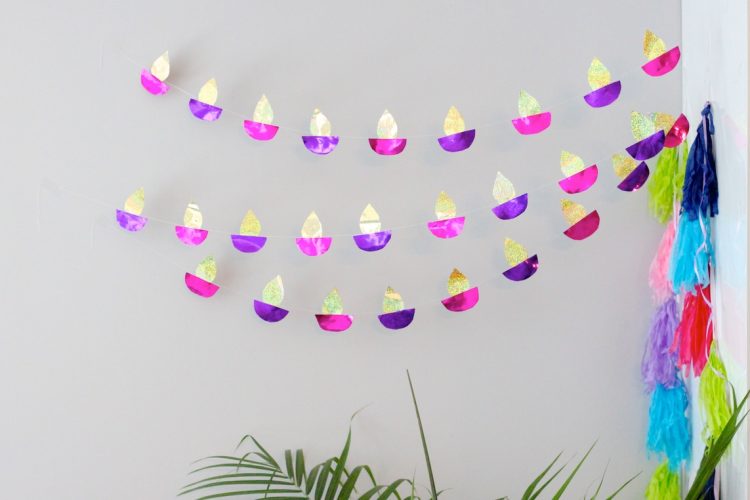 I cut the shapes and Little Mirchi glued them together (if you have older kids you can let them do this independently). Another reason I love this activity is that it's eco friendly! You can teach your children the beauty of recycling as they use gift bags and wrapping paper you already have.
Here's what you'll need for the garlands:
gift bags
Wrapping paper
Glue stick
Scissors
Thread or fishing wire
Tape
Card stock or small cardboard

Step One:
Draw a diya/boat on the card stock and a flame shape. These will be your stencils
Step Two:
Trace the diya shapes on the chosen gift bags and the flame shapes on the metallic wrapping paper. Repeat until you have atleast 20-30 of each shape.
Step Three:
Cut out all shapes and keep them in pairs, a diya with a flame.
Step Four:
Glue the bottom part of the flame shape to the top part of the diya shape from the plain side.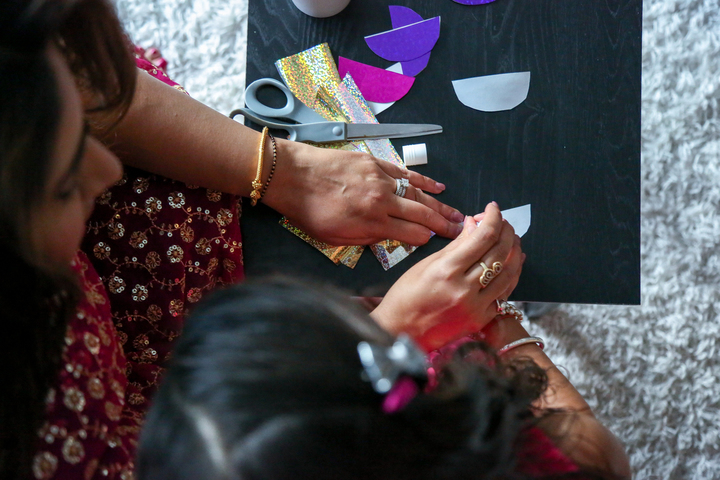 Step Five:
Optional, if you don't mind the back of your garland being white you can skip this step. I wanted both sides to have color so we glued two diya and two flames together so that both the front and back had colour.
Step Six:
Lay your thread or fishing wire on a flat surface and space out your divas accordingly. Tape to attach.
Step Seven:
Hang your DIY Diya Garland and enjoy your Diwali decoration!
Hope you enjoyed this easy craft for Diwali with your children.
---
Nisha is the founder and editor of Love Laugh Mirch, an Indian inspired lifestyle site where she shares her take on traditional recipes, approachable DIY's, culture stories and motherhood moments. Her favorites include Bollywood movies (the sappier the better), recipes that are passed down through generations, mango season and a hot cup of kadak chai. You can often find her on Instagram @lovelaughmirch cooking dinner while having a dance party with her little one.