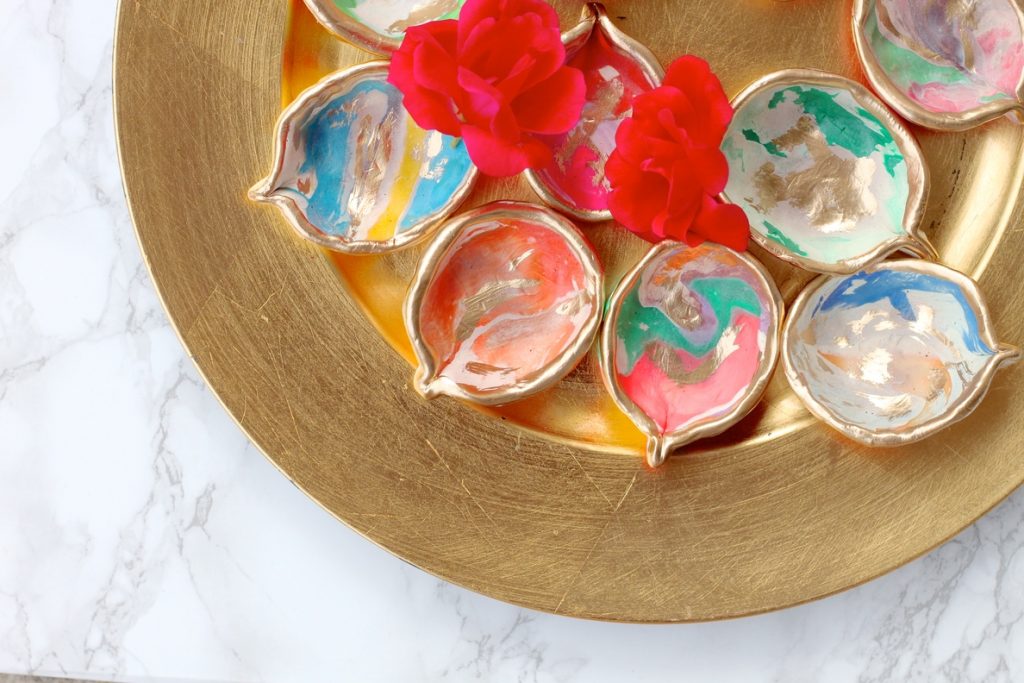 Brighten up your Diwali decor with these DIY Rainbow Diwali Diyas. You know when you plan something and it looks perfect in your head but then when you execute your plan and things don't turn out as wonderful as expected, that happens to me all the time. Dreamers, we keep falling and making mistakes, and we keep dreaming!
Here's one case where I had been thinking about an idea for ages and when it came together is was even better than what I had conceptualized. Yay! So I shared the process of these on my Instagram stories and so many of you reached out asking for a post so here goes!
Here's what you'll need for the diyas:
Small paintbrush
Baking tray
Aluminum foil

Step 1
Line the baking tray with aluminum foil and set aside.
Step 2
Take small equal amounts of clay in your hand, about one inch of each color. I always take white first and then two other colors.

Step 3
Mix the clay differently to create patterns, marbling effects and different variations of your diyas. You could stack the colors and roll them, roll them into logs first to layer them. Roll into a ball the size of a ladoo, a little bit larger than a ping pong.
Step 4
Flatten the ball 
ball your hands or with a rolling pin and shape this it into a small bowl structure.

Step 5
Pinch one tip of the bowl. This creates one pointed tip on the round bowl shape. This is the final shape of your diya!
Step 6
Repeat the shaping process for the remaining clay.

Step 7
Arrange the diyas on the baking tray and bake in a preheated oven at 265F for 45 minuets.
Step 8
Let diyas cool down to room temperature before painting the rims gold.
Step 9
Once the diyas dry, add a batti, cotton thread and fill them with your oil of choice. Have a bright and colorful Diwali!
Why this won't work with playdoh: Playdoh drys and cracks and is not waterproof. Polymer clay is waterproof once proofed in the oven, which means you can put your oil/ghee and not worry about it leaking everywhere.
Hope you enjoyed this colorful and fun craft! How are you preparing for Diwali?
Looking for more DIY projects to do with your little ones? Here's one that includes woodworking projects for kids to build.