by Niyati Shah – Follow @niyatishah454
A healthy smile can make such a difference in self-worth, so make oral health and hygiene part of the conversation, and here's a great way to start.
1) Chug it!
I think everyone understands that coffee and soft drinks aren't great for teeth. They create a dry environment in the mouth and can demineralize tooth structure. The sugars are great food sources for bacteria to latch onto your teeth.
However, the need for that vanilla latte can be too real sometimes. So the best way to drink these beverages is at once! Don't sip it throughout the day because if you think of each drink as being an attack on your teeth, you would be subjecting your mouth to more frequent attacks. It's an easy way to change your lifestyle and has a great impact on your oral health!
2) If you're a gum chewer, read the nutrition label.
Chewing gum with xylitol in it is actually supposed to be protective for your teeth. Oral bacteria cannot use xylitol as a food source. Chewing gum in itself is really not bad either, as it stimulates salivary flow, but gum with xylitol is even better!
If you have kiddos who are obsessed with gum, then try to give them one with xylitol in it. Research is pretty conclusive in saying that xylitol can play a role in preventing cavities. So try it!
3) Time your brushing, I mean it.
It's so important to brush for two minutes in order to effectively remove plaque. If you don't want to invest in an electric toothbrush with a timer, I get it. Just turn on Spotify or watch the clock as you are brushing! If you divide your mouth into four quadrants, brush in each quadrant for 30 seconds.
It may take some getting used to in the beginning, but it will help you ensure that you are brushing equally in all parts of your mouth.
[Photo Source: tygiene.com]
4) Floss the teeth you want to keep!
Flossing is so important to keep your mouth clean! I was in Ahmedabad, Gujarat, a few years ago and met a dentist, Dr. Vishal Prajapati, who worked partly in his own private office and partly in an office in slum areas to provide free dental care for the poor. He had told me that he finds it difficult to get people to brush twice a day, let alone floss. I know it wasn't something that was emphasized necessarily in my house growing up, but as soon as I started dental school, I truly realized how vital it is. There was some random article put out a couple years ago saying that flossing wasn't good, but I can tell you with complete confidence that in the dental realm, nobody agreed with it!
A toothbrush can do a really great job of cleaning the surfaces of teeth that it can reach, but it only cleans about 65% of the tooth. If you have never flossed and want to start, do it! Even if you do it just a few days a week, it makes a huge difference. You'll notice the change and will understand why you should floss every day. In the beginning, it is normal to feel some soreness and have some bleeding, but you'll see that, as your mouth gets healthier, this will stop. If you already floss, make sure you're doing it right! Don't just go straight in between your teeth. Curve the floss around the tooth in a c-shape to clean thoroughly.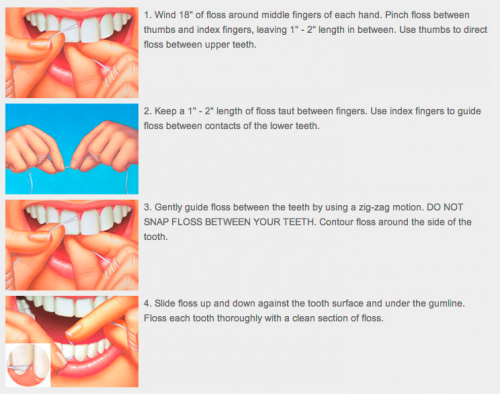 [Photo Source: us-professional.gumbrand.com]
5) Make oral health part of the conversation.
In our South Asian culture, this aspect of health is just not given as much importance as the rest of the body. The mouth is a gateway to the body and infection there can spread to other parts of the body! Many of our grandparents have dentures or are missing teeth, but make it clear to your parents that they should not expect this to happen at all.
Ask them when they last went to a dentist and got an exam and a cleaning. I notice that so many patients I see are women who tell me they have neglected their teeth when they had children and, once the kids are grown, they want to focus on themselves. Encourage your parents to see a dentist. Dental pain can be excruciating and once the tooth is dead, the pain subsides. Get help early on to prevent necrosis or worsening infections.
---
Niyati Shah is an Indian-American currently living in Lexington, Kentucky, where she is in her final year of dental school at University of Kentucky College of Dentistry.  She did her undergraduate studies at Indiana University, where she focused on Biology and Nutrition.  Her passion for education and social issues is closely paralleled with her passion for reality television and Ben & Jerry's. She is excited to increase dental health awareness in the South Asian community!