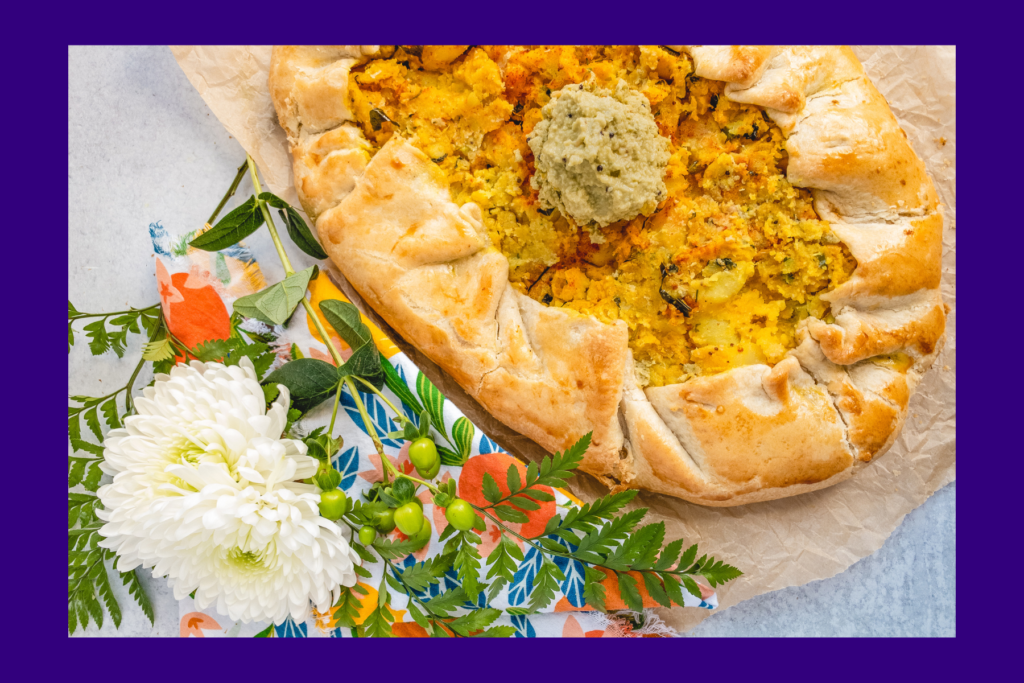 The following post was originally published to thetashmashup.com and republished here with permission.
Growing up, masala dosas always hit the spot and made any weekend, especially holiday weekends extra special. Years later as an adult living on my own in Washington D.C., I get excited (perhaps a little too excited) about fridge cleanout day, or the day before grocery shopping when I take a look in my fridge to see what I have left and think about ways that I can get creative. 
As a food blogger focused on creating mashups that taste and feel like home, I've found that some of my best creations have come to life thanks to leftovers! Reminiscent of my mom's delicious masala dosas, I was excited to fuse fond memories of one of my favorite breakfast dishes into a galette when I discovered I had leftover frozen pie crusts and a few potatoes in my kitchen. 
And here we are! After a few tweaks and a few more brunches with mimosas in tow, the perfect dosa potato galette was born. Pre-pandemic, I loved hosting friends for brunch and my friends loved coming over once I made it was clear that my dosa potato galette was on the menu (just kidding, they'd come anyways, lol).
If you do happen to make this recipe, please do let me know! I'd love to hear what you and your loved ones think of this fun twist on a beloved classic—perfect for a weekend brunch.  
Ingredients:
2 large boiled russet potatoes, cut into 1/2 inch cubes (roughly four cups once cooked) 

2 tablespoons coconut oil or ghee 

1/2 teaspoon of mustard seeds

3/4 of a cup white onion, finely minced  

1 inch of ginger, peeled and finely chopped or about a tablespoon of ginger paste 

7-10 curry leaves, finely julienned 

1-2 green chilies, finely chopped

1 teaspoon of turmeric

1 teaspoon of cumin

1 1/2- 2 teaspoons of sambar powder, optional but highly recommended 

1/4 teaspoon of asafoetida (hing), optional but highly recommended 

1/3 cup of water 

1/2 teaspoon of sea salt or more to taste

2 teaspoons of lemon juice, for garnish 

2 tablespoons of cilantro, finely minced, plus extra for garnish 

1 tablespoon of butter, cut into 6 dabs/pieces of butter

One egg, lightly beaten, optional  

2 premade pie crusts (I used Trader Joe's frozen pie crusts) 
View this post on Instagram
Directions:
Begin by thawing your pie crusts and preheating your oven according to package directions. Gently unfold and layout your pie crusts in a Venn diagram shape on a baking sheet lined with parchment. If there are any cracks, you can also combine and then roll your pie crust dough into a 12″ circle about 1/8″ thick and then transfer it onto the baking sheet.

Heat up your ghee or oil on low-medium heat in a large pan. Then, add in your mustard seeds. Once they begin to splutter, add in your finely minced onion, ginger, julienned curry leaves, and chopped green chilis.

Once your onions are translucent, add in your spices—turmeric, cumin, sambar powder, and asafoetida (hing).

Mix thoroughly and fry the spices for 1-2 minutes and then add in 1/3 cup of water and sauté until you form a paste.

Then, add in your cubed potatoes, salt, lemon juice, and minced cilantro. Mash and mix until thoroughly combined on low heat for 5-7 minutes until no more water is visible in the pan.

Leaving a 2-inch border, place and smooth out your potato mixture onto the pie crust. Fold up the uncovered border over the edge of the masala dosa potatoes and pinch into pleats. Then brush the egg onto the crust, and place the 6 dabs of butter on the potato filling about 2 inches apart from one another.

Bake for 30-35 minutes or until the pastry is perfectly golden and cooked through. Remove from the oven, and let the galette cool for at least 10-12 minutes before cutting into it. Serve with your choice of chutneys or ketchup!
Notes: 
I personally really love using

Trader Joe's frozen pie crusts

for this recipe but you can most definitely make your own crust. One 22 oz. package comes with 2 pie crusts. Make sure you follow the directions and ensure that the pie crusts are thawed correctly to room temperature. If you have a cracked crust, be sure to use a rolling pin or your hands to smooth out any of the cracks before placing the potato filling onto the crust. 

I love serving this with a dollop of coconut chutney in the center and then serving it with an assortment of tomato chutney, ketchup, and sambar on the side. 
---
The opinions expressed by the writer of this piece, and those providing comments thereon (collectively, the "Writers"), are theirs alone and do not necessarily reflect the opinions of Brown Girl Magazine, Inc., or any of its employees, directors, officers, affiliates, or assigns (collectively, "BGM"). BGM is not responsible for the accuracy of any of the information supplied by the Writers. It is not the intention of Brown Girl Magazine to malign any religion, ethnic group, club, organization, company, or individual. If you have a complaint about this content, please email us at Staff@browngirlmagazine.com. This post is subject to our Terms of Use and Privacy Policy. If you'd like to submit a guest post, please follow the guidelines we've set forth here.