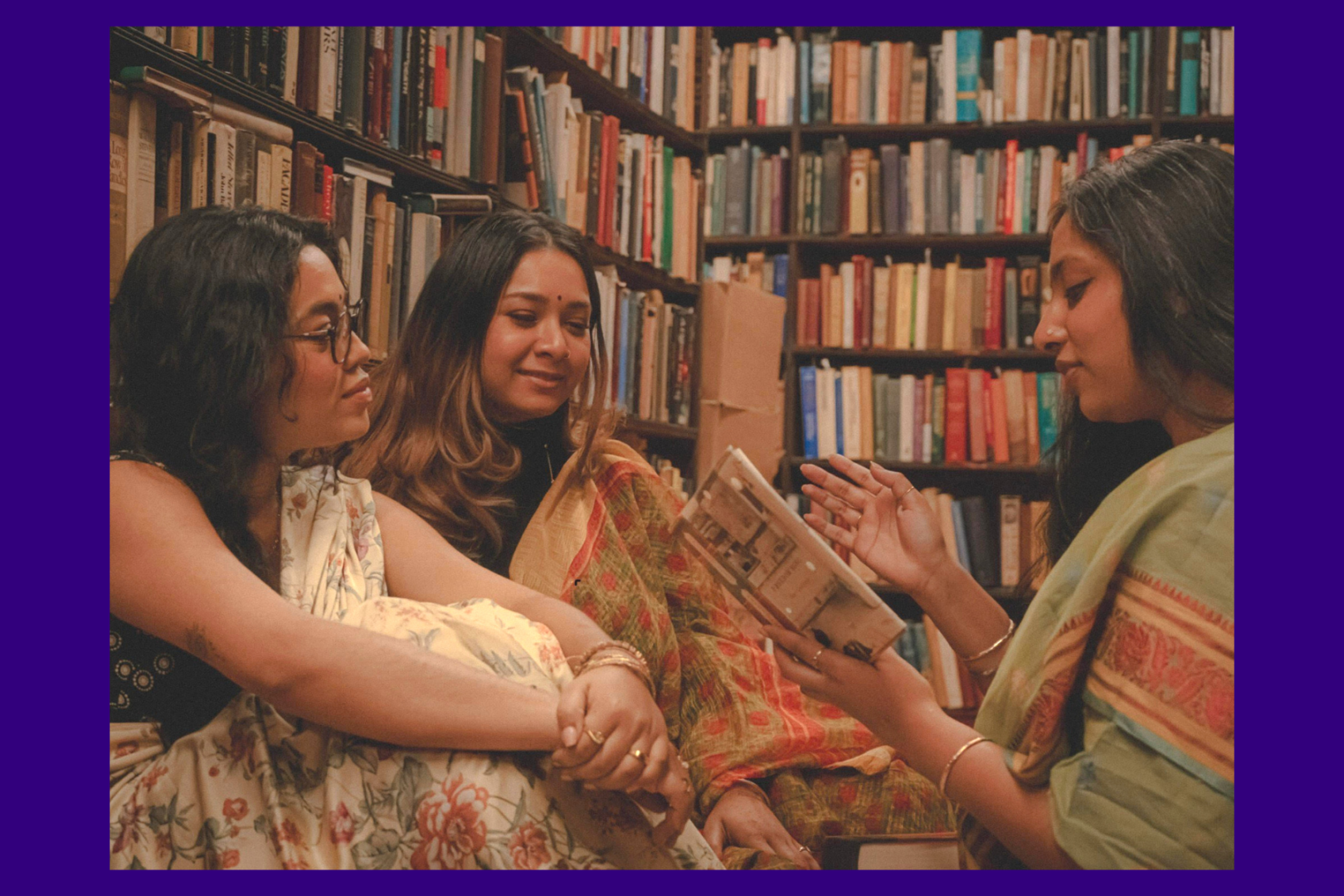 I'm going to be a sex therapist. 
I was taken aback when my late cousin shared this with me on the cusp of our twenties. 
As a fairly modest Indo Guyanese girl raised in the Connecticut suburbs, the thought of discussing a stranger's love life seemed not only foreign but shocking to me. Nevertheless, my cousin was always bold in this way. She took pride in the more daring aspects of our Caribbean culture with natural confidence. It was one of the things I loved and now miss most about her. 
Admittedly however, it was over a decade before I started to understand some of her deeper curiosity in love, sexuality and mental health. This awakening was thanks greatly to Dr. Samosa. 
In early 2020, Dr. Sarika Persaud, a New-York based, Indo Guyanese psychologist specializing in relationships, sexuality and complex trauma, took to Instagram as "Dr. Samosa," an alias inspired by her favorite South Asian snack — and one she feels is a common thread for brown girls. 
View this post on Instagram
The platform became a safe space for brown girls to connect on topics like mental health, psychoanalysis, sexuality and relationships. From discussing sexual empowerment to building a strong sense of self, Dr. Persaud quietly became a confidant for those craving practical and candid insights the community shied away from. 
Dr. Persaud and I sat down to talk about her journey and breaking these taboos in the South Asian society.
Her interest in psychology started as a journey of self-discovery as a pre-teen.
"I think I experienced myself as different from my peers," she explained during our interview.
She didn't get caught up in teenage drama and avoided certain types of relationships and people. Meanwhile, the friends she did make saw her in "this sort of teacher role."
"I became curious about that about myself — how, in some ways, I found it beneficial to feel my feelings and have a depth people were drawn to, but also use it in ways to isolate myself," Dr. Persaud said.
She was also beginning to identify as bisexual.
She shared, "I think I was avoiding my sexuality in some ways and psychology became a way for me to understand myself more. It's always been this confluence of philosophy and science and even art for me."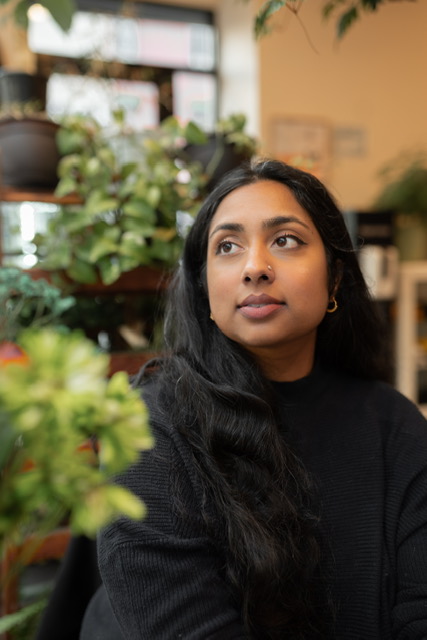 Growing up in Queens, New York, Dr. Persaud saw fellow Indo Caribbean women at a "very specific intersection of religion and culture." It was the nexus of Caribbean values which welcomed sexuality and more modest Indian traditions. Caribbean influence seemed to "remove a boundary" on how Indo Caribbean women felt permitted to present themselves sexually, she explained. On one hand, after her Bharatanatyam dance classes, she saw her didis (the older girls) leave their classical moves behind for sexy Bollywood choreography and dancehall songs. 
"It was exciting, like they were just beginning to find ways to express their sexuality," she reflected. Then, around the same time, Dr. Persaud discovered a copy of the "Kama Sutra" at home and her mother was appalled. "What's wrong with your daughter?" aunties asked.

Confused, Dr. Persaud thought "You own this. This is from our culture and it's a Sanskrit text. It's literally a religious text. It all seemed so powerful — and yet so many people were afraid of it."
Something didn't add up.
In 2013, she started a blog to bring a voice to topics like these. As word of her content spread, Dr. Persaud was met with backlash from her temple. Leaders said her blog was inappropriate and dishonorable to her community, but she stuck with it and her family stuck by her.  
A few years later, when she launched Dr. Samosa to share her research and insights with a wider audience, sexuality came front and center.
"Sexuality — how you understand and honor what you want and like, and the ways you let yourself experience that pleasure — is intrinsically connected to how deserving you feel in the world," she explained.  
View this post on Instagram
For example, if you think you're worthy of a raise at work, a partner who desires you, or a family that listens to you — all can be linked back to a block in your relationship with yourself as a sexual being. 
However, if you can feel confident in something as "primal, instinctual, and personal" as your sexuality, Dr. Persaud argues you lay the foundation for confidence in these other areas of your life.
Dr. Persaud says the fear of sexuality comes into play for South Asians.
"Being comfortable with your sexuality means being comfortable with your power," she explained. "If everyone felt empowered and had a healthy relationship with themselves sexually, a lot of our relationships and hierarchies in society would change. And there are just so many people who benefit from women and marginalized communities (like LGBTQ+ and those with chronic illnesses) being disempowered," Dr. Persaud said.
Throughout her work, Dr. Persaud has found it's especially difficult for South Asian women to feel pride in themselves as sexual beings.
"There's so much shame about the self and the body. Women especially are held to a double standard and it's so confusing. If you look one way, you won't get a husband. If you look sexual, no one will want to hire you for a job. Regardless of the South Asian ethnic group, there's the same shame and belief that your body has to look a certain way, and if it doesn't, you're not desirable. Everything gets tied up in sexual shame."
It's undeniable that Bollywood movies have also heavily impacted many of our views on love and sex, but Dr. Persaud didn't condemn this.
She says, "People need to realize Bollywood started from a tradition of classical drama and dance from ancient India. Those dances were meant to be explorations of dreams and mythical and philosophical ideas. Bollywood is just a continuation of that. It's meant to be a break from reality." 
Real relationships are much more fraught and complicated than in films, but that doesn't mean you should be ashamed of looking to Bollywood as a way to be in touch with romance and love in your life.
"They're a fantasy," Dr. Persaud added.  
She also argued Bollywood isn't necessarily as "censored" as many claim.
"People don't have to watch others physically have sex or kiss to be in touch with their sensuality," she noted. "It can be much more nuanced to see two people just embracing in a way that stirs up feelings. Like, how does it feel to have your lover's head against your chest? Culturally, we just explore and express sexuality differently than the West."
View this post on Instagram
When it comes to becoming more comfortable with our bodies and sexual health, Dr. Persaud says it starts with self-reflection.
"Ask yourself why you're afraid of being sexy or seen as sexual. Are you afraid your family will reject you? That you'll be thrown out of your home? We all have different triggers, and once you identify yours, you can get to the issue underneath it all." 
Dr. Persaud encourages women to ask themselves important questions.

"If you're afraid that if you assert your sexuality, your family will reject or not support you, how can you be more financially independent? How can you find pride in being able to take care of yourself?" She urges women to take inventory of what they like. "Look at books and movies and what you see in the world and consciously take note of what you react to. This puts you more in touch with yourself."
When it comes to fostering open conversations with others, Dr. Persaud says to lead with vulnerability and clarity.
"If you wonder whether your friends have had sex yet and are embarrassed to ask, voice that concern. Share how you're feeling or ask yourself why. Leading conversations with vulnerability allows people to connect a little bit more; to feel safer to share." 
View this post on Instagram
"If you're uncomfortable with something your partner does or want more of something else, talk about what you want to change and why it's important to you. It's not a shortcoming on their part, but rather you saying 'this is what I need for myself. Is this something we can talk about and work on together?'" 
With South Asian families, especially older relatives, things can get a bit more complex. Boundary setting is important as the family can bring out your biggest triggers. 
"You need to be at a point where you own yourself," Dr. Persaud explained. For example, if your mom finds out you were out with someone and questions you about it — "A bai? A boy?!" — you should be able to say confidently, 'Yeah I was on a date,' and also not feel obligated to give more details. Of course, that may not always be safe for someone younger, but at a certain age, it is OK to be private, to have that shield to protect and develop yourself and your confidence," Dr. Persaud says. 
Dr. Persaud also reinforces the importance of knowing your boundaries when reflecting on "coming out" to parents. She wanted to be open about her bi-sexuality with her parents; that she was dating — but not just men. She stresses however, one does not need to be excessively open.
"Not everyone has to come out and not everyone has to come out to everyone. You're likely not facing anything new from your parents when coming out. If they are critical and judgmental generally in life, they're probably going to be like that again. South Asian dads can really just be like, 'Okay, don't tell me you're a sexual being,'" she laughed. 
While Dr. Persaud is thankful for her parents' acceptance, there are members of her family who've been less than supportive. She credits her confidence and sense of self for drowning them out. 
"I've found the more I become comfortable with myself, the more I have this sexual energy that I can use creatively and in other good ways. If my dad rejects me, it doesn't change that I am bisexual. Or if my mom rejects me, it's not going to change this thing I know so deeply about myself. I'm just sharing something true. I can't change it."
Toward the end of our conversation, I shared with Dr. Persaud that I wondered how my own family would react to this article. I felt a bit of shame.
But she reminded me, "You can also find pride in it — 'Yeah, I'm really proud of the fact that I'm one of the people breaking the stigma. I'm talking about something important to people's health.'" 
And she's right, as was my dear cousin in her early ambitions. These conversations are never easy, but walking in curiosity, confidence and pride can help us find our power as South Asian women. It can help break the stigma surrounding love, sexuality and relationships in our community and their roles in our greater health. 
View this post on Instagram
In so many ways, sexual health and mental health are not only connected but interdependent. In fact, Dr. Persaud believes the more confident people are in their bodies and identities, the more confident they are as a whole — and the more attractive they are.
"Sexual attraction and energy comes from people being competent and peaceful and calm with themselves; knowing who they are," she said, and the more we learn to embrace this and speak about it openly, the more we can not only grow but thrive.
For more on Dr. Sarika Persaud's (aka Dr. Samosa) doctoral work and writing, visit her website or Instagram @doctor.samosa. For more on how to talk to your family or children about sexual health, visit sexpositivefamilies.com.