From "Superman" to "Wonder Woman," comics have been ingrained in American society since the early 1900s and have turned into a multimillion-dollar industry. For one filmmaker, however, comics aren't just a way to escape reality and look up to our favorite superheroes – they're a way to break stereotypes and create a conversation around the importance of diversity and representation in media and popular culture.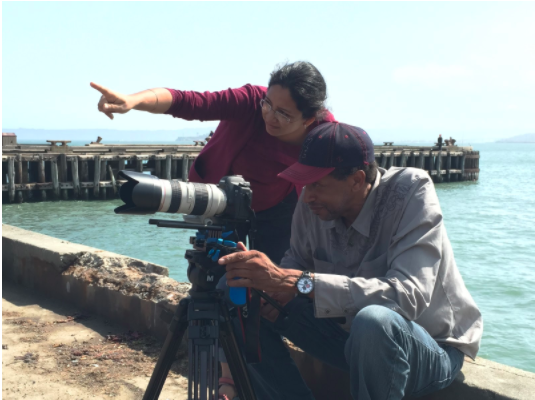 [Harleen Singh and Jeffrey Gary, director of photography, shooting "Drawn Together."/Photo Source: Harleen Singh]
Harleen Singh's documentary "Drawn Together: Comics, Diversity and Stereotypes" carefully captures and follows the art of three comic book creators and cartoonists—Keith Knight, Vishavjit Singh and Eileen Kaur Alden—all of whom are making moves and enacting change through their visual creations. Additionally, a voice-over is provided by Professor Arvind Singhal, a world-renowned expert in entertainment education; Andrew Farago, the curator of San Francisco's Cartoon Art Museum – and Adam Elrashidi, a cartoonist and a producer at Al Jazeera.
"As a woman, I have faced many stereotypes. The color of skin adds a layer and being a mother of two toddlers adds another layer of bias. Some people assume that you will not be able to achieve tasks that require rigor, just because you are a woman," Singh, who directed and produced the film, said. "Some of my friends and family members also faced prejudice and this bothered me.

"I wanted to bring this issue to the forefront and share positive inspirational stories of people who have challenged stereotypes, bigotry and racism against all odds," she added. "Comics have been a fantastic way to educate people and help them become more socially conscious. Therefore, I chose this unconventional medium for this unconventional topic in order to engage the audience and hopefully make them act."
In "Drawn Together," which took Singh three years to complete, creator Keith Knight tells the audience of his struggles dealing with black oppression and the lack of representation he saw of blacks in literature and media growing up, leading him to produce the comics "(T)hink," a single panel sociopolitical strip, "K-Chronicles," a weekly semi-autobiographical comic strip that focuses on race, and "Knight Life," a daily comic that appears in newspapers like The Washington Post and San Francisco Chronicle which satirizes current events in the news. With hard-hitting quotes analogizing the racial tensions in America like "being left in a right-handed society," Knight begins the film by eloquently describing today's toughest concerns and the importance of comics in displaying them.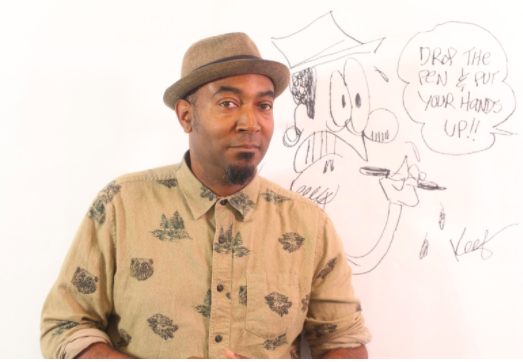 [Comic Keith Knight/Photo Source: Harleen Singh]
The documentary also features the art of  Vishvajit "Vish" Singh, an editorial cartoonist and performance artist. Like many Indian immigrant children, Singh grew up being told that he could only become an engineer or doctor, but the tragic events of 9/11 and its prejudicial aftermath, including reading a cartoon that said "Find the terrorist in your neighborhood," encouraged Vishvajit to create "Sikhtoons" to dispel the stereotypical notions of who the traditional American superhero should be. If not for anything else, watch the film to find out whoVishvajit dresses up as on the streets of New York City to spread his message that "not all superheroes wear capes" are white.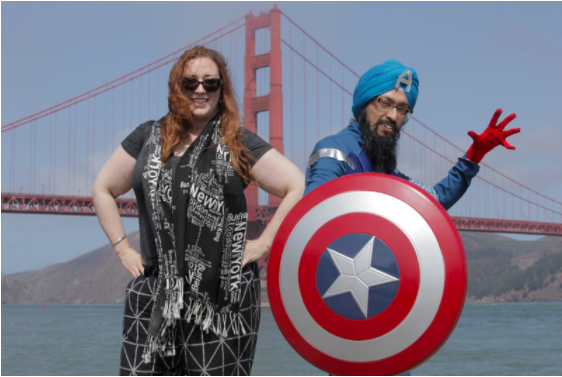 [Alden and Singh pose in front of the Golden Gate Bridge/ Photo Source: Harleen Singh]
During Eileen Kaur Alden's segment, she talks about how she addresses unconventional superheroes with strong female characters in her comic books. A superhero who does not have any supernatural powers uses ethos and strives for justice in all of his adventures fighting evil with a female sidekick, which is a rarity in action-based comics. Alden speaks about her diverse readership and the positive trend of comic book companies like DC and Marvel striving to support more diverse artists and comics.
"The people behind the table need to reflect the people in front of the table," she said, in one of her final scenes.
In conversation with Singh, the filmmaker added, "The goal of the film is to stir conversations around race, bigotry and stereotyping. If we can collectively take steps to spread awareness through whatever means we have then we would have accomplished our goal."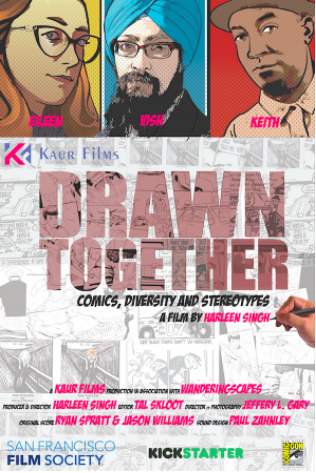 Singh plans to spread the message of "Drawn Together" throughout film festivals across the country in the coming months. To support her and this film, please consider contributing here.