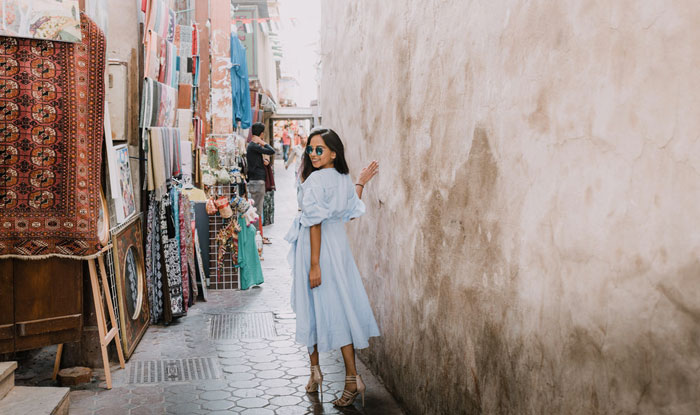 by Ashni Mehta – Follow @ashnimehta
My Dubai trip was a literal dream — never have I been so quickly enamored by the vibe of a city before. I can't tell if it's the grandeur, the diversity or the exotic culture of Dubai that attracts me most. But one thing is for sure: I will DEFINITELY be going back.
This was actually my first international solo trip. Although, I can't really say I was ever alone for very long. If you're considering doing a solo trip, I highly recommend Dubai as a destination. The tourism and hospitality industries here are amazing, the city is one of the safest in the world, there's never a shortage of things to do — need I say more?
If you're getting ready to book your trip, here's my list of absolute must-do attractions in Dubai!
1. Desert Safari
I'm 99% sure if you ask anyone what you should do in Dubai, one of the first things they'll mention is the Desert Safari. So yeah, do it. This tour is the perfect mix of adventure, culture and scenic views. You'll take an exhilarating ride over the sand dunes in the Arabian Desert. After which you will arrive at a desert camp where you will be served a traditional Arabic dinner while being entertained by belly dancers, flamethrowers, and the absolutely incredible Tanoura dancer.  You'll also have the chance to ride a camel, watch a stunning sunset over the desert landscape and smoke some sheesha in the desert. Doesn't get more Arabic than this!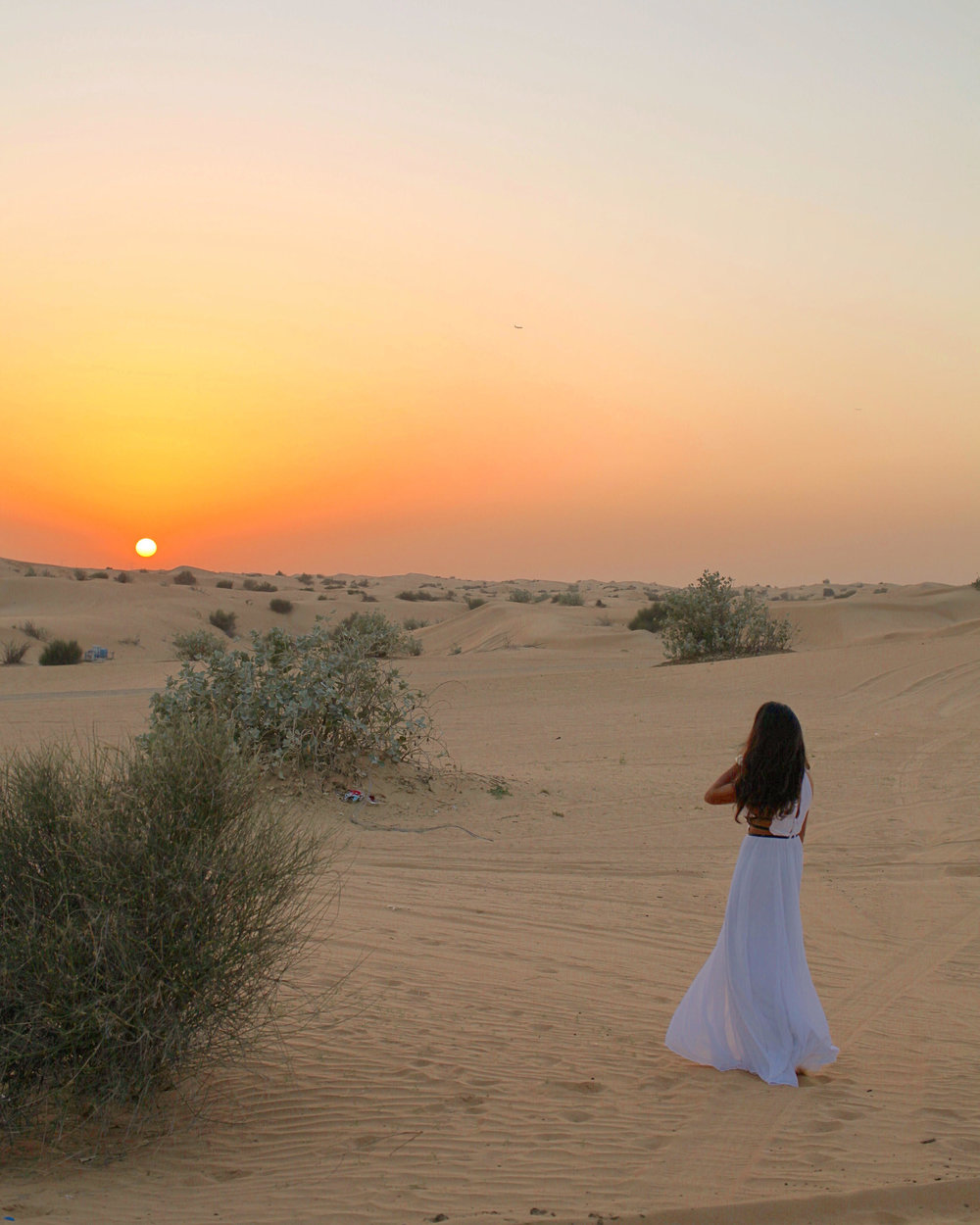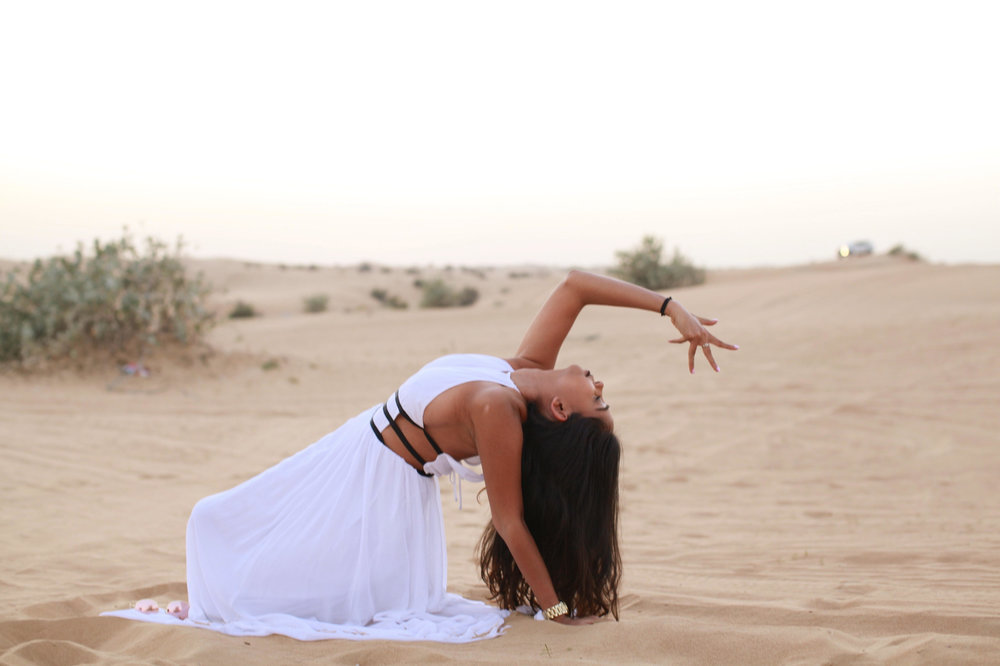 2. Burj Khalifa
An incredibly fast elevator ride will take you all the way to the 125th floor for remarkable views of Dubai, which will undoubtedly give you a new appreciation for this beautiful city. You'll be amazed at the way the Emiratis were able to build such an iconic urban landscape in the middle of the vast expanse of dry desert. Other than the spectacular views, there are also some pretty realistic virtual reality experiences you can enjoy at the top. Book your tickets in advance on their website and make sure to carve at least 1.5 hours for this attraction in case you need to wait in line!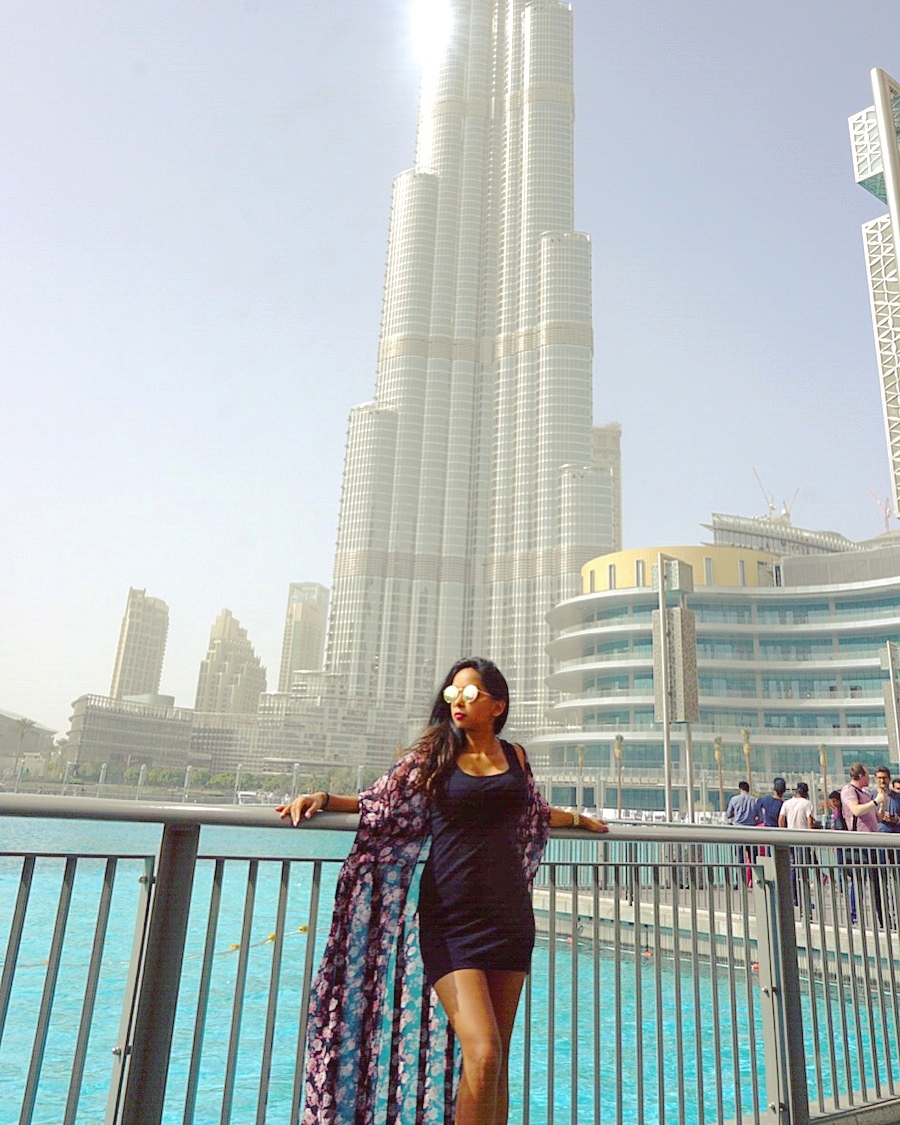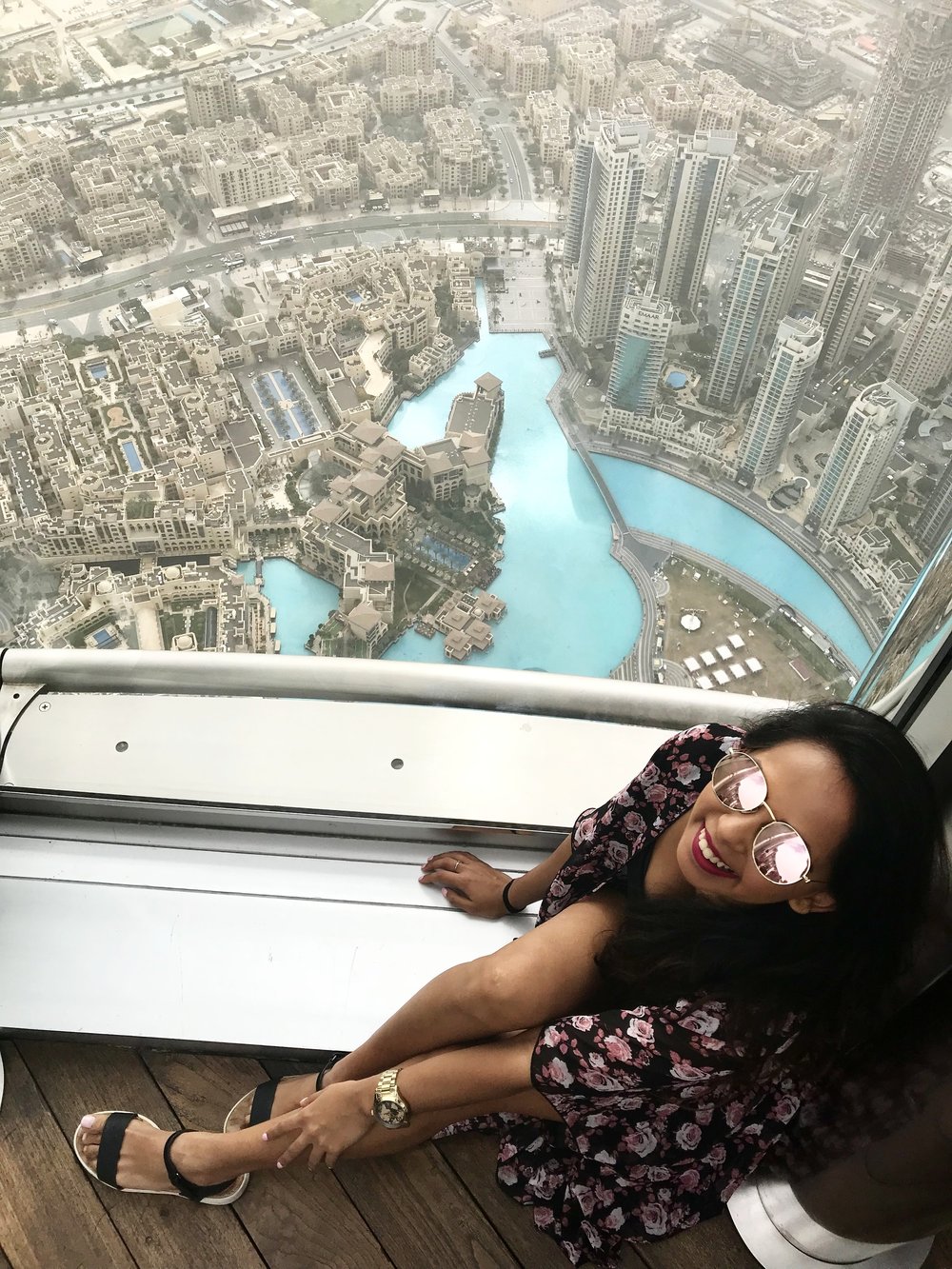 3. Old Dubai and Souks
Old Dubai is definitely one of my favorite areas in this city. A stark contrast to the modern architecture of downtown Dubai, Old Dubai is the cultural hub of the city. Here you'll find the world-famous souks — an Arab marketplace or bazaar. There are several souks you can see, but my favorites are Gold Souk, Spice Souk, Textile Souk, and Meena Bazaar.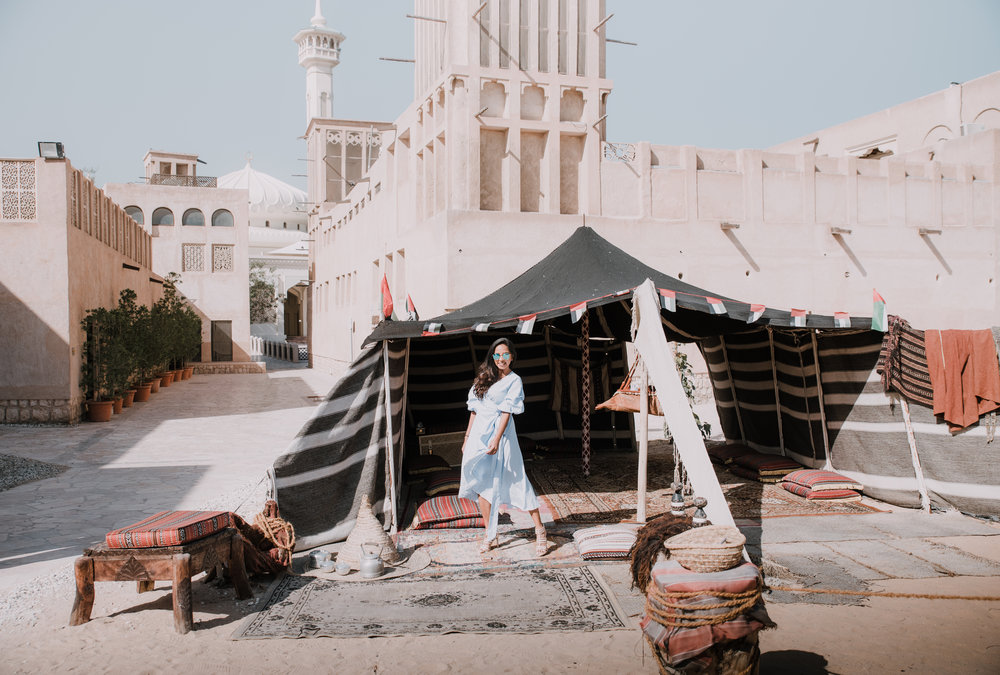 If you're interested in finding great deals on Indian shopping, Meena Bazaar is the place to go. You may also be able to do most of your souvenir shopping while walking through these souks, so make sure to bring cash.
While you're here, also make sure to take an abra ride across the creek. The Dubai Creek is the original center of the city's commerce and still buzzes with boats going up and down, carrying their trade and cargo.
Finally, make sure to make a pitstop at XVA Art Hotel. Located in the Al Fahidi district, this boutique hotel is adorned with art created by local artists and designers. Even better? At the hotel's vegetarian cafe, each plate you order is served to you like a work of art!
4. Burj al-Arab
The world's only 7-star hotel, the Burj al-Arab is an attraction you do not want to miss. While the hotel's sail-shaped architecture is what it's known most for, it's the impeccable service that earned it the 7-star reputation. Although the prices per room are extravagant, you can make lunch or high tea reservations to experience the beautiful hotel and world-renowned customer service first-hand! While you're here, make sure to stop by Jumeirah Beach and stop into the Jumeirah Palm Hotel for some sheesha with a stunning view of the Burj al-Arab!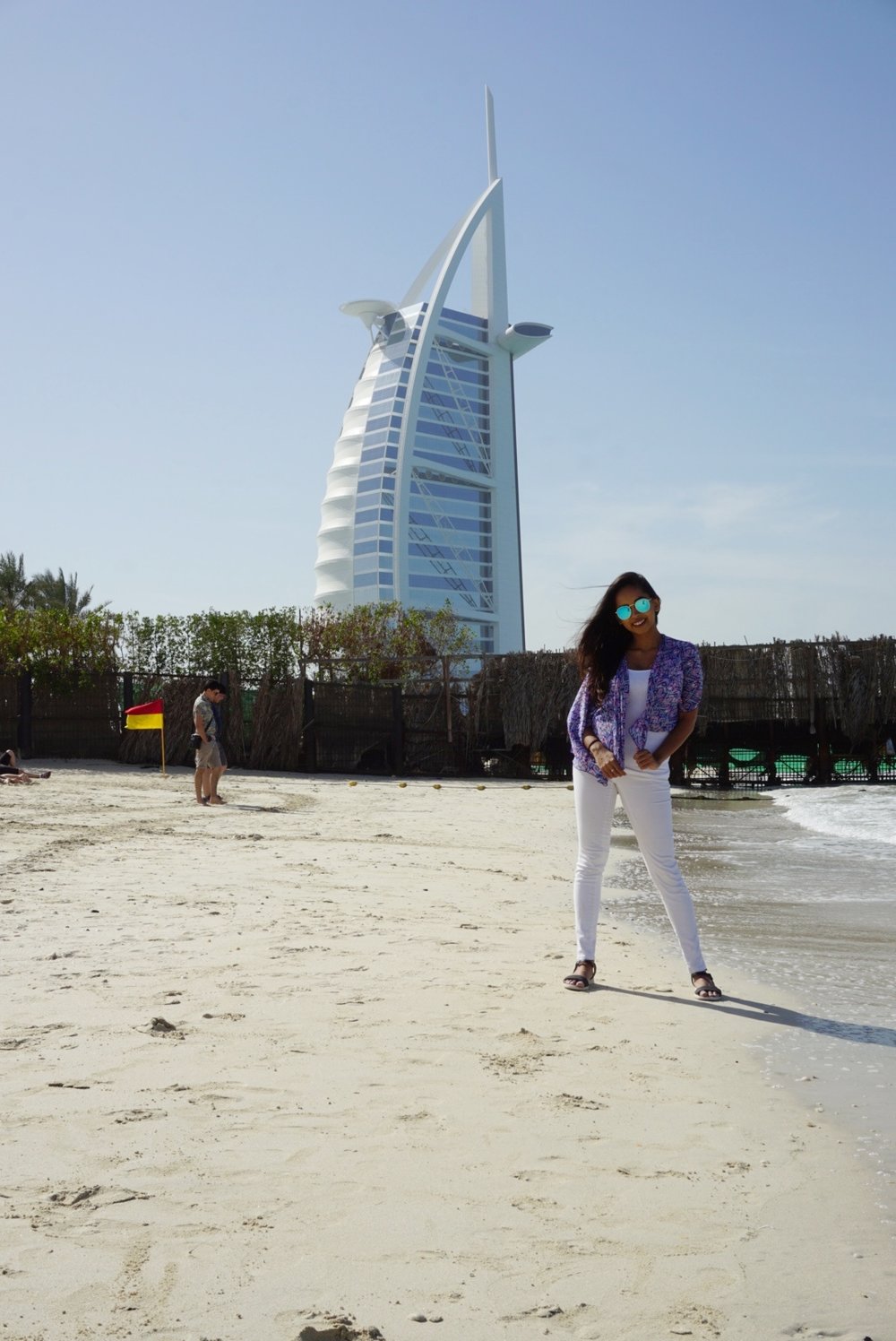 5. Dubai Mall and Dubai Fountain
The largest mall in the world is an attraction you do not want to miss. You can literally spend an entire day getting lost in this mall and it still probably would not be enough. I was lucky enough to visit during the Dubai Shopping Festival, during which they were raffling off a limited edition Bentley (crazy, right?!).
Definitely, take some time to see the Dubai Fountain show right outside the mall. You can also snag a reservation at one of the restaurants in the mall that has a front-row seat to the show to enjoy dinner with a view!
6. Abu Dhabi and Sheikh Zayed Mosque
Do not leave Dubai without taking a day trip to the neighboring emirate of Abu Dhabi. Abu Dhabi is the richest of the seven emirates in the UAE, and it definitely shows. From the majestic Sheikh Zayed Mosque to Yas Island and the newly opened Louvre, Abu Dhabi offers the most high-end attractions there are! Not to mention the stunning Emirates Palace Hotel. You may even recognize some locations from your favorite movies shot in here!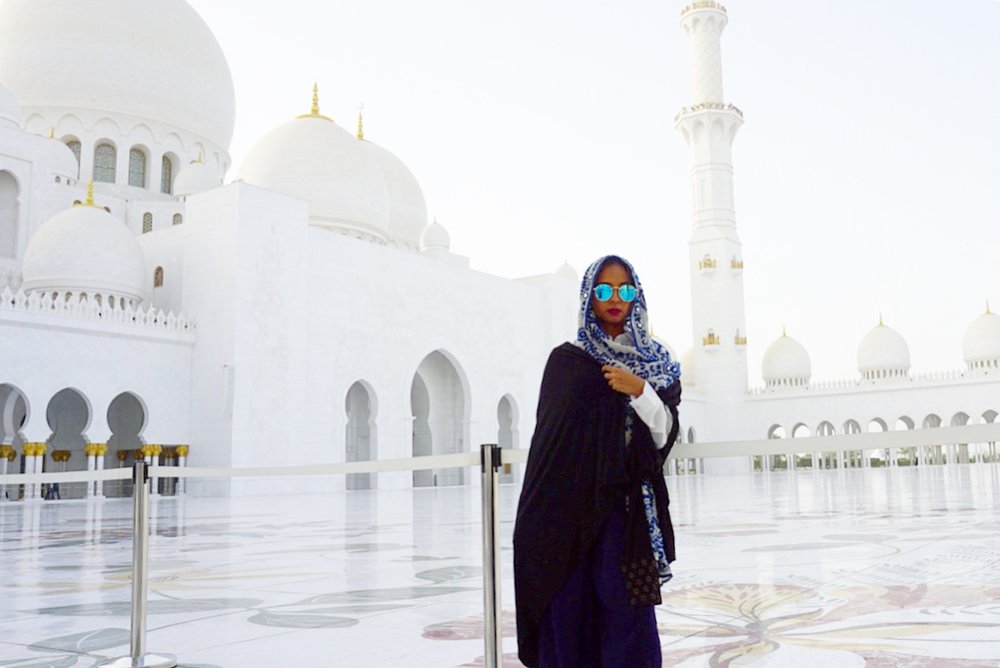 7. La Mer
La Mer is the beach and boardwalk of your dreams. It almost makes the Santa Monica Pier look like a small street fair (LA I still love you!). This entire area is brand new, so not everything was open when I paid it a visit. I'm so excited to come back here on my next trip to see it up and running. Oh, and those cute blue huts in the top picture? Yeah, those are just the bathrooms!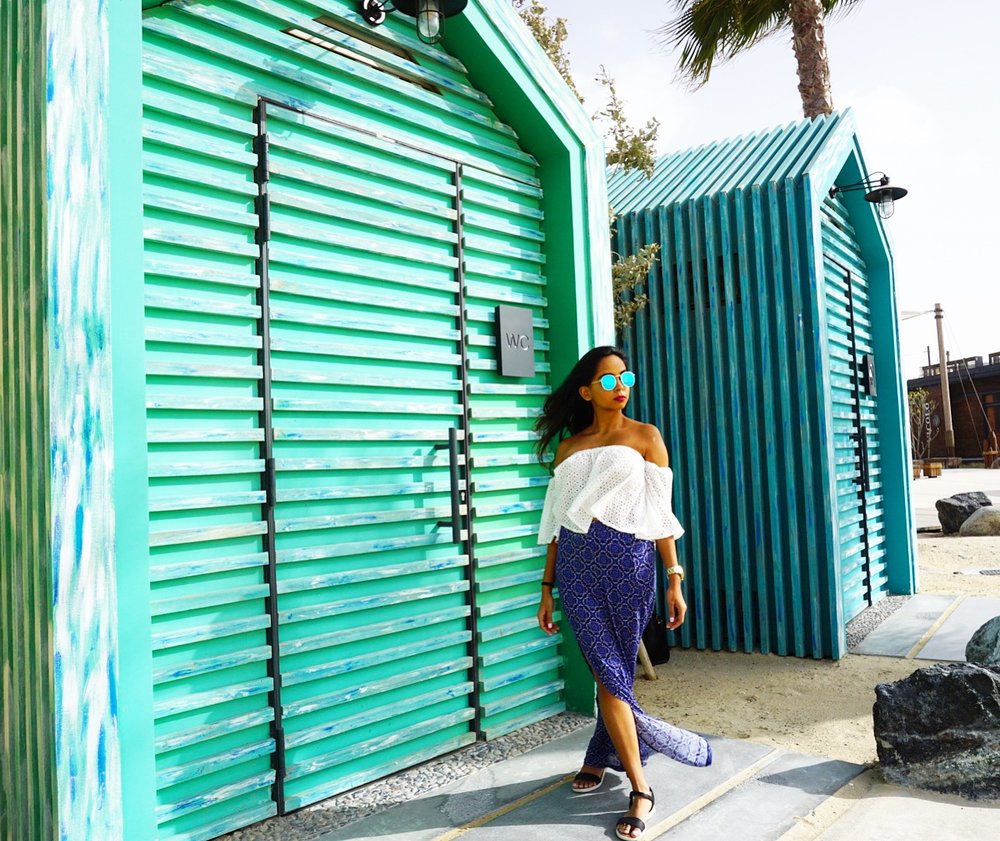 As amazing as each of these attractions are, I was most amazed at how diverse of a country the UAE is. Shockingly only 14% of the population is even considered to be Emirati. In light of the increasingly polarizing global political climate, it's truly refreshing to see so many ex-pats from around the world not only co-existing peacefully in Dubai but truly thriving. Counting down the days until I return.
---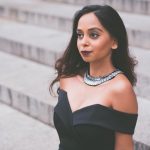 Ashni is a Social Media Manager, Digital Strategist and Lifestyle Blogger living in the Big Apple. Currently, she develops and executes digital strategy for the Brennan Center for Justice at NYU Law, which is a political and legal non-profit advocating for democracy and equal justice for all. She is also a professional Bollywood dancer who has performed at venues across the country such as Times Square, Madison Square Garden, Global Citizen Festival and more. When she's not navigating the Twitterverse or dancing through life in classic Bollywood fashion, you can find her eating, laughing and shopping her way across New York City or better yet, traveling the world! You can follow her adventures on her blog, as well as Instagram and Twitter.