by Bollytude

Everyone once in a while, we all come up with amazing ideas. Ideas that we really believe in, ideas which add some value to our lives or others around us, but these ideas are like Tusshar Kapoor movies: they come, they go, and no one gives a rat's ass about them.
One of the founders of Bollytude had a similar idea. He called his friend, "dude, I have a kick-ass idea, let's make Bollywood style t-shirts." This was no Tusshar Kapoor movie, this was a 'Dabbang' idea. It wasn't an ordinary day either, because everyone was in their 'Aaj kuch toofani karte hain' mood. Next thing they knew, they were all sitting in a Starbucks, chugging barrels of coffee, jotting down random notes.
"Let's call it 'Yo!Cult,'" one of them said, "meh" said the other. "Let's call it 'Funtoosh!!'," *eye rolls,* "Bollytees?" *grunts,* "Bollytude!!" And everyone said "YES" in unison. Who knew, this small, crazy, not-so-completely-thought-out idea would turn into something they are all very proud of today?
A great person said, "Good things take time," Bollytude founders have something to add to that, "Good things take time, and they take longer when you are doing them part-time." Everyone on the Bollytude team has a full time job in some tech firm in Silicon Valley, so everything takes a while. From coming up with the tag line for the brand 'Movies – Humor – Fashion', to deciding on the vision and direction of the brand, but when four movie buffs who know "Andaaz Apna Apna'" like the back of their hand, come together to create this trendy brand they think people would love, what could possibly go wrong eh? A lot.
It was no trivial deal to start a new brand, especially when none of them had any prior experience with selling stuff online,but like Salman Khan said in "Dabbang," "Maine ek baar joh commitment kar di, toh main khudki bhi nahi sunta," these folks were unstoppable.
After numerous hours of brainstorming, note taking, arguing and fighting, they finally had a plan. They are pretty sure they spent more time planning/figuring things out than the time taken by the all evil Bollywood 'Mogambos' to cook up their evil schemes, combined!
However, instead of extorting money from their in-laws (which they are totally against) for this project, they decided to test the market by running a crowdsourcing campaign. The goal was to raise an ambitious $5,000 and they raised raised an impressive $3,000 through supportive friends, family, word-of-mouth publicity, some emotional attyachaar and some blackmailing (they had a lot of dirt on their friends). Within four months, the store was up and running with just five shirt designs, a mug and a phone case. It was time for some rejoicing. So they all started making more designs for the store, because that's what they love doing.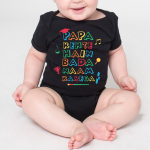 Today, Bollytude has around 25 designs, including kids and toddlers' sizes!
Like the three pillars of  'Gurukul' – Bollytude started with three main core values:
Movies – Everything has to be about Bollywood movies and only Bollywood movies, total dedication.
Humor – Take the clichès people like and turn them into fun art people would love to wear.
Fashion – Make the highest quality designs on the highest quality shirts.
There are a lot of other things, people at Bollytude take very seriously. They value customer satisfaction. One of the founders says,
You can buy cheap Bollywood shirts by the dozen off the streets, but we are not selling t-shirts here, we are selling stories, we are selling art. T-shirts are just a medium for doing that. Why would you wear a 'Huntington beach' shirt when you have never been there? Why not wear a 'Crime master Gogo' shirt if you love "Andaz Apna Apna?"

We want our customers to wear something they can relate to, something they can brag about, start funny conversations in awkward situations with, yet look good and fashionable. We want to keep doing what we love the most, more designs, more shirts!'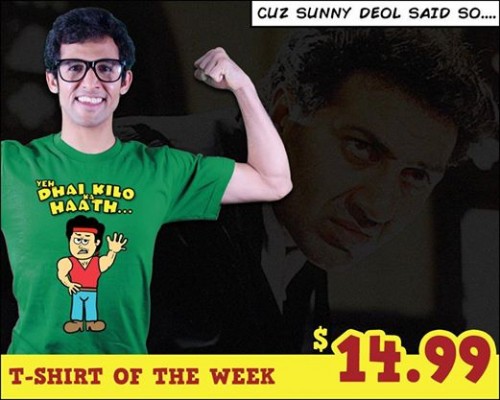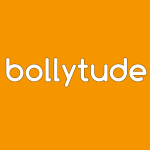 Bollytude is a t-shirt and other merchandising endeavor that brings you the humor and fun from Bollywood. The founders are Pankaj Dubey, Ajeenkys Bhatalkar, Varghese Mathai and Akshit Shah. Follow Bollytude on Twitter and 'like' their Facebook page!