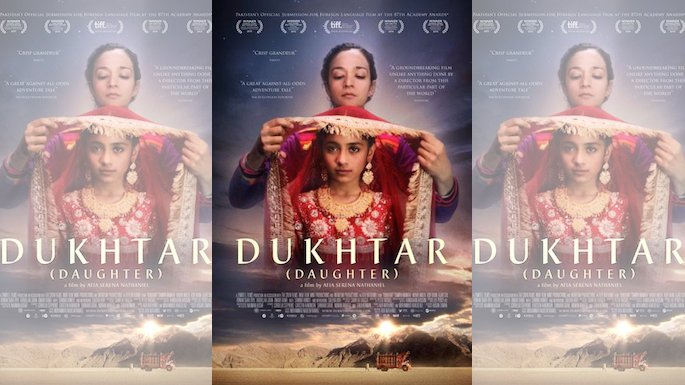 by Priya Arora
This post was originally published on our partner website India.com:
As teenagers, many of us may have dreamed of running away from home—there was a sense of elusive freedom that could be found if we were just bold enough to open the door and run away from family, rules, expectations, and so much else. As adults, we know better—with age came the realization that running away was hardly a solution to mounting problems.
In Afia Nathaniel's directorial debut, "Dukhtar," this concept of freedom, and fleeing to find it, become the stage for a heartwarming story of the bond between a mother and her daughter, tribal conflicts, and the age-old practice of child marriages.
The film begins with a settlement between the heads of two feuding tribes in a remote area of Pakistan—Daulat Khan (Asif Khan) and Tor Gul (Abdullah Jaan) decide that their truce will be cementing by marrying Khan's 10-year-old daughter, Zainab (Saleha Aref), to Gul. But Zainab's mother, Allah Rakhi (Samiya Mumtaz), herself a former child bride, will not let history repeat itself with her daughter.
On the day of the wedding, Allah Rakhi manages to run away with Zainab. As the two tribes set out to find them, with the thinly veiled intent to kill whoever gets in the way, the mother and daughter enlist the help of a well-meaning truck driver, Sohail (Mohib Mirza). Their journey to Lahore becomes a vessel for learning about Sohail's troubled past as a mujahideen as well as Allah Rakhi's longing to see her aging mother after decades.
The highlight of the film becomes the extent to which a mother will go to protect her daughter, embracing a life on the run and the unknowns that come with trusting the goodwill of strangers they meet along the way. Really, the film becomes about the journey, the growth and sacrifices of Allah Rakhi, her mother, and Sohail. The audience, of course, roots for final validation that they finally find safety and freedom—but Nathaniel's storytelling is careful and heart-wrenching, and the journey becomes far more important than the destination.
"Dukhtar" is a bold, powerful, and largely feminist film. With visually stunning scenes shot in Pakistan, it is clear that Nathaniel's love for her home country supersedes any notion of strife. The premise of the film, child marriages, seamlessly becomes part of larger tale—one that focuses on the love between a mother and her daughter, a bond that crosses generations. To rest a simple story—that of a journey—on the shoulders of a female lead is a commendable choice, and one that pays off. The notion that a woman takes the reigns to build her own future is a subtle but profound statement of women's empowerment in the face of so many obstacles.
Beyond Nathaniel's artful direction, "Dukhtar" is strengthened immensely by the moving performances of its main cast. Mumtaz as Allah Rakhi is particularly impressive—she speaks volumes without actually speaking, with her careful silence and the expressiveness of her eyes, about the unimaginable internal struggle of a mother who will do anything to protect those she loves.
It comes as no surprise, then, that "Dukhtar" was Pakistan's entry to the Oscars last year. Even greater, however, is the knowledge that this year, due in part to Nathaniel's powerful film, the minimum age for girls to get married in Pakistan was officially changed from 16 to 18.
At a time when many forms of social activism are becoming mainstream, "Dukhtar" comes as a sigh of relief for audiences. It is forceful but quiet, and impactful but respectful. It leaves viewers with a deep sense of connection to the story, instead of coming off as a call to action. This is, essentially, the most effective form of social commentary—starting dialogues between communities without giving in to the tendency of blaming one side over the other or portraying victims as helpless or in need of rescuing. "Dukhtar" is a must-see film.
"Dukhtar" premiered in New York and Los Angeles in October, and has plans to head out to Egypt next! For more information about the film and Nathaniel, check out the film's official site.
India.com Content Manager Trisha Sakhuja recently spoke to filmmaker Afia Nathaniel for the South Asian Journalists Association's Blog Talk Radio. Her 45-minute talk with Nathaniel is an in-depth conversation about the film's worldwide recognition, it's powerful, feminist message, the difficult filmmaking process with an all-male crew and the resounding impact it had on changing legislation for child marriages in Pakistan. Listen to the BTR here and share it with your friends!