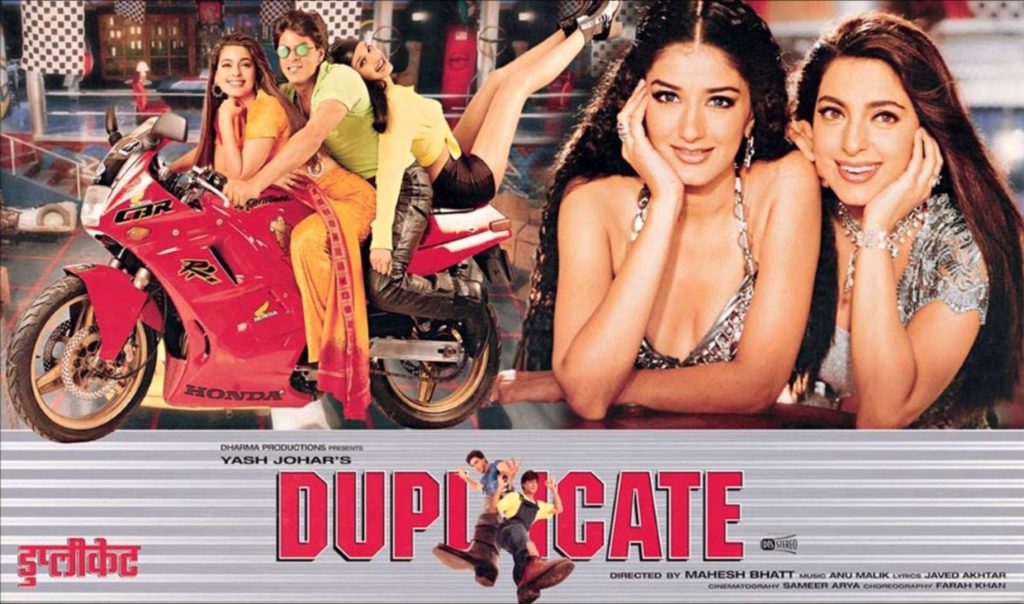 The only time you'd catch me watching a movie like "Duplicate" sober is because of Shahrukh Khan, since I usual reserve slapstick for when I don't need the brains to understand it.
Despite that, this is not the first time I've seen "Duplicate" — not to mention how many times I've seen the songs as a kid. Maybe it's because Shahrukh Khan's Bablu is the nineties version of Varun Dhawan in… Well, anything.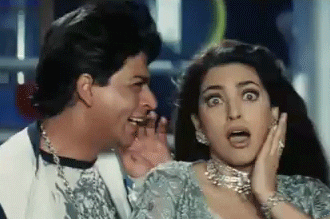 And that's really the gist of it all. Shahrukh Khan plays the double role of Bablu, a ditzy, hopeless cook and notorious look alike Manu who is violent criminal. Supported by Farida Jalal, Sonali Bendre and Juhi Chawla, this Mahesh Bhatt film is an honest to god mirror into how far Bollywood has come in twenty years.
For one, the film follows the exact textbook pattern of exposition, and heavy handed metaphor. Shahrukh Khan's Bablu is the exact opposite of Manu — one so gormless its irritating, and the other perpetually ready to assault and abuse his girlfriend at any time.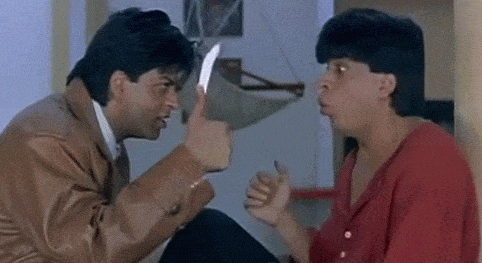 I think that would be my first turn-off in this film. Manu Dada is so unlikeable it becomes hard to see. His face is perpetually red and dripping with sweat as he draws big red X's on polaroids of his enemies. His behavior with the gorgeous Sonali Bendre is mean at best, and down-right abusive in others.
Bablu, on the other hand, is clueless and sweet, working his dream job as a chef and falling for the hotel manager Juhi Chawla. Their pairing is the reason I get through this film because it's their arc that brings us the Iconic Kitchen Sequence "Wah Ji Wah" (cue Shahrukh cutting veggies in high speed).
Then there's the luscious silver comedic tug-o-war between Juhi and Sonali over a bewildered (and a little drunk) Shahrukh in "Mere Mehboob Mere Sanam."
The costumes, and the dialogues are a little questionable — and why bother discussing the ridiculous climax full of classic "double-role confusion hijinks" and somehow a whole lot of flour. Despite this, "Duplicate" is, in my eyes, a cult favorite amongst a few viewers on the internet. It's drivel, at best, but I'll tune in and tune out any time you ask.
https://www.youtube.com/watch?v=w_zPONyJgTs
Some of the tropes just seem unacceptable now. I think I wanted to find Manu hot, but I just find myself mildly disgusted. It just seems so abjectly wrong in today's time; to throw Bendre around and hold scissors to her throat. Not only is it uncomfortable, it's bad writing — it's exaggerating far beyond a point.
Made as is, the film would barely last a week in the box office now, but touch up the camera work (and quality), pare down your characters just a tad, and a magic VD will flash before your eyes.
If anything, twenty years later we know that our stories remain much the same if toned down. I feel like these days every movie is either gritty, heavy or humorous. We expect all our characters to be a little witty, to give the audience a laugh. And I much prefer this to the heavy handed alternative — that's why I love "Mubarakan" and not "Judwaa 2."
Even if "Duplicate" is ham-handed in even its best moments, it's an icon in the trajectory. The fact that this film released in the same year as "Kuch Kuch Hota Hai" and "Dil Se" proves two things to be true. One: That Shahrukh is and always will be a diverse (if over the top and a little ridiculous) actor, and two: That I see why sometimes y'all can't take him seriously.
A happy 20 years to this blip on Shahrukh's radar! Join us next time as we watch another throwback, and shoot a message if there's something you'd like to see reviewed.