Since the release of the trailer for "Ek Ladki Ko Dekha Toh Aisa Laga" back in December, I, along with many others, waited for its premiere with bated breath.
Produced by Vidhu Vinod Chopra, this "unexpected romance" marks Shelly Chopra Dhar's directorial venture. Chopra Dhar co-wrote the film with Gazal Dhaliwal, a transwoman who wrote the story using moments from her own life. The title of the film is, of course, a play on the hit song of the same name from "1942: A Love Story."
The cast of "Ek Ladki Ko Dekha Toh Aisa Laga" includes Sonam K. Ahuja, Ahuja's real-life father (and the male lead of "1942: A Love Story"), Anil Kapoor, iconic actress Juhi Chawla, and fan/critic/world favorite Rajkummar Rao. The film's title song succeeds in reinventing the sweet song for a new generation, but does the film live up to the hype?
"Ek Ladki Ko Dekha Toh Aisa Laga" follows Sweety (Sonam K. Ahuja) a soft-spoken, ethereally beautiful Punjabi girl who gets along well with her jovial father, Balbir (Anil Kapoor). Balbir runs a garment factory in their small hometown, Moga, and wants to see Sweety married off to a good-looking boy that will take care of her later in life.
Sweety's Dadi, Gifty (Madhumalti Kapoor), rules the house with an iron fist, hiding keys and address books in her bra, and shooing Balbir out of the kitchen at every turn. Along with her brother, Babloo (Abhishek Duhan), they make up a typical trope-y North Indian Bollywood family. They are loud, they love food, and they say "bruuuahhh!" one too many times for it to be ironic.
Enter struggling playwright Sahil Mirza (Rajkummar Rao). Sahil meets Sweety in a time of need one afternoon in Delhi, and all the pieces of a Bollywood rom-com are well in motion. But Shelly Chopra Dhar and Gazal Dhaliwal promised a different kind of love story, and they deliver.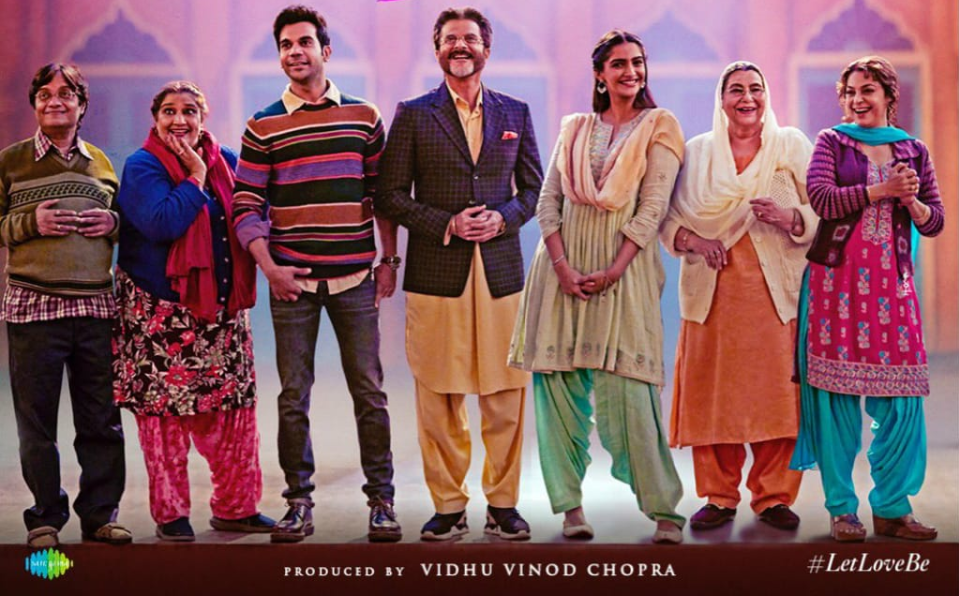 Sweety is a lesbian and travels to Delhi regularly to secretly meet her girlfriend, Kuhu (Regina Cassandra), under the guise of applying to art schools. It is on one such trip that Sweety meets Sahil, and she enlists his help in getting away from her brother. Without even knowing the full story, Sahil falls hard — he is enthralled by Sweety and her story, so much so that he picks up and moves to Moga to work on his play.
A series of miscommunications leads Sweety's family to decide to marry her off and leads Sahil to believe Sweety is in love with him. In the ensuing, sometimes comedic, chaos, Sonam's subtlety aids her portal of Sweety. The quiet sadness and flicker of anger and disappointment speak volumes. Once she finally shares her secret, her retelling of her story is just as heartbreaking. Sonam does well here, her somewhat shy, closed-off presence fits naturally in the scene.
The same holds in the few scenes we see of Sweety and Kuhu together. Sonam always projects a rather muted presence, but in this instance, it flows with the narrative — the faltering, tentative steps of first love. However, she loses steam in some of her more emotional scenes. Her outbursts start out authentic enough, but she just can't seem to slide inside Sweety's skin, leaving Sweety's tears to fall flat on more than one occasion.
Still, I am hard-pressed to think of another actress who could portray this particular character with the same ease and charisma. Sonam receives a lot of aid from both her father Anil Kapoor and Regina Cassandra. Sonam simply has to follow Cassandra's lead in some of their scenes together and can lean on her in others to add credibility to the emotion. The father-daughter bond between Sonam and Anil is evident throughout the whole script. Everything Sweety does — her silence, her sacrifice, even her desire to speak — is to protect her relationship with her father. Sonam digs into that real relationship and it pays off in the climax, the flood of tears finally feels real.
Both Kapoor and Rao are in top form, bringing conviction to their roles. Anil Kapoor goes through the whole gamut of emotions, coming out on the other side stronger and just as believable. The funny and the fury are given the same amount of dedication, and under it all is a quiet undercurrent of love.
Rajkummar Rao as Sahil has a little less to work with, despite being handed a rather large portion of screen time. Still, he remains as skilled and believable as ever. In the first half of "Ek Ladki Ko Dekha Toh Aisa Laga" Rao gives off a '90s hero vibe, and it looks great on him. Enchanted by Sweety, he daydreams about her and even attempts to sneak her a letter. He's a little cocky, but in love, and he makes a good case to play the hero of his very own Karan Johar or Imtiaz Ali-esque rom-com.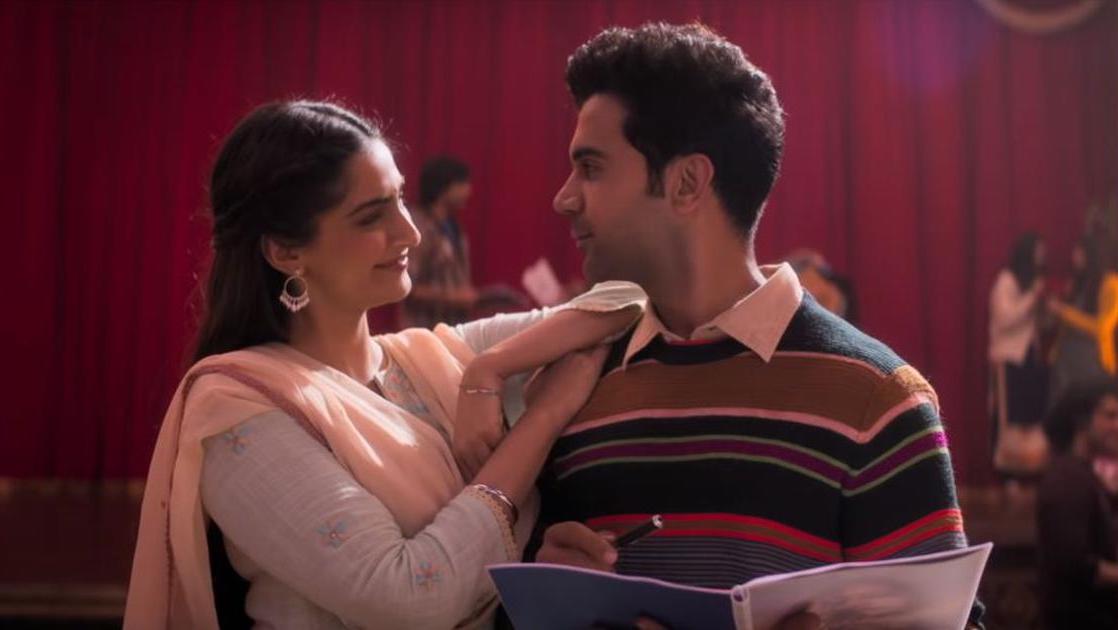 The second half sees Sahil trying to make amends for his earlier behavior, writing and directing a play to help Sweety come out. While he remains a focal turning point in the story, he takes a backseat here. Rao shows his strength here: He always makes a significant impact, no matter the size of the role. His determination and desire to help come across as genuine and endearing.
The supporting cast feels like a natural addition to the story — the house help and neighbors provide comic relief and world development without detracting from the focus. Juhi Chawla as Chatro is a pure treat, funny until she's not, she startles a reaction out of the audience with her straight-forward, honest approach to love and family.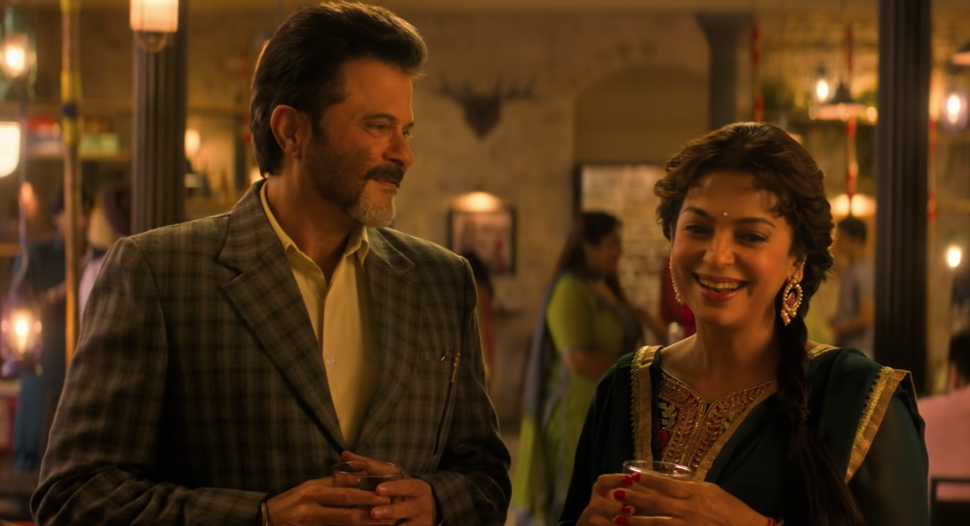 The dialogue of "Ek Ladki Ko Dekha Toh Aisa Laga" feels a little heavy at times, and the plot's pieces take a little bit of time to come together, but it seems intentional. Chopra and Dhaliwal set up the first half to subvert it later. The recurring prop of Sweety's diary and the climax sequence run the risk of becoming too meta, but the first half saves it from being so. The color palette is gorgeous, a soft-comforting pastel is paired with several flashback sequences.
I wish, however, there had been more Kuhu. For all the talk of "Ek Ladki Ko Dekha Toh Aisa Laga" being the first mainstream film with LGBTQ love in the forefront, Sweety and Kuhu receive little screen time to showcase their romance. The narrative too seems stuck on the idea of Sahil doing right by the girl he loves.
Still, imagine, for a moment, the weight of a highly sought after lead actress playing a queer woman in a WLW relationship. "Ek Ladki Ko Dekha Toh Aisa Laga" treats this relationship with respect; it is not a fake out, and it certainly is not the butt of some stupid and/or offensive joke.
In the second half, Sweety asks Sahil, "tume lagta hai iss play se kuch farak padega?" ("Do you think this play will make a difference?") He shrugs, looking back down at his book "Pata nahin, par kahin se toh shuru karna padega. Abhi toh sab so rhe hai." ("I don't know, but we have to start somewhere. Everybody's asleep right now.")
Every film comes with its trappings, and "Ek Ladki Ko Dekha Toh Aisa Laga" is no different. The writing snags a little, and the screenplay leaves you asking for just a bit more, but the idea is fresh. The story is important, and I hope it serves not as a benchmark for how to make films like it, but as a starting point for moving forward and showing even more progress.