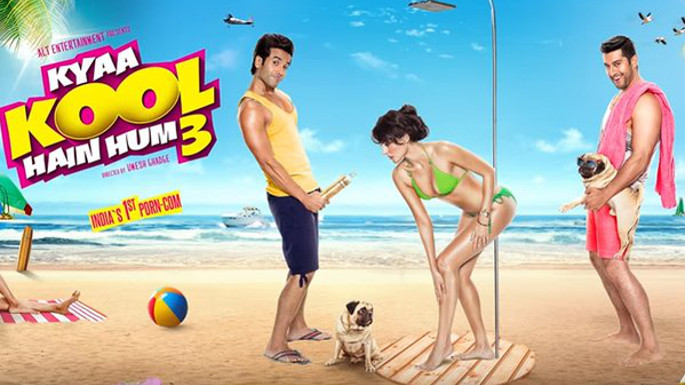 Ekta Kapoor, who is widely known for her raunchy and vulgar productions such as "Ragini MMS" and "Love Sex Aur Dhokha," is back with a bang with her new sex comedy titled "Kya Kool Hai Hum 3."
No brainer here, but Kapoor's "Kya Kool Hai Hum" franchise has been getting cruder with every subsequent movie, and we expect the third installment to be no different, based on promotional posters and trailers.
https://www.youtube.com/watch?v=Ma26XplFIEo
It all began with Kapoor's 2005 hit, "Kya Kool Hai Hum," starring Riteish Deshmukh and Tusshar Kapoor, which was one of Bollywood's first adult comedies. The movie was then followed by a sequel with the same male cast and some new babes, Neha Sharma and Sarah Jane Dias.
Despite being a rare female mogul within a male-dominated entertainment industry, Kapoor's work, unfortunately, has not shown many notes of feminism—though at times she claims them to be as most of her work depicts female protagonists as the main lead.
There is a debate about whether Kapoor has shown strong influential women in her television serials; however, one must ask:
Does today's strong South Asian woman stay at home in sarees, decked up in gold at all times of the day, while their husband is out earning the bread and butter? And do the women who have a more modern sense of saree taste and heavy black eyeliner indicate a scheming, up-to-no-good villain who likes to start drama for no rhyme and reason?
If that isn't backwards, I don't know what is!
Kapoor has shared with the media that she insisted on changing the lyrics of a song in "Kya Kool Hain Hum 3" from "oh boy, I am your soft toy" to "oh boy, you are my soft toy." We'd also like to add that this is the video of the song:
Is this lyrical adjustment an act of feminism? (Calling it feminist is bit of a stretch, no? Ha.)
Here are some Twitter reactions to Kapoor's play on words:
Your personality being nothing but a bikini body, and calling a guy your 'soft toy' is feminism apparently. #EktaKapoor kya kool ho aap.

— Gargi Ajay Upadhyay (@apna_zagadka) January 5, 2016
Slow clap for Ekta Kapoor who "empowered" a half-naked woman in a sexist comedy by changing 'I' to 'you'. pic.twitter.com/fIRU77a3V5

— Tanvi (@sinpulsive) January 5, 2016
Dear sisters. If Ekta Kapoor is the face of feminism in India, we need to wake up.

— Megha (@Omeghaa_) January 5, 2016
Sincerely hoping Ekta took a day off today after having singlehandedly saved all of womankind. What a visionary yaar, matlab 2 gud.

— Suprateek Chatterjee (@SupraMario) January 5, 2016
Being a businesswoman in the TV industry you'd think Ekta Kapoor has had to break stereotypes and would understand what feminism means.

— Rituparna Chatterjee (@MasalaBai) January 5, 2016
Ekta Kapoor & feminism should not be used in the same sentence.Especially not when she's talking about a movie set around objectifying women

— Ramya. (@BiryaniZiall) January 5, 2016
What do you think of Kapoor's "feminist" actions? Comment below and let us know!
---
Zaynah Arefin is known as a Houstonian-New Yorker. She is a New Yorker in the truest of senses but thanks to that little thing called love she now resides in Texas. Arefin is probably the desi-est of the desis.  She has a passion for writing and an even more intense love for all things Bollywood! She also hopes to connect with all of you filmy folk through Brown Girl Magazine! After all, who run the world? Brown girls!