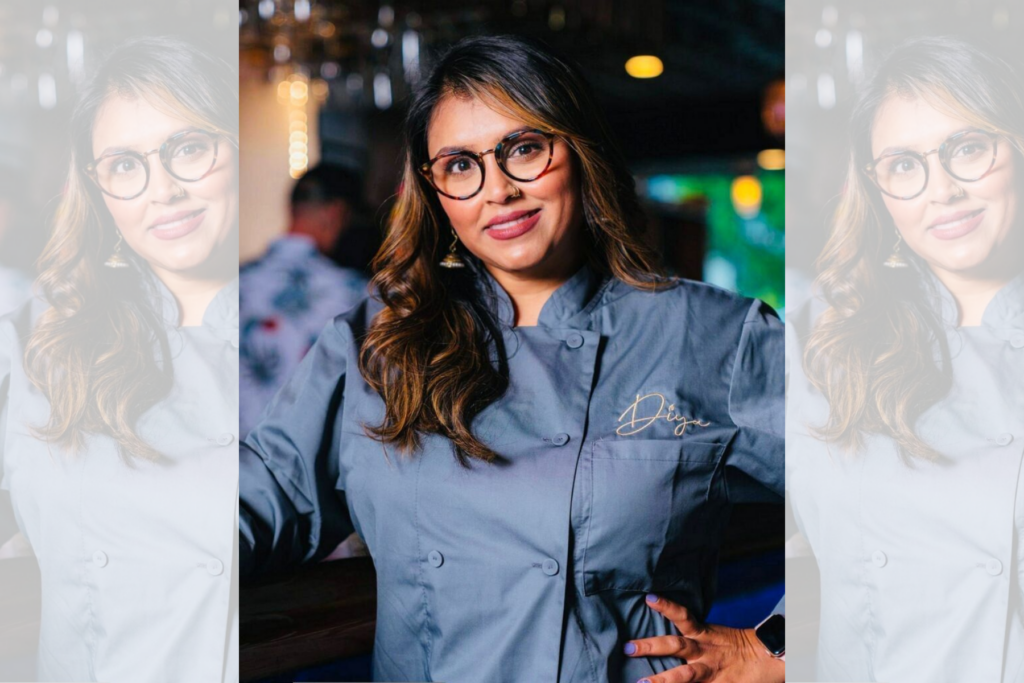 An epidemiologist. A founding mother of Florida's largest South Asian sorority. A pharmaceutical vice president. A businesswoman and executive chef. Vidya Maharaj encourages women to take risks and flourish in multiple professional and personal avenues simultaneously. Her motto of "straightening your crown," motivates women to focus and chase after what they want, believing that they do not have to sacrifice ambitions and dreams in the face of adversity or pressure.
In the enclave of Sunset Harbor, her restaurant specializes in Indian-inspired vegetarian tapas that feature Indo Caribbean fusion delicacies. Maharaj discusses her unique journey from scientist to executive chef at the restaurant Diya Miami.
[btx_image image_id="88195″ link="/" position="center" on_click="none"]Photo Courtesy of Vidya Maharaj[/btx_image]
Maharaj grew up in Trinidad and was influenced by the cuisine of women in her family. 
"I grew up in Trinidad where I watched and helped my mother and aunt cook. We were raised vegetarian, with my favorite foods being roti with aloo (potato) or callaloo. I love Caribbean food, but there was always this curiosity about being Indian but not directly from India. When I moved here, I learned more about authentic Indian food and its origins. This led me to want to do something different, to take it to the next level and gravitate toward a fusion of Indian dishes."
 Indo Caribbean food is an eclectic mix of indigenous, African, Chinese and South Asian derived dishes that reflect its multicultural history. By growing up where exposure to diverse food is common, Maharaj's interest in cooking was quickly ignited.
Her transition to becoming a full-time chef came after migrating to the U.S.
"When we immigrated, my parents, like most Indian parents, wanted me to be a doctor. I didn't end up going into medical school, but got my degree in epidemiology and was interested in the lucrative business of pharmaceuticals."
Maharaj worked in research with the goal of becoming a pharma executive. In 2019, her brother bought a restaurant that began as a mom-and-pop shop. They served traditional Indian food. Maharaj attended the soft opening in January  2020 and cooked butter paneer at her daughter's request. 
"It ended up becoming the most liked dish of the night and I just knew that I wanted to be a part of this journey with my family."
Maharaj's decision to join Diya Miami coincided with her ascent in pharmaceuticals. Like many careerists, she asked herself if she could raise her daughter, maintain her household, and thrive in her career at once. After being interested in a STEM career, could she successfully balance science with a creative pursuit such as cooking full-time?
View this post on Instagram
Maharaj was not intended to give up her original goal to join the family business. By "thinking outside the norm," and with the support of her husband and family, she enrolled her daughter in online schooling while reinventing Diya's menu at night and working from home during the day full-time.
Named after her mother, Diya's dishes are inspired by family recipes passed from India to Trinidad, but represent a more global cuisine indicative of Miami's international presence.
Maharaj says Diya Miami is unique to the area.  
"We noticed a lack of fine Indian dining in Miami and wanted to challenge the stereotypes that Indian food is heavy or curry is disgusting. We provide next level service with high quality food and presentation. Our dishes have notes and hints of Indian cuisine, but are fused with a variety including: Latin, Italian, and Japanese."
Diya Miami has an array of unique dishes on the menu. Maharaj says the Gobi Manchurian is one of the most unique and has a hidden Caribbean combination of garlic, onion and cilantro herb chutney. 
"We make meatless dumplings cooked in simple spices and served with an in-house Goya sauce. For dessert, we have an eggless Ras Malai Tres Leches cake served in a jar with the sauces mixed!"
During the pandemic, Maharaj's background in epidemiology made her, even more, health-conscious.
"When coronavirus disrupted the industry, I was dead set on showcasing how our food is anti-inflammatory with spices such as turmeric, cumin, coriander and curry leaves. Diya was stringent in abiding by all public health regulations."
View this post on Instagram
For 2022, Maharaj has the goal of making Diya Miami completely vegan. Diya Miami would eventually like to produce a chef's table and offer an 8-course Indian-inspired meal with items such as a Goan curry. 
"We want to highlight Indian cuisine's health benefits and organic vegetables and spices in a way that's accessible to everyone."
 The response has been positive. Customers have mentioned that Diya Miami has the capability of contending for the prestigious James Beard Award. Individuals wary of Indian food and its spices have become repeat customers. 
[btx_image image_id="88193″ link="/" position="center" on_click="none"]Photo Courtesy of Vidya Maharaj[/btx_image]
Maharaj praises her strong immigrant family that illustrates hard work and perseverance. She is thrilled to see more Indo Caribbean women highlighted as she navigates both the corporate and culinary spaces. She advocates to her daughter that, "mommy isn't a quitter," and implores women to, "not be scared of what's ahead because failure is not an indication of success." 
As both a scientist and founder, Maharaj has intersecting passions. She hopes that her journey empowers other Indo-Caribbean women to overcome their reservations and be multifaceted, successful and leaders in various fields. Diya is located at 1766 Bay Rd, Miami Beach, FL 33139. To learn more about Diya Miami visit their website.