If you've been on Facebook or Twitter in the last 24 hours, chances are that you've heard about YouTube personality Adam Saleh's claims of being kicked off Delta flight #DL1 from London to New York yesterday after speaking Arabic on the phone. Here's what we know so far about the saga that has since unfolded.
Who?
Adam Saleh, a YouTuber personality and self-classified "professional idiot" with more than two million subscribers, and his friend, Slim Albaher
What?
According to Saleh, a passenger seated in front of him got upset when he was speaking Arabic on the phone to his mom, telling him to speak English. When Saleh responded, an argument ensued, after which he was kicked off the flight.
Saleh posted a video yesterday showing Delta employees escorting him off the plane. In the video, which went viral and led #BoycottDelta to trend, Saleh repeatedly said he is being kicked off for speaking Arabic. From what it sounds like, only one passenger spoke up to defend Saleh during the video —all we hear are Saleh's claims of what happened.
We got kicked out of a @Delta airplane because I spoke Arabic to my mom on the phone and with my friend slim… WTFFFFFFFF please spread pic.twitter.com/P5dQCE0qos

— Adam Saleh (@omgAdamSaleh) December 21, 2016
Shortly thereafter, Delta rebooked Saleh and Albaher on a different flight, and issued the following statement:
"Maintaining a safe, comfortable and orderly onboard environment is paramount for every flight and requires the cooperation of all of our customers in conjunction with adherence to directions from our crew members. This is a Delta policy and is required by U.S. regulations as well as others governing aviation worldwide.

Two customers were removed from Delta flight 1 departing London-Heathrow today after a disturbance in the cabin resulted in more than 20 customers expressing their discomfort.

We have spoken with the customers who were removed; they were rebooked on another flight. Plans are in place to immediately speak with our crew and other passengers when the flight lands this afternoon. We will provide an update once we have more information."
Upon reaching NYC, Saleh posted this statement via twitter:
Thank you for all your support pic.twitter.com/ukQ4EGVQ6r

— Adam Saleh (@omgAdamSaleh) December 22, 2016
So, what happened next?
In a statement to CBS News last night, Delta said:
"Upon landing the crew was debriefed and multiple passenger statements collected. Based on the information collected to date, it appears the customers who were removed sought to disrupt the cabin with provocative behavior, including shouting. This type of conduct is not welcome on any Delta flight. While one, according to media reports, is a known prankster who was video recorded and encouraged by his traveling companion, what is paramount to Delta is the safety and comfort of our passengers and employees. It is clear these individuals sought to violate that priority."
In the latest turn of a controversial story, Delta passengers who were on a flight with Saleh are disputing his claims.
Yo @omgAdamSaleh explain this. pic.twitter.com/QUqrZXAPF3

— KEEM ? (@KEEMSTAR) December 22, 2016
Anthony Ellis, a passenger who sat one row ahead of Saleh and Albaher, told the Washington Post:
"He was never any part on the phone — I would have heard the whole conversation," he  "If someone's being racist, I would stand up right away. In this day and age, you defend each other. It wasn't like that. I mean, this guy was trying to antagonize people. I think because they made it into such a big scenario, [Saleh] kind of panicked a little bit."
Roderick J. Edens shared their boyfriend's account of the same episode to Facebook:
ABOUT THE GUY REMOVED FROM DELTA FLIGHT FROM LONDON…. I feel the need to share this. My boyfriend was sitting in the seat directly in front of them. The entire thing was planned. He wasn't on the phone with his mom speaking Arabic. He and his friends were shouting in Arabic with their fists balled up in the air. They were removed from the plane for being loud and disruptive….then started filming claiming they were victims. These guys aren't victims….they are social media whores
Why all the controversy?
Saleh has a history of, and a pretty solid reputation for, pulling pranks and dramatizing racial bias. His video in 2014 about NYPD's stop and frisk was later disclosed to be fake, and as recently as last week, Saleh pulled a prank claiming to have traveled in the baggage carrier part of a plane. The airline (not Delta) refuted Saleh's claims with solid evidence, including airport footage of him at the boarding door with his friends.
In a now deleted vlog from earlier this year, Saleh has gone as far as posting videos like the ones below:
Don't let this guy fool you. He's twisting the truth for attention. Maybe he forget his other "pranks" on planes @omgAdamSaleh @Delta pic.twitter.com/F38Qk7Z9EK

— David Lee Orr (@DavidLeeOrr) December 21, 2016
It's no wonder Saleh's claims of discrimination from Delta and other passengers have come under fire.
Editor's Note: As facts continue to pour out over the coming hours and days, Brown Girl Magazine will update this story. We remind everyone at reports of hate crimes, discrimination, and racial profiling are very serious. Despite the controversy around Saleh's encounter, we know that there have indeed been credible stories of Islamophobia on planes and in airports, and we implore our audience and other media outlets to refrain from painting all anecdotes of such instances with the same brush as Saleh's.
---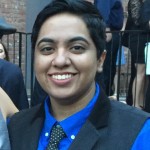 Priya Arora is a queer-identified community activist, editor, writer, and Netflix enthusiast. Born and raised in California, Priya has found a home in New York City, where she currently works as a Web Editor at Hearst Business Media. When she's not working, Priya enjoys watching old school Bollywood movies, obsessively playing Candy Crush, reading books she never finishes, and eating way too much of her partner's homemade Hyderabadi biryani.