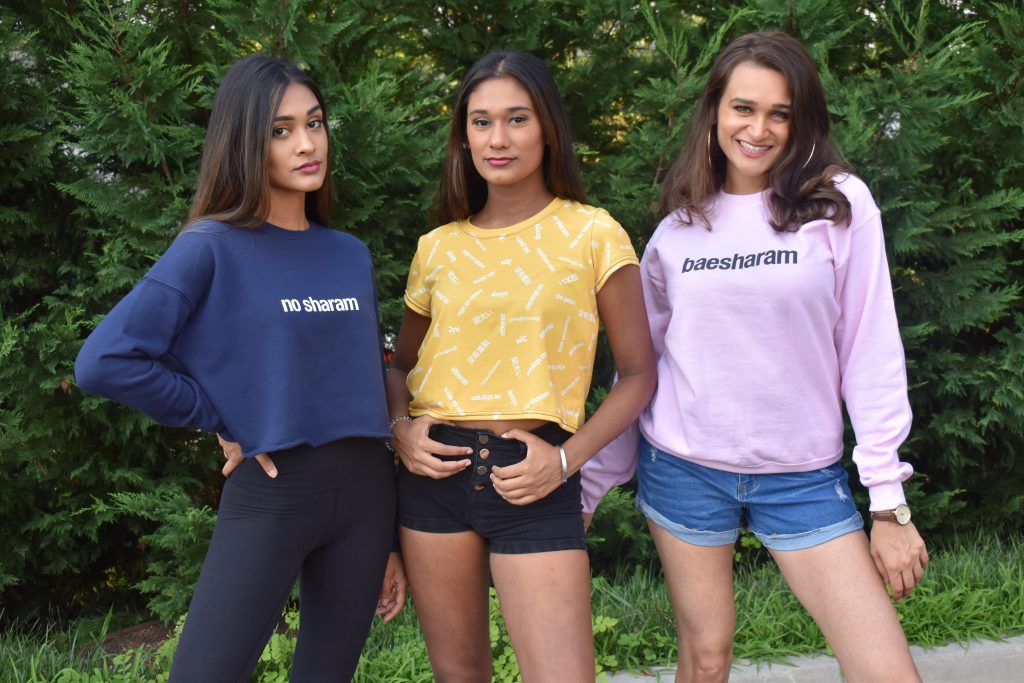 From a young age, three sisters—Omika, Rishika and Aashika—took classical Russian ballet classes because of the many immigrants from the former Soviet Union that populated their community in Brooklyn, New York. Since there weren't many South Asians in the neighborhood, their mother also wanted the sisters to connect with their own culture through dance. As a result, they began exploring different styles like Bollywood and Bharatanatyam, which fused into more contemporary methods as they grew up, and dancing became a pulse in their lives. In April 2020, a viral TikTok video sparked instant fame, and their illuminating love for dance pooled into various communities.
The trio—who identify themselves as Omi, Rish and Aash—is now known as the Jikaria Sisters and are popular for posting original choreographed dances that combine different South Asian and Western dance styles. With 538,000 followers on TikTok, 45,000 followers on Instagram and 3,000 YouTube subscribers the sisters reach people around the world who recreate their viral dances and take their classes. They have contributed to shaping an online community for the South Asian diaspora.
https://www.instagram.com/p/CAAwvRcl1Ul
Origins
The Jikaria Sisters' parents immigrated to the United States in the 1980s from Gujrat, India and resided in Brooklyn where they were born and raised. It's a city that offered a diverse range of cultures and activities, which helped the Jikaria Sisters develop a strong Indian-American hyphenated identity; they were brought up in the American lifestyle, but have a solid connection to their Indian roots. 
"It would sometimes feel like we were living two lives—going to school and ballet on the weekdays, and spending our weekends at Indian dance classes in Queens and Long Island," the sisters said.
Owning Different Styles of Dance
As the sisters grew up and went to different high schools and colleges, they each developed their dance niche. 20-year-old Aash attended LaGuardia High School of Music & Art and Performing Arts—a magnet high school in Manhattan, New York whose alumni include Jennifer Aniston, Timothee Chalamet and Nicki Minaj. She developed her contemporary and hip-hop styles and became a dancer on the Goldrush dance team at Georgia Institute of Technology. 
Meanwhile, after her varsity cheerleading stint at Stuyvesant High School, 22-year-old Rish danced on two South Asian competitive dance teams—Emory SaRaas and Emory Karma Bhangra—at Emory University to develop her skills in these two Indian dance forms. 
After completing her undergraduate studies at Georgetown University, 26-year-old Omi lived and worked in Cambodia and India. She took bachata and salsa classes, dance forms she continued as she began her MBA program at Dartmouth University. 
COVID-19 and the Growth of Jikaria sisters
Once the COVID-19 lockdown began in the United States, the three sisters left each of their respective universities in March 2020 to travel back home. They took social distancing and other precautionary measures seriously, as their mother was a frontline healthcare worker who contracted the virus but later recovered. The sisters spent their days completing homework while taking dance classes online. They also used quarantine to focus on their relationships. They spent more time with their parents, who were typically home on the weekends and FaceTimed or Zoom-ed with friends and family around the world. 
Due to the lack of physical meetups, each of the sisters spent more time on social media platforms. Aash was the only one who had a TikTok account. She showed her sisters the dance trend to the song "Ayy Ladies" and convinced them to make their first video under a new account on March 23, which they would later name The Jikaria Sisters. 
https://www.instagram.com/p/CDg3hmkFPPt/
In the next few weeks, the sisters came across different TikTok trends. They started posting original choreographed dance videos that added Indian twists to already popular American trends like the "Oh Na Na" challenge dandiya twist, the Raas tootsie slide and the Garba Macarena. As their content slowly started to gain traction among the South Asian population, they began combining their unique dance styles—Aash's hip-hop and contemporary, Rish's bhangra and Omi's salsa—to fusion South Asian-American mixes by DJs.
On April 29, the Jikaria Sisters posted the Kamariya dance video that became a viral TikTok trend. In the next few days, the sisters saw a massive increase in their followers, and thousands of people around the world posted videos recreating their dance and tagging the Jikaria sisters. As they continued to post dance videos that combined their unique dance styles to fusion music and gained followers, the sisters expanded their online presence to Instagram and YouTube to make sure that they were accessible to all kinds of audiences. 
"Our dance family has grown quickly. We are incredibly grateful that so many people across the world resonate with our dances and message of spreading joy through dance during these turbulent and tough times," the sisters state.
Realizing a Responsibility
The Jikaria sisters are aware of the influence they yield over thousands of people living in the South Asian diaspora. As a result, they have tried to create a sense of community for South Asians online through their collaborations with artists. They also talk candidly about their experiences growing up Indian in the United States and spread awareness about important issues of the day.
As their brand grew, Omi, Rish and Aash frequently talked to their audience about the difficulty they faced regarding their identity. 
"Growing up, we felt as if our Indian and American identities were mutually exclusive; we did not think that both identities could co-exist. It was easy to feel as if engaging with our Indian identity made us less American and vice versa, mainly due to limited representation of South Asian Americans in mainstream media and positions of societal influence," they said.
As the three sisters learned more about themselves, befriended other South Asian Americans in college and joined various Indian dance teams or took classes they began to feel comfortable with their hyphenated identity. Now, they proudly express their Indian-American background by combining western and Indian dance styles in their choreography. They say their stylistic choices have resonated with many others who identify similarly.
As their platform grew, DJs began to reach out to the Jikaria Sisters with South Asian-American fusion mixes they created in the hopes that they would be used in future TikTok videos. Some of the artists the sisters have collaborated with so far include Penn Masala, Jai Matt, Tesher, Vishnu, Amsal and more. 
https://www.instagram.com/p/CDSfH-GlZ-F/
Paths Beyond Dancing  
The Jikaria Sisters have also done many clothing collaborations with Anita Dongre, the Sani Sisters, Lukh Studio, Sevin Kasran, No Shram Merch, Bolly Physique, Sajda by Suman and Bijal Vohra from StylushCouture. By working with South Asians whose missions align closely with theirs, the Jikaria Sisters create a space online to merge creative pursuits and showcase them. 
"We all bring in our diverse perspectives and mixed identities to create art that sticks," they said.
Additionally, the sisters have been using their social media accounts to call attention to racial justice efforts in the United States and how South Asians should get involved. They see it as their responsibility to learn more about the history in which many styles are rooted, such as how hip hop dance and music is predominantly influenced by Black culture. They also believe that South Asians have a significant role in dismantling the racial caste system, and frequently share calls to action to their fans and state their support for the movements. 
"We encourage everyone to educate themselves and challenge preconceived notions, be civically engaged by voting, and speaking up for policy change. Go beyond performative activism and change daily behaviors," the sisters say.
What's Next? 
Omi, Rish, and Aash want to assure their audience that they have actively been thinking about how to grow their brand after the pandemic ends. They hinted at more content to be released in the fall, including exciting collaborations. Longterm, the Jikaria Sisters want to go on a world tour and travel to other countries to meet their fans. In the meantime, they encourage everyone to stay safe during this difficult time.
"Though this pandemic has caused immeasurable damage and suffering to the world, we also believe it has been a much-needed pause where we can reflect on how we want to move forward in every aspect of our lives as a collective," they said. "We are grateful to have support from other communities, and we hope to continue to expand our reach. Dance is a universal language for expression that knows no bounds."