Diti Goradia's love story seems like it walked straight out of a Bollywood rom-com. She met her fiance, Arnav Roy, on the college bus in 2018 at Rutgers Business School in New Brunswick, New Jersey ("Kuch Kuch Hota Hain" vibes, anyone?). A self-proclaimed book nerd, Goradia and her 'frat boy fiance,' as she describes him, instantly connected over their common love for their childhood in Bombay. He knew right away that she was the one, while she needed a few more months to be certain.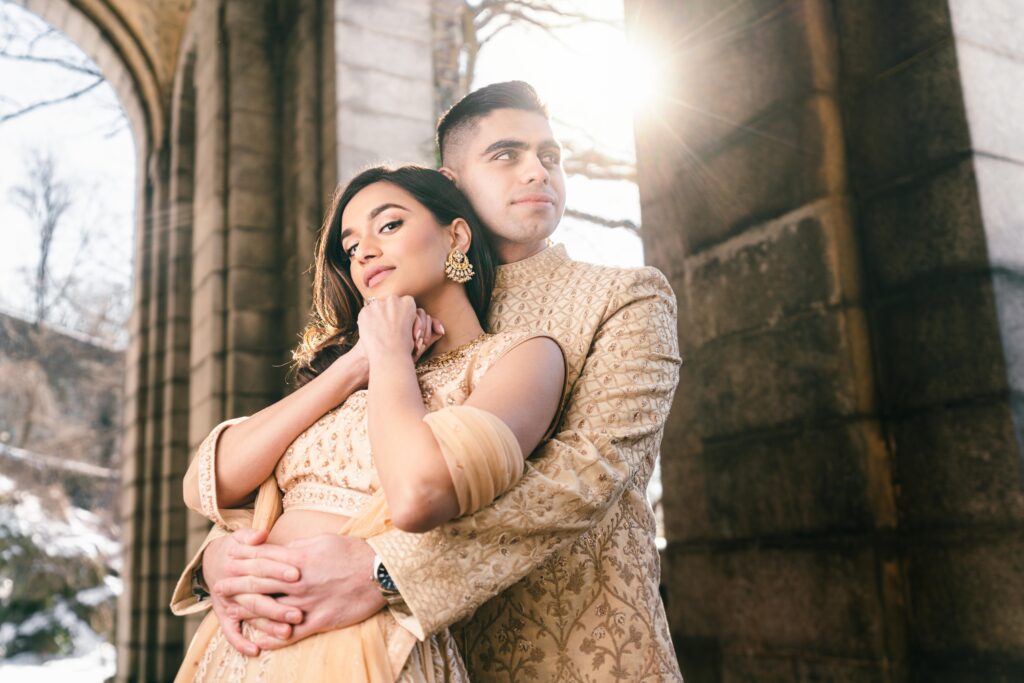 But unlike a Bollywood film, Goradia and Roy had a somewhat unconventional proposal. After a pandemic proposal, they'll have a wedding amidst the vaccine uptick. But the one part of the wedding was planned seamlessly and ahead of schedule — the couple's Anita Dongre bridal ensembles. 
"We were uncertain of the timeline, but always knew we were right for each other. After Arnav proposed in August 2020, we didn't want to wait for something that we didn't see an end to at the time," Goradia said. 
Roy planned the proposal in two separate parts. Their friends reenacted pivotal moments in their relationship with Roy's voiceover accompanying Goradia as she walked down a long pathway that led to Roy on his knee. Once she said yes and assumed the proposal was over, she was blindfolded and driven to a secret engagement party surprise where the rest of their friends and family were waiting. 
"It was one of the sweetest days of my life, filled with lots of ugly crying," Goradia said. 
And thus began the wedding preparations. Imagine a scene out of "Veerey Di Wedding" except in which the bride and groom are equally ecstatic about the process. Virtual planning has come with its obstacles considering the uncertainty of the world state and limited guest count. But as the world seems to be opening up, hopefully, Goradia and Roy are hopeful for a bigger wedding with family.
"Arnav and I were both born in India and that is where we hope to get married," Goradia said. "It's a place that is so so special to us. We feel a sense of family, community, culture, deeper-rooted traditions, and just overall where so much of Arnav and I lies. We hope that the world will be in a better place towards the end of this year and that our close friends and family members are able to travel and celebrate a new beginning."
The wedding will be a blend of both Bengali and Gujarati traditions, as Goradia states, along with elements of their American background. Tackling time zone differences, Goradia is constantly inundated with early morning and late-night calls communicating with vendors in India. Like a true Bollywood film, the location is still being held under wraps but it is one that has been chosen to reflect the merging of American, Bengali, and Gujarati cultures. 
"Something modern but also traditional," Goradia said.  
Much like Goradia and Roy themselves.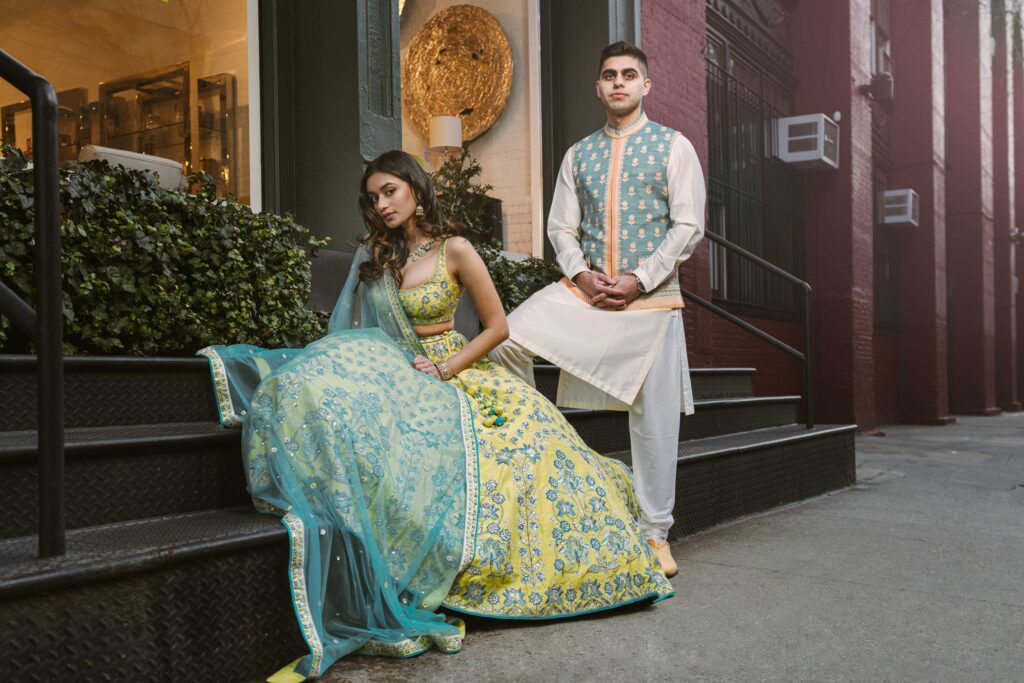 But not being able to travel constantly to check out location, figure out party favors, finalize invitations, arranging travel and accommodation for guests, to conceptualizing performances during the sangeet has been a time. The physical in-person moments of sampling cuisine, touching the fabric of one's wedding attire, selecting party favors are experiences that have been replaced with phone calls and zooms. And lots of googling. 
But much like the scene in a Bollywood film where the bride and groom are dressed in beautiful wedding clothes (you know the one) Goradia and Roy have had a montage scene of their own. In partnership with Anita Dongre, Goradia and Roy were able to sample beautiful designs and be part of a photo shoot. 
"I was honored to have the opportunity to shoot at the Anita Dongre location in SoHo, New York City," Goradia said. "Working with Sonal, the store's manager, was amazing. We touched base a month before the shoot to decide and pick out outfits, which she kept aside for us. It was like a kid in a candy store! I walked in and chose any lehengas I wanted to shoot. Seamless, overall."
Donning three outfits each, Goradia and Roy took part in the photoshoot around the storefront's location along with the MET Cloisters. The juxtaposition of the South Asian design with the backdrop of New York, with its narrow streets and taxis galore, truly encapsulates how multicultural this wedding will be. The Anita Dongre storefront in SoHo is truly the epitome of bridging the gap for couples who would have traveled to their homeland to begin the process of wedding shopping. 
"I love Anita Dongre's pieces and specifically the intricacies and detailing of her work," Goradia said. "However, what drew me more to this designer are her principles behind the business. As I plan my own wedding with similar principles — sustainability and giving women/smaller businesses a platform — I'm seeing the same mindset being applied in how I choose my vendors and designers for the big day."
The House of Anita Dongre, in fact, has set up 'Community Tailoring Units' in rural Maharashtra, India where marginalized and needy tribal women are trained professionally to make garments. Under the Anita Dongre Foundation's women empowerment, they are also given sustained livelihood opportunities. 
"I want to feel beautiful, but also have a purpose,' Goradia said. 
This is exactly what Goradia and Roy embody — beauty and the purposeful will to plan a wedding in the midst of a pandemic while also creating a positive socio-economic impact. A Bollywood film for pandemic times. 
——
LOCATION:
Anita Dongre 473 W Broadway, New York, NY 10012
~ Store Manager: Sonal Rathi ~ Contact (917) 972-6328
CREDITS:
Muses: Diti Goradia & Arnav Roy
MUA and Styling: Preeti Reilly
Photographer: Swapnil Junjare
Assistant: Hetal Patel