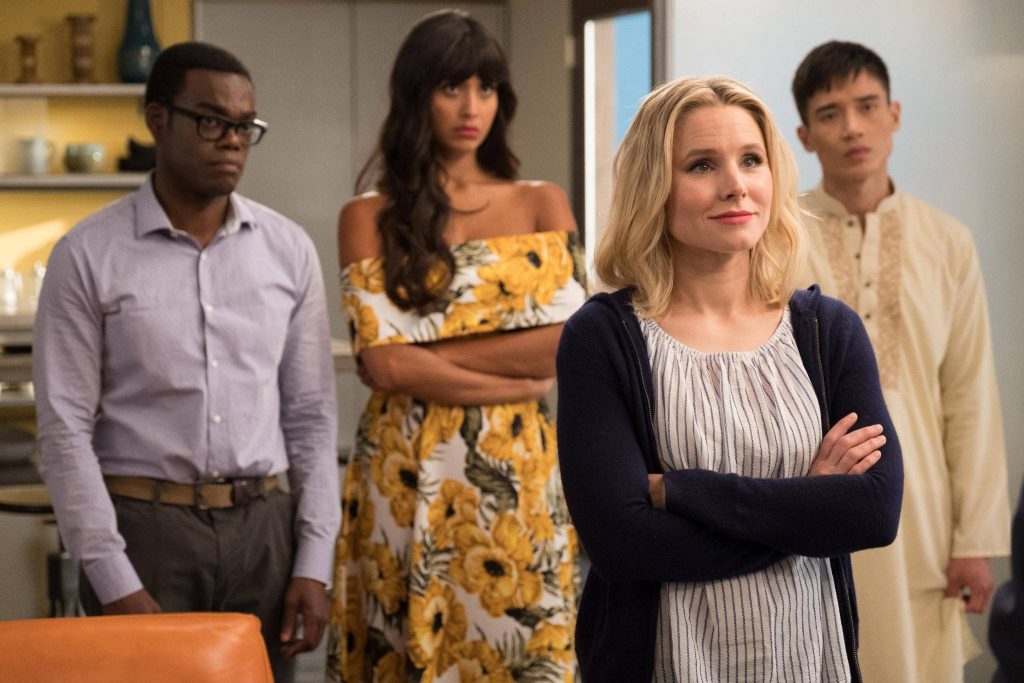 by Saloni Gajjar – Follow @browngirlmag 
Fictional comedy on television is such a gift right now. Don't tell me you couldn't use a little more humor in your life. There's too much going on politically that makes it easy to feel sad and sorry for the world. Sometimes all you need is your couch, some great food, and a solid TV show to give you company.

(Photo Source: GIPHY)
Especially now, it's okay to just sink yourself in some damn good comedy. It's an escape we could all use. Fall TV is literally the best time to fall in love with some of the best shows that are on right now.
Here are some seriously great television gems you don't want to miss. They'll go perfectly with your pumpkin spiced everything.
If You're in the Mood for a Smart Comedy:
What makes these two fall TV shows extremely witty is, obviously, the stellar writing. Both shows are very different but packed with twists you don't see coming.
"The Good Place"
Eleanor Shellstrop (Kristen Bell) dies and goes to heaven aka the good place, where she meets the architect of her neighborhood, Michael (Ted Danson). Only those people who lived their lives in service of others get to be here. Eleanor quickly realizes she doesn't belong, especially because of her neighborhood experiences glitches once she arrives. To make things better, she decides to finally learn how to be a good person.
P.S.: Watch out for Jameela Jamil and Tiya Sircar, fellow South Asians who rock their comedic skills on the show.
Season 1 is available on Netflix, season 2 currently airs on NBC.
"Last Man on Earth"
After a virus hits the planet, the population is basically extinct save for Phil Miller (Will Forte), the last man alive. Or so he thought. He slowly starts meeting other survivors who band together to make the most of their horrid situation. You would think the apocalypse wouldn't be much cause for laughter but this comedy flips the script, making way for brilliant, hilarious, heartwarming stories.
Seasons 1-3 are available to stream on Hulu, season 4 currently airs on FOX.
If You're in the Mood for a Realistic Comedy:
I know, comedies are meant to be an escape. However, it's easy to relate to and root for characters on television in whom you see yourself. That's what these two shows do.
"Better Things"
Single mother and actress Sam Fox (Pamela Adlon) lives a very bittersweet life. She's divorced and raising three daughters, each intricately different from the other, while struggling in her relationship with her own mother. The show balances the lightness and humor well with the sometimes dark, sad reality of life. It ventures out of the comfort zone of zany comedies, giving us a real yet somehow fresh story.
Season 1 is available on FX and Hulu, season 2 currently airs on FX
"You're the Worst"
If you've ever wondered what happens when two extremely narcissistic people are in a relationship, look no further. Gretchen (Aya Cash) and Jimmy (Chris Geere) have a roller coaster of a dating life. They're both selfish and judgmental but together there's some real hope there because they make each other better. The show matures with age, with season 2 shining a real light on clinical depression and how it can have a long term impact relationships.
Seasons 1-3 are available on FX and Hulu, season 4 currently airs on FXX
If You're in the Mood for a Modern Sitcom:
I say modern because it's an updated take on your traditional sitcoms, featuring families of color. They do an important, much-needed job: Expanding American audiences view of cultural diversity.
"Fresh Off the Boat"
Set in the 80s, the Huangs move from their cushy home in Washington D.C.'s Chinatown to Orlando's suburbs to live out their American dream and run a steakhouse. It's a big adjustment for everyone in the family, which includes Jessica (Constance Wu) and Louis (Randall Park), their three sons and Louis's mother. The show's strength lies in the fabulous way of handling how the family straddles their dual cultures, including episodes highlighting the importance of Chinese holidays and what it's like for them to visit their home country.
Seasons 1-3 are available on Hulu, season 4 currently airs on ABC
"Black-ish"
This Emmy-nominated comedy has a lot going for it, mainly their two leads Anthony Anderson and Tracee Ellis Ross, who play Andre and Rainbow Johnson. They're both successful and rich, caring for their five kids and Dre's divorced parents. It moves away from the stereotypical portrayal of African-Americans, depicting them in a more realistic light. The show is as comical as it is pivotal because they don't shy away from engaging in conversations that matter such as police brutality and the current political environment.
Seasons 1-3 are available on Hulu, season 4 currently airs on ABC
If You're in the Mood for a Comedy with a Strong Female Lead:
There's just something empowering to see a formidable woman making strides, facing dilemmas, and overcoming all of it while finding lots of laughs along the way. That's what you'll find here.
"Crazy Ex-Girlfriend"
Rebecca Bunch (Rachel Bloom) gives up her flourishing law career in New York City to move to West Covina, California with the hopes of reuniting with her ex from summer camp. She makes grand plans to trick him into falling in love with her again, learning about her own insecurities in the process. You would think a show titled like this one would be chock-full of archetype characters. However, what it does is take those archetypes and gives them depth, uniqueness, and humor. Plus, "Crazy Ex-Girlfriend" is a really great musical, giving you original and wacky new songs with each episode.
Seasons 1-2 are available on Netflix, season 3 currently airs on The CW
"Jane The Virgin"
Jane Villanueva (Gina Rodriguez) is a smart young writer who is accidentally artificially inseminated and becomes an unexpectedly expectant mother. This leads to quite the love triangle between Jane, her fiance, and her baby daddy. On paper it sounds ridiculous and rightly so because it takes inspiration from telenovelas but still remains very grounded. It's that ideal show which works for everyone. It's got humor, heart, suspense without mashing up genres, creating something genuinely funny and sweet.
Seasons 1-3 are available on Netflix, season 4 currently airs on The CW
If You're in the Mood for a Solid Family Comedy:
Because sometimes there's nothing better than huddling with your own family, all set for the laughs, courtesy of TV families that are as zany as yours.
"The Middle"
The Hecks are an always down on their luck family who live in Orson, Indiana aka "the middle" of nowhere. They're always just trying to meet the bare minimum in life, living in a house that can break down at any second. Unlike other sitcoms, this one thrives because it doesn't try too hard with anything fancy or flashy. It's simple and easy to fall in love with. Each character is equipped with enough quirks to last a lifetime.
The ninth and final season currently airs on ABC
"Speechless"
The DiMeos are always finding it hard to function on a day-to-day basis because they're incredibly different from one another, it's a wonder how they're surviving. The show focuses on their strong bond despite these differences as they build their lives around the eldest son JJ (Micah Fowler), who has cerebral palsy. It's easy for television comedies to depict cerebral palsy in a crass, demeaning way but "Speechless" aces it, making it a huge step forward for representing people with disabilities.
Season 2 is currently airing on ABC.
If You're in the Mood for a Workplace (& Romantic) Comedy:
For those weekends when you just want to lay back and immerse yourself in gratifying Fall TV stories which are easy to binge-watch.
"Brooklyn 99"
This highly entertaining procedural comedy is about quirky cops who occupy the 99th police precinct in Brooklyn, solving crimes and building friendships as they go. At the center of it are two officers, Jake (Andy Samberg) and Amy (Melissa Fumero). Their slow burn romance will remind you of iconic couples like Jim and Pam from "The Office" or Leslie and Ben from "Parks and Recreation." It's all truly aww-inducing.
Seasons 1-4 are available on Hulu, season 5 currently airs on FOX
"The Mindy Project"
OB-GYN Mindy Lahiri (Mindy Kaling) is always on the quest of finding her right man, making it a rom-com by default because it takes inspiration from the big-screen hits like "Sleepless in Seattle." After quite the buildup, she enters in a really steamy on-and-off relationship with Dr. Danny Castellano (Chris Messina). They have some heartwarming times and some issues as well but it's enough to reel you in. The other doctors and nurses at their practice are equally nutty, making the show a rapid succession of hilarious one-liners.
Besides, kudos for Kaling because she writes, stars in, and produces this show, breaking barriers as the first South Asian-American woman to do so,
Seasons 1-5 are available on Hulu while the sixth and final season is currently airing on the streaming platform
---
Saloni Gajjar is a recent alum of NYU's Magazine Writing Program. Her passion lies in pop culture writing, as is evident in her work with magazines like Marie Claire, Interview, and Complex. Her goal is to show the arts as a medium and mirror of the society, much beyond just entertainment.