by Rimsha Syed – Follow @BrownGirlMag
On Tuesday morning President Donald Trump ordered an end to the Obama-era executive action, Deferred Action for Childhood Arrivals (DACA), which shields nearly 800,000 undocumented immigrants who entered the country as minors from deportation. DACA protects "dreamers" from deportation, but also allows them to receive higher education, obtain a valid driver's license, and legally secure jobs.
DACA will no longer accept new applicants and the fate of those already under its protection is in the hands of congress. The cancellation of this program will be delayed for six months to give Congress time to enact a replacement plan for DACA recipients. Playing with lives of people who have made this country their home because of arbitrary borders on stolen land is unethical.
My brother, a second-year student at Stanford medical school, Sharjeel Syed, is one of the many students whose life could be turned upside-down as a result of the termination of DACA. My brother, amongst the hundreds of thousands of immigrants of color, deserves to achieve "The American Dream" as much as anyone else.
"I started worrying about my status as soon as Trump was elected," said Syed. "There's a lot of doubt and if something doesn't come about that protects DACA recipients I could get kicked out of the country, and all my work until now will have been for nothing."
My brother's status has always been a painstakingly clear obstacle throughout his life, but I had never imagined that the possibility of deportation could open up under Trump's presidency. I can't fathom the thought of my best friend being unjustly kicked out of the country or even just facing the limitations of being undocumented.
Due to the six-month delay, DACA will end at different times for different people, ceasing on a rolling basis. According to the Center for American Progress, about 1,000 DACA recipients will lose their jobs every day until 2018, and nearly 10,000 students will lose their teachers.
The estimated 800,000 recipients of this program could be sitting right next to you in class terrified of ICE agents using the data collected under DACA to deport them. The Trump administration has access to delicate personal information outing dreamers that entrusted the government to protect them. Everything from employment history to home address of these individuals is in the possession of those who want to make America white again.
Dreamers, parents and loved ones, should know that their DACA and work permits are valid until expiration. DACA issuances and work permits expiring between now and March 5, 2018, must be submitted for renewal by October 5, 2017. Visit WeAreHereToStay for further resources and information on what action you can take.
Demonstrations have erupted across the country to vocalize disapproval of Trump's ill-intentioned decision. The emotional response to the termination of DACA prompted protesters, including undocumented immigrants, to arrange sit-ins and block traffic. Multiple demonstrators have reportedly been arrested at Trump Tower in Manhattan.
If Congress fails to pass a measure that protects DACA recipients, over 300,000 people may be at risk for deportation in 2018. With just a few months to pass immigration amendments, Trump proposed lawmakers to "do your job."
Forcing young adults to leave a country they call home and relocate to countries with no accommodations is unacceptable. We should #DefendDACA while acknowledging that it does not do enough for undocumented people. For five years DACA has allowed undocumented immigrants to live a "normal" life, go to college and earn more money. Despite DACA's false sense of security, the psychological trauma experienced by dreamers and their parents is unimaginably cruel.
It's ironic that the verdict to end DACA resides in the hands of descendants of refugees who stole indigenous land. Protect dreamers by any means necessary, not because they add to the economy, but because they are people. No one should have to prove their economic value to a system of white supremacy in order to gain sympathy. Existence is enough justification to understand how this short sighted decision could devastate the lives of nearly 800,000 people.
---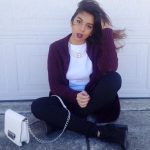 Rimsha Syed was born and raised deep in the heart of Texas. She is a young Muslim, feminist, Harry Potter enthusiast, who enjoys writing, blogging, photography and being a self-appointed activist. Rimsha attends the University of Texas at Austin and hopes to work for Doctors Without Borders or be a cardiothoracic surgeon. Usually pretty friendly unless she hasn't had her coffee.