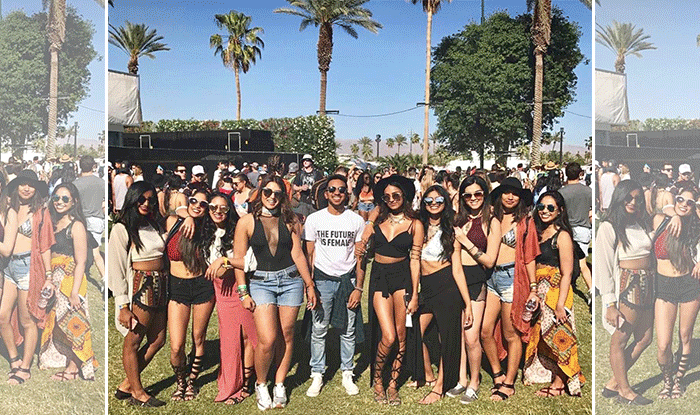 After an unforgiving winter, the sun is finally shining, the clocks have changed and it's officially the best season ever… FESTIVAL SEASON! And what does this call for? Festival season fashion! Music festivals are a fashion utopia in which tame adults ditch their work wardrobe and bask in the glory of more-is-more aesthetics. Festival fashion has evolved immensely in the past year. It's no longer just about flower crowns and unicorn hair, it's about self-expression—wearing things that make a statement about YOU. Each year more and more people use festivals as a fashion runway and source of inspiration for future trends. You become your own "artist" just by how you dress and carry yourself at these festivals.
If you're in need of some inspiration for festival season fashion, meaning you want to know what may spark your own desire for self-expression when it comes to your go-to music festival outfit, I've compiled a list of six popular trends at festivals. At the end of the day, coordinating clothes for a music festival isn't exactly rocket science… But there is a fine line between looking cool and looking confused (trust me, I've been there)….
1. Mesh and Tassels
One of the most popular trends all over festival grounds are the embroidered lace and mesh netting pieces, and tassels! Pretty much anything that gives you that textured feel! These outfits keep you cool while still looking chic. My personal favorite look is the mesh kimono or mesh cover-up paired with a bodysuit and shorts. Add some big statement necklaces and boom, you got yourself a festival winner.
Music festivals act as a space that allows the inversion of social norms, temporarily disrupting the prevailing social order. This is why fashion plays a huge role—you can dress and act like whoever you want to be without feeling judged. The true meaning of festival fashion is found in self-expression. – Nehal Tenany
View this post on Instagram
View this post on Instagram
2. High-waisted Panty & Crop Set
The high waisted panty & crop set is my favorite look because it's super simple, cost-effective and perfect for the heat. Feeling a little too exposed? You can put a mesh dress or kimono on top. Make sure to accessorize a lot!
View this post on Instagram
Festivals such as Coachella only come around once a year! Fashion is so important because you can express yourself without having to worry about what other people will say. You are your own stylist! Plus there are so many picture opps, doing the most is necessary. – Joty Kay
3. Denim
While music festivals can be a chockfull of eccentric fashion pairings, denim is a trend that won't be leaving anytime soon. Can't think of something to wear? You can't go wrong with the cutoff jean shorts, basic crop top and gladiator sandals look. This year we'll definitely be seeing a lot of denim jumpsuits, jackets, and vests—if you're feeling risky, try it out.
View this post on Instagram
View this post on Instagram
4. Bell-Bottom Pants
Bell-bottom pants are a festival classic, they give off the perfect boho vibe when paired with a crochet crop or any crop top for that matter. You can get funky with hippie patterned pants or keep it classy with the sheer pants. Because these pants have so much flare, you can definitely beat the heat.
Fashion equals art, and fashion at music festivals should be used to express not impress. I channel my inner mood or an icon I look up to as inspiration for my festival fits. – Nisha Panjabi
View this post on Instagram
5. Two-Piece Sets
Two-Piece Sets are perfect people who love patterns and aren't a fan of spending time mix-matching things. Some of my personal favorite patterns are vertical stripes, anything floral, animal print, and even solid colors. Since the outfit speaks for itself, you don't have to worry too much about accessories.
Festival style is all about embodying something or someone you didn't know you could be without hesitation and without inhibition. – Nisha Oza
View this post on Instagram
View this post on Instagram
So, which trend will you go for this year?