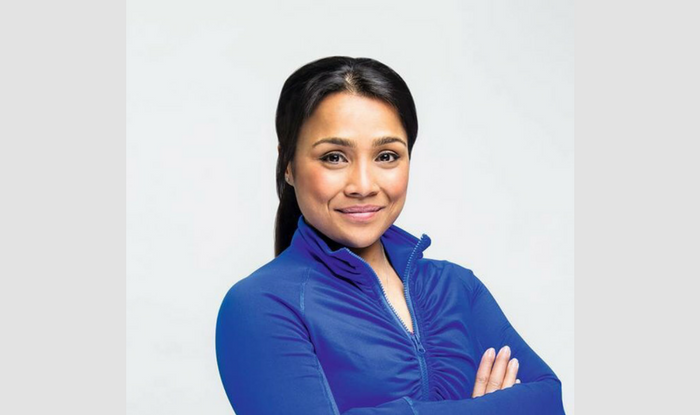 by Clare Ruel – Follow @ceruel83
Fitness Reborn UK, a mind and body transformation initiative through fitness and well being, kicked off the new year with the release of "The Better You" programme that includes a new prophetic diet and an e-book discussing fitness mind hacks. But don't be fooled, there isn't a behind-the-scenes army running the business — Nazia Khatun is the woman who is single-handedly operating Fitness Reborn. 
With most people falling short of their January gym goals last month, this fitness entrepreneur is no stranger to upheaval herself. After suffering from bulimia and depression in 2013, she reinvented herself as a body transformation coach. Khatun is an amateur boxer who grew up in a Bangladeshi household with five younger siblings, and it was the late Muhammad Ali's daughter, Laila, who inspired her to start boxing and facilitated her love of sport when she visited her college. Khatun, says,
"Fitness was the only thing that saved me, the hours I was in the gym training, nothing else mattered, every day I felt like a new person when I trained. That's how I came up with this principle that fitness allows me to be 'reborn' every single day. It's exactly what the fitness programme does, it inspires clients to be reborn through fitness. Fitness allows us to have inner control of our lives."
"The Better You" programme encourages people to identify why they are not getting the results they want and how to change that. It includes the Sunnah diet following the teachings of the prophet (pbuh) and also takes clients back to the basics of nutritional eating to lose body fat by cutting out processed food. Khatun added, 
"It's also about getting clients to fall in love with moving. If you can't get the technique correct then you can't get the results you want, so they have to perfect their walk, posture, squats and press-ups. By the third week people change and it's like watching a new person."
But this isn't your typical new year's health regime — the six-week programme focuses on eating for the individual's body type and includes streamed live workouts via social media which begins with a detox. Khatun's clients are of all ages — the eldest being 51 and the youngest aged 21.
"Too many people exercise or diet and don't get the results, I wanted to look at this process and focus on finding a formula. Finding a purpose is key, it ensures that clients end up sticking to the regime."
Khatun's e-book entitled "The 5 Hidden Mind Hacks for Sustainable Weight Loss for the Muslimah" explains five core principles to follow. It includes case studies, testimonials and what the clients have achieved whilst working with her. Khatun commented,
 "The book gives people an insight into what they are doing. Most people go to the gym and after two weeks they give up and put the weight on again.One of the five key principle's is finding a purpose, so before you start exercising you need to know 'why is it important for me to lose weight?' For example, for me, it would be that I need to be healthy and fit because I need to be a good role model for my clients. Others want to have more energy, they may want a new job or look after their children. A lot of people overlook the main purpose of getting fit and it's the most basic thing."
But as Khatun also highlights it's important to also know what body type you are in order to get the right results, which is why she also has an initial consultation with every client to identify goals, body type and use her expert knowledge to help them achieve success.
Khatun's unconventional approach of focusing on both mindset and purpose using social media as her medium has gained her a cult following on Instagram with a staggering 2,118 followers and another 1,116 on Facebook. She added,
"It is my duty to show clients their own potential by helping them to understand how to harness the mind, body and soul."
On a typical day, Khatun wakes up at around 7 a.m., after having a coffee, she prays, meditates and recites affirmations. She then spends about an hour and a half training, taking her first client at 10:30 am. She doesn't work a standard nine to five shift as it's important for her to be flexible and work around her client's schedules. Nazia has also racked up the attention of many females who have experienced domestic violence.
"When I first started I got the attention of domestic violence victims. I was fixing these broken females. In our community, we don't talk about things like sexual abuse, depression, mental health and domestic violence.These topics are associated with shame and honour; honour is the most important thing for the Asian community, often things get brushed under the carpet. It can create long-term depression, there's too much pressure on achievement and being successful."
One of her clients launched The Broken Bride campaign in December 2017 after completing a Fitness Reborn programme — a campaign that materialised from her own experience and wanting to help other women by allowing them to hear her story. It will encourage women to speak with confidence about their experience and obtain help through fitness.
Khatun said that many victims of domestic violence lose their confidence and too much importance is given to what others think — she pinpoints self-love as the way forward. 
"If you are able to move and exercise it takes away half of the burden allowing endorphins to kick in. Self-love should never be confused with being selfish, it's more about having respect for who you are as a person."
Khatun added that in five years' time that she would like to see Fitness Reborn UK being global. With aspirations of her having her own clothing brand, fitness app, and a studio, this is one fitness coach that is set to disrupt the industry.
---
Clare Ruel is a journalist, she has covered regional, lifestyle, politics, health, utilities and FinTech news for Onboard Hospitality, The Times Educational Supplement, The South West Londoner, IBS Intelligence and Utility Week. Her belief that story telling is a basic human need to understand societal trends and her background in sociology facilitated her career in journalism. When she's not story hunting, she enjoys yoga, dance, exploring and reading dystopian novels..