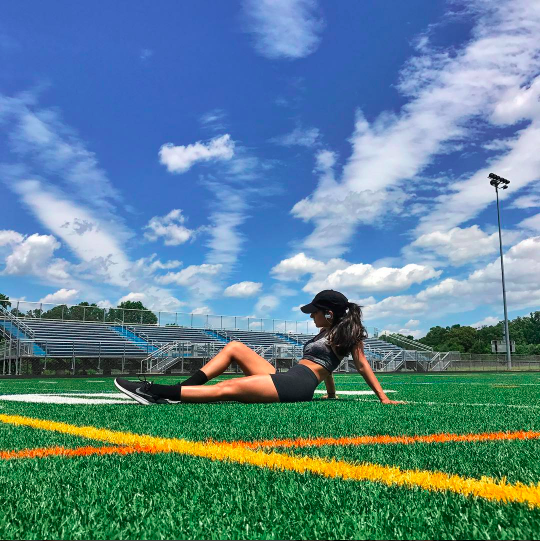 by Karishma Sharma – Follow @kaysharmaa
Sometimes when you're in bed after a long day with a bowl of popcorn, it's hard to find the motivation to get up and get moving at the gym. To help you get that extra motivation, each week I will share my interview with a must-follow South Asian female fitness guru. Check them out on Instagram and grab some unique tips for starting your own fitness journey!
Sheena Patel
Instagram: @liftwithsheenz | All photos are courtesy of Sheena Patel

Credentials:
Working towards a Masters in Public Health. In the process of getting an NASM personal trainer certification and becoming a Certified Lifetime professional.
What first got you into fitness?
I got into fitness because I wanted a new way to manage stress. I grew up a gymnast and never stepped foot in a weight room, until I was introduced to weight lifting. It became an outlet for me and I became hooked on to it.
What inspired you to share your fitness stories?
I was always training my friends for fun. I wanted to make an Instagram for fitness-related posts for the past few years but never got around to it for several reasons. I made @liftwithsheenz for personal tracking and accidentally linked it to my personal facebook (LOL)! What started out as a total accident ended up being an amazing account with now over 7,000 followers!
What is your favorite healthy meal and your cheat meal?
Quinoa with sautéed paneer and vegetables.

Ice-cream.

Favorite workout?
Leg day is my favorite. Favorite individual exercises: deadlifts.
What advice would you give to someone starting out their fitness journey?
"If you're intimidated to start working out in a gym setting, don't be! Everyone starts somewhere. People who understand and put the time into their own health and fitness respect those who are just starting out. Don't ever forget to value your self-worth.


You'll start to see life unfold in a different, yet beautiful way when you take control of your mental health and physical health. I believe everyone should do what they love to live the happiest life they can live. For me, it's fitness. It's a lifestyle that takes a little bit of motivation and a lot of self-discipline. It's what makes me feel most alive and grateful for life itself."
---
Karishm
a Sharma is a Bollywood Dance Fitness Instructor based in Minneapolis, MN. Her biggest hobby, her passion, and her dedication are all to fitness. She is also a dancer and is passionate about spreading her culture to those who may not be familiar. She aspires to keep her love of fitness alive each day in everything she does!