by Sruveera Sathi + by Anjali Bhakta
Sri Rao, is one of the first American-born Indians in the United States, an aspect of his identity which gives him a unique perspective on the Indian-American diaspora. His professional career began in the corporate world, then to writing and producing films in Bollywood and beyond, working with the likes of Sanjay Leela Bhansali and Yash Raj Films along the way.
His latest project is a cookbook titled "Bollywood Kitchen," which pairs his original mouthwatering recipes with modern Bollywood Movies, connecting the taste and flavors of his dishes to storylines of movies. Some of the pairs include: Devdas and naan crisps, Masala crusted salmon and Lagaan, Dil Se and Dosas, and many more.
I also spoke to Sri about his upbringing, his pivot from the finance to the entertainment industry, his perspective on Bollywood, and even the meaning of "authenticity" when it comes to Indian cuisine.
Brown Boy in a White Town
Born in the small town of Mechanicsburg, Pennsylvania and raised by one of two families of color that existed in an otherwise predominantly white and Christian community, Sri cites a dual upbringing. While he had a typical blue-collar caucasian upbringing outside of the home, he maintains being very traditionally Indian and Hindu inside the home. As many children of Indian immigrants can relate, some of the ways that culture was communicated in his household were through Indian cuisine, prepared by his mother, and through Bollywood movies, plopped in the VCR after dinner every night. Rao, originally from a South Indian, non-Hindi speaking background, mentions that was how he picked up Hindi: by reading subtitles and watching his culture being communicated to him through song, dance, and storytelling.  
His Creative Journey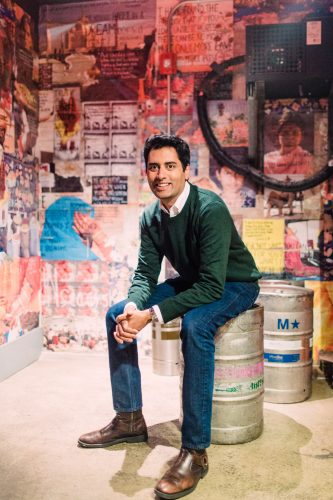 As for his creative journey, that began as early as kindergarten, when he wrote his first play. He nurtured this interest throughout his high school theatrical career during which he got the chance to write and direct more plays, but when the time came to go to college, Sri was at odds with his "good Indian immigrant parents" who he says, "were not about to go and let me study drama and literature." He thus ended up at University of Pennsylvania's Wharton School of Business after which, he secured a job in the corporate world in New York City. It wasn't long into his lucrative corporate career that Sri found himself at a crossroads. At 24, he had what most people would be content with: a well paying, stable, and glamorous job that had him jet-setting from NY to LA every week, however, he couldn't shake the cognitive dissonance that came with not pursuing his dreams. This was when he realized that it was time to make a choice.
"I took a leap of faith when I was young so that if I ever messed up, I could still go to grad school, get back into something else or my old job. So I quit my job."
Sri jumped in head first, taking filmmaking classes, to slowly but surely, become confident on his path to becoming a writer and director. His first big break came about as a result of both luck and hard work—a low budget play he put together by seeking actors using an ad he put out. The play was picked up, brought out to L.A., and wound up being the reason he got an agent. Aside from being the vehicle that helped him get his foot in the door, the play and the process of putting it together ended up being one of the best experiences of his professional life.
"Because we were all so young and struggling, the people I met throughout the course of putting together that play became some of my best friends to this day. We were all in it together chasing our dreams and it was incredible."
Bollywood's Evolution
Sri's TV and film career have brought him into contact with several of his professional heroes and allowed him to develop an insight into the Bollywood film industry. When asked about the changes that have taken place in Bollywood over the past few years, he mentions Bollywood films becoming more socially conscious and featuring female leads:
"Bollywood is going through a really interesting time in the past 5-10 years. If you notice in my book, a lot of the movies I've chosen have female protagonists at the center while also being commercially successful and critically acclaimed."
Indeed, movies like Piku, Queen, NH10, and Kahaani, all of which are his book contain, feature complex female leads and in many cases, don't even have a male star.
The Second Generation Indian American Take on "Authentic" Food
Regarding the food portion of his book, Sri wants to make Indian food accessible and flip the script on what "authentic" Indian food means. When asked about the term "authenticity," Sri asserts that authenticity is relative to an individual's experience.
Thus far, the Indian-American culinary space has been dictated for the most part by men, mainly North Indian, increasingly South Indian, who opened up restaurants recreating the food they grew up eating in India. Sri wants individuals to embrace a natural evolution of this trend by creating recipes that are authentic to their own Indian-American upbringing.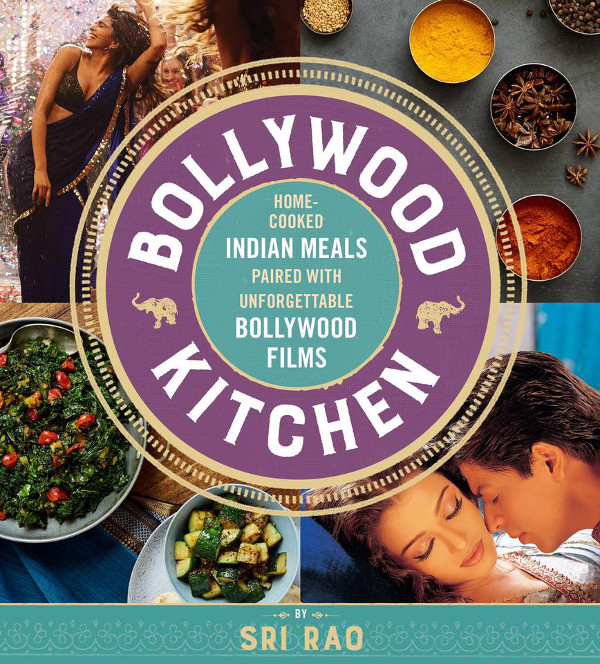 So yes, in his book, one can find recipes like beef kheema and mixed vegetable curry using those frozen mixed vegetable bags many of us grew up using. Even though traditionally, Hindu Indians tend not to eat beef, Sri says he included ingredients like beef because those were the items that were readily available in the United States, and thus authentic to his experience.
"I think that people actually fear that Indian food is super complicated and that it requires these exotic spices. And with my book, I'm saying you don't have to be intimidated of making it at home. In some ways, historically, we have exotified Indian cuisine. So yes if we pick up a Madhur Jaffrey cookbook, you'll come across techniques like dry roasting spices and all these ingredients that they use in India, but that's not the way I grew up eating."
He also contends that we are at a turning point in American history where 1st and 2nd generation Indian Americans have the opportunity to dictate culture. And he's right; with the major wave of Indian immigration taking place after 1965, first and second generation Indian-Americans as an immigrant group are just now coming of age. This means folks like Sri, whose parents immigrated in 1959, are now becoming old enough to write cookbooks, open restaurants, and tell their own stories.
"The reason that Mindy Kaling, Hasan Minhaj and Aziz Ansari are coming up right now is because we're finally old enough to come up. We are in an incredibly exciting moment because we are going to start outnumbering the people like our parents who were born in India."
A Full-Circle Moment
When asked how his mom responded to him making a cookbook, Sri replies that for the first six months, he actually didn't tell his mom he was writing it. When he did, her first response was:
"What American will pay to buy a book with your recipes in it?" Literally. It's always been like pulling teeth to get recipes out of my mom as it is with most Indian moms."
While she was a begrudging collaborator on the project initially, after seeing the book project was legitimate, she got on board. In fact, when the advance copies were available, she got really emotional.
"Most of her life, she's been referred to as just a housewife. After seeing not only my immigrant story but also her story being reflected in these pages, the book also turned into a tribute to her. She felt like she had an identity again."
Next Steps:
As for his next steps, Sri has many exciting projects in the pipeline, one being a new book, which will take the conversation further on Indian American culture and identity. He's also busy writing a pilot for a new show on ABC about the life of Madhuri Dixit starring Madhuri herself and Priyanka Chopra.
Fast Four:
1.The best thing you ate recently-both Indian and non-Indian? My mom's kheema which she makes with ground beef. As for non-Indian, I'd say Ice cream. I love trying new ice cream and recently had great Blue Bell ice cream from Texas.
2. A Brown Girl or Guy apart from family members, who inspires you? Hasan Minhaj. Talk about authenticity! He is not worried about what anyone else thinks. He is just telling his story and telling it so well.
3. Most significant accomplishment? Coming out. Because that is the thing that took most courage and most truth-telling
4. If you could create a Sri-Rao special menu, what would be on it for breakfast, lunch and dinner and dessert?
Breakfast: Tom Colliquiou french toast
Lunch: A slice of NY pizza from John's pizzeria in Time's Square
Dinner: A big Indian dinner with rasam, Sri's signature chicken, my mom's kheema, raita, green beans and peanuts recipe
Desert: Chocolate Chai Affogato  
Follow Sri Rao on twitter @NewYorkSri and purchase Bollywood Kitchen today for $17.99.