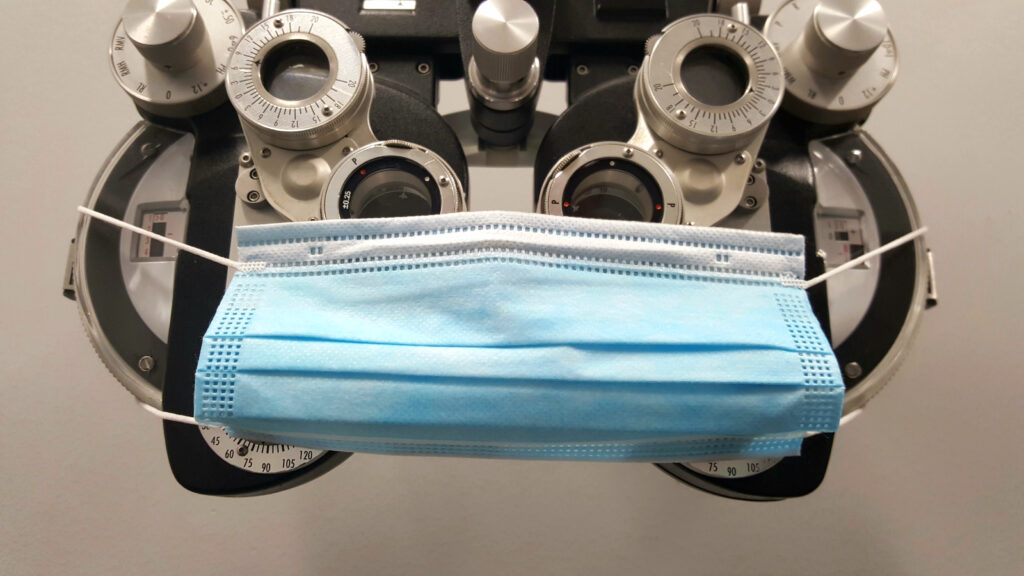 Not too long ago, it was December 31st, 2019. We stood wide-eyed with optimism on the precipice of a new decade and a new year. The future seemed ripe with promise, and I personally was looking forward to a special year. As an optometrist, the coupled words 'twenty-twenty' hold a certain amount of significance. I have nonchalantly said '20/20 vision' for years without a second thought. That simple phrase at the end of a prescription check conveys to a patient that everything in their eyes is normal and as it should be. It is synonymous with perfect vision. But now, thanks to COVID-19, twenty-twenty means something entirely different.    
I doubt any of us envisioned the year turning out the way that it has. Social distancing now means more than just avoiding your ex at a party, and surgical masks have become the accessory you never knew you needed. Not to mention that kids are getting record amounts of screen time, but just not in the way they imagined.
For our profession, ironically, 2020 has been a challenging year. Many colleagues have been furloughed or suffered pay cuts due to sparsely filled clinics and opticals. When there is an airborne virus around getting your eyes checked takes a backseat. After all, there is no such thing as a socially distanced eye exam. Thus, it is understandable why many would put their eye exam off indefinitely.
If you get your eye exam every year, as recommended by the American Optometric Association, the outcome of your exam is your prognosis for the next 12 months. Even if your prescription has remained the same, getting a new set of lenses in your glasses will make things appear sharper and crisper. You get a sense of renewal, and if you're lucky, clarity. Starting a new year is similarly a fresh view, or a reset, of what's to come.
Twenty-twenty vision is an objective measurement for something that is actually very subjective. It is not simply the smallest line of letters a patient can read on an eye chart. When light projects an image onto the retina, it sends a series of signals that travel up to the brain to be processed. The brain then contributes to different factors to give visual perception. Anything from a patient's memory, to their general well being, including what issues they may be carrying into the exam room could influence how well (or poor) their vision is. How hopeful we are about the future depends on how bitter or jaded we are after the past year. In short, we should remember not to carry our baggage from 2020 into 2021. 
Last December, in hopes of starting the year on the right foot, I tried to visualize my future differently. Instead of setting resolutions, I made a vision board. I was inspired after watching Lilly Singh's YouTube video. Lilly swears by them, insisting that the success that she has achieved over the past few years can be attributed to her properly making vision boards. The idea is to be as specific as possible with your goals and actualize them onto a poster board. After the vision board is made it should be placed somewhere you can see it daily.  
It seemed a bit corny at first, but once I grabbed a few magazines and a glue stick, I began to focus on what I really wanted in the next twelve months of my life. Interestingly enough, my vision board centered on being more present at home and spending quality time together as a family. Lily Singh promised me that a vision board would work, but I didn't expect it to be so on the money during a global pandemic!
With vaccine distribution on the horizon, we have reason to be hopeful for 2021. The past year will soon be in our rearview mirror, and we have no choice but to look ahead. Maybe rose-colored glasses need to start trending again. They get a bad rap, often hinting at delusion rather than optimism (which we need more of).
Even though the past year may not have turned out exactly as we liked, we still have lots to hope for. Maybe that's what 20/20 vision really means — having a brighter outlook for the future. 
---
The opinions expressed by the writer of this piece, and those providing comments thereon (collectively, the "Writers"), are theirs alone and do not necessarily reflect the opinions of Brown Girl Magazine, Inc., or any of its employees, directors, officers, affiliates, or assigns (collectively, "BGM"). BGM is not responsible for the accuracy of any of the information supplied by the Writers. It is not the intention of Brown Girl Magazine to malign any religion, ethnic group, club, organization, company, or individual. If you have a complaint about this content, please email us at Staff@browngirlmagazine.com. This post is subject to our Terms of Use and Privacy Policy. If you'd like to submit a guest post, please follow the guidelines we've set forth here.