For one of the most binge-worthy and nuttiest TV shows in the world (this is perhaps arguable considering there is "Big Boss India" & "Vanderpump Rules"), race has been an ideology that "The Bachelor" hasn't quite grasped. From incredibly racist and tone-deaf tweets by contestants, to the indefensible (and rather poor, might I add) defense of hateful rhetoric, to the lack of diversity in casting (there have been more Laurens cast than brown people), the TV show about love hasn't really shown a lot of love to people of colour.
I would be remiss not to mention the incredible Rachel Lindsay, the first black Bachelorette, or the all-encompassing (and too good for the show) Seinne Flemming, whose raw and impactful conversation about wanting a fairytale ending as a black woman touched so many. But these wonderful people of colour are scarce in the so-called "Bachelor nation." As a fan of the show and as a proud brown woman, I was elated to see Marikh Mathias, a woman with a similar amount of melanin as me, on season 22 of "The Bachelor." I was able to catch the stunning restaurateur/model/reality TV star to talk about being the first woman of Indian descent on the popular show.
If I were to tell my pretty liberal parents about wanting to be part of a reality TV show— which entails full-on make-out sessions with a man (who also happens to be kissing 21 other pairs of lips)—let's just say elated or supportive wouldn't be the emotions they would have. It would more likely resemble—hmmm—angry Kirron Kher in every angry Kirron Kher movie.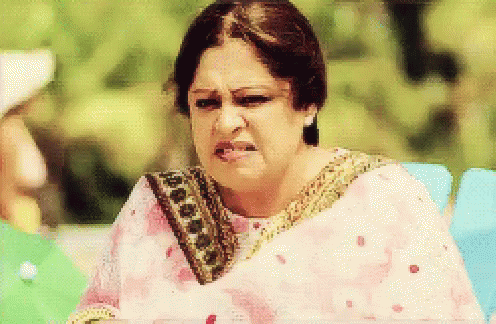 And just imagine the judgmental Aunty Jis and Uncle Jis! Luckily for Mathias, this didn't matter as much. She quipped:
Well, I was really lucky enough to have parents who were super supportive in me finding love, with my mom being part of my intro video.
While she added that she was very much aware of the stigma reality TV plays within certain conservative sects of the Indian-American community, Mathias saw the opportunity to go on "The Bachelor" as opening more doors for brown girls in general.
I do want to reiterate that I didn't see myself as a role model for brown girls, but I saw the opportunity for being the first female of Indian descent on "The Bachelor" as me being representative of the large brown community in the States.
Seeing a brown woman on a reality TV show, which predominantly shows white women, allows desi women to not be minimized to the stereotypical roles shown on TV: science and math nerds/a brown girl secretly dating a white guy her very conservative immigrant parents do not approve of/a brown girl rejected by a brown guy in favour of a white girl.
https://www.instagram.com/p/Bda1XkOlZUj/?utm_source=ig_web_copy_link
Mathias added:
Honestly, I didn't have any tone-deaf comments or stereotypically/casually racist comments thrown at me and in that aspect, I was lucky—although people can be a bit curious about my overall experience on "The Bachelor" as the first brown girl being cast. I've also haven't received hate on social media due to my race, which of course should be the norm, but unfortunately isn't in this political climate.
Speaking of politics, I asked her about being a person of colour in Trump's America.
Well 2008 was a year of such progression with Obama being the first black president and I definitely don't want our country to regress any further. Things are looking bleak but the silver lining is that a lot of people are becoming more and more conscious about different races and cultures—people are taking an effort to be more well-informed, which is a step in the right direction.
I was also curious about Mathias's life as a brown woman in Utah, an unwaveringly red state with a large Mormon and white population.
Growing up, sometimes it was hard to relate with a particular group of people, I always felt as if I wasn't Indian enough for the Indian kids and yet, I wasn't white enough for the white kids. Sometimes I did feel like I was more connected to the white kids because I am Christian—me being Christian has also helped me connect with white guys, too. At times, I did feel like I could connect with the Indian kids more because of certain foods my parents made at home and other simple things like that. I guess I've never wanted to isolate and or pigeonhole myself to one culture and the best way I see myself is being multicultural.
Mathias told me about how much she appreciates her multicultural heritage and views it as an innate advantage, especially with her tight-knit "Bachelor" family, which consists of mostly white women.
What's so nice about the show is that I made such incredible lifelong friendships and even though I didn't find love there, I've gotten to have an amazing group of friends. I definitely do see slight differences in terms of my upbringing or the way I look at things, but it's never hindered me from creating genuine friendships with my Bachelor friends.

"You know, Arie never really asked me about my race and I never really brought it up in our conversations, unlike Sienne," Mathias answered when I asked about whether she and the Bachelor himself had a conversation about her race. "My race is a significant part of my identity but I also didn't want my time on "The Bachelor" to just be clouded by my heritage. In a way, I wanted to remove the stereotypes and stigma Indians-Americans face by portraying how diverse our community is. Yes, being Indian-American and being brown is important to me, but it isn't the only thing that defines me," she explained.

"Had I gotten the opportunity to move forward in my relationship with Arie, I would have definitely shared all the beautiful things about my Indian culture, whether it was eating different Indian foods, wearing Indian clothes or even watching a Bollywood movie – I didn't get to that place with him."
Marikh was eliminated after week 5, in Fort Lauderdale.
https://www.instagram.com/p/BdtQ_L6lnY2/?utm_source=ig_web_copy_link
Speaking of Indian clothing, Mathias told me about how much she loves the diversity and richness of Indian attire.
I've always wanted to promote Indian fashion and I've actually worked to with a company, which works to promote Indian artisans globally. I was also part of Maxim India, which was a great opportunity too! Unfortunately, I don't get a lot of chances to wear traditional Desi clothes as much as I would like.
To wrap up the interview, I asked Mathias some quick questions.
"So, favourite Indian snack."

"Hmm, I'm not such a snacky person so I'm going to say something common: samosas."

"How about favourite Indian dish?"

"Right now, a good coconut korma curry!" she exclaimed.

"And favourite Bollywood movie?"

"Oh, definitely 'Devdas.'"

"What? It's so sad," I gasped.

"I know I know, but the costumes, the set, the screenplay—it's so perfect! And Aishwarya Rai literally looks like a doll, I love it so much," Mathias gushed.
I can agree with that.