What is the formula for leadership?
With this question, I kicked off a virtual workshop on leadership. This was the first of many sessions in the Leadership Lab, a three-month programme aimed at fostering leadership skills among Indian teenage girls. Through virtual workshops over the weekends and reflective activities during the weekdays, my fellow mentors and I set out to guide 18 young women from high school and college on a journey towards actualising their leadership potential. We were going to dissect essential aspects of leadership, like solving ethical dilemmas, building gender equality, making sound decisions, speaking effectively and mastering the art of professional communication.
Building leadership skills – but virtually
A pre-session poll had revealed a lot about the young change-makers who sat before me (or rather, inside my computer screen). When asked what leadership meant to them, they were full of answers. Some saw it as a collection of people-oriented qualities – like listening to others and positively influencing their lives while treating them with equality. Some saw it as a collaborative activity that involved motivating people to reach a common goal while still being friends with them. Yet others saw it as a vehicle for empowering the oppressed and fighting backlash. Of course, they were all correct. Leadership can be all these things. 
When asked about their leadership goals for the next five years, we found that some were aspiring towards concrete positions related to student councils, entrepreneurship, bureaucracy, data science and even astronomy. Others interpreted leadership as the skill of governing themselves by standing up for their decisions, choosing the right path and becoming the best versions of themselves. Some were open about the fact that they didn't yet know the answer. They simply wanted to learn about themselves and become effective leaders, no matter how their path looked. Again, all of them had gotten it absolutely right because leadership has many facets. My mentees' answers to my poll revealed that they were insightful, intelligent and ready to become agents of change.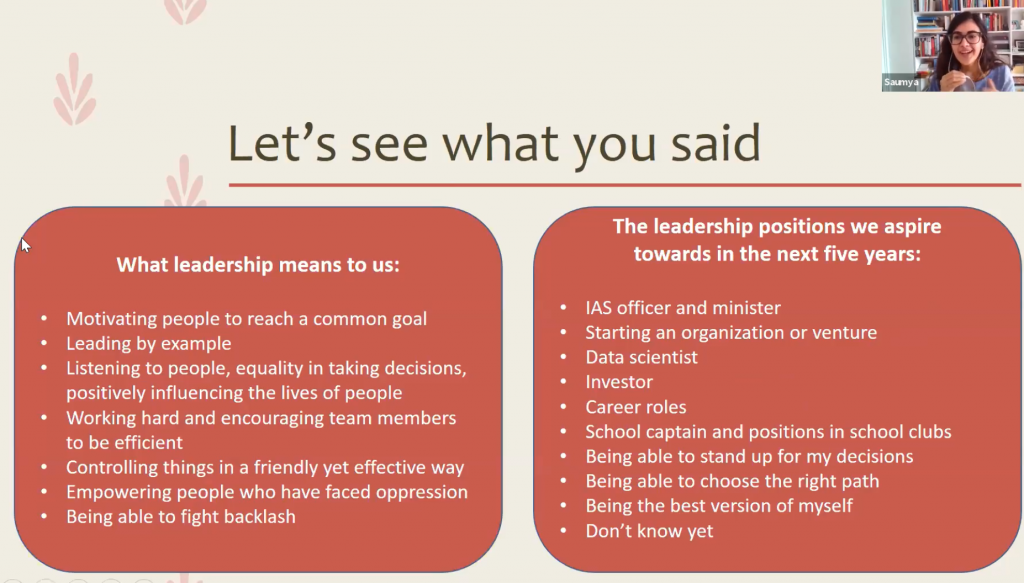 So what is the formula for leadership?
Let's go back to my earlier question: "What is the formula for leadership?" It should not come as a surprise that my mentees realised pretty quickly that this was a trick question. There is no formula or equation for becoming a leader. We — especially women — hear too many unhelpful contradictions about what we need in order to be a leader. We must lean in, lean out, accept the flow, reject the status quo, be more masculine, be less masculine, make work our way of life, or maintain a strict distinction between work and life. But you can't be a leader by fitting yourself into someone else's mould. Nor can you achieve leadership by working through a checklist of traits (e.g. loudness, strictness and extraversion) or by being assigned an official position (e.g. boss, captain, or CEO). 
We can only inspire a new generation of changemakers if we give them the space to create their own definitions of leadership. The first step is to dispel the persistent myths around it. As I told my mentees, none of the typical success factors (education, personality type and working style) should matter when it comes to their success. Leadership is simply about leading others, no matter which form this takes. In other words, leadership skills are whatever qualities you intuitively feel will allow you to become the kind of leader you aspire to be. 
This seemed to resonate among my mentees. They shared with me – during and after the session – how this broad definition made them see leadership in a new light and in atypical places. They began to see their aunts, mothers and friends as leaders. They identified leadership behaviours at home, in their schools and colleges and in their everyday lives. Having realised that looking out for their peers and community also counted as leadership, they recounted stories about defending someone being bullied and volunteering for social causes. They also told me they now understood that they didn't have to be appointed to a particular role to leverage leadership skills. Instead, they could become leaders today by taking initiative, supporting their loved ones and becoming better versions of themselves.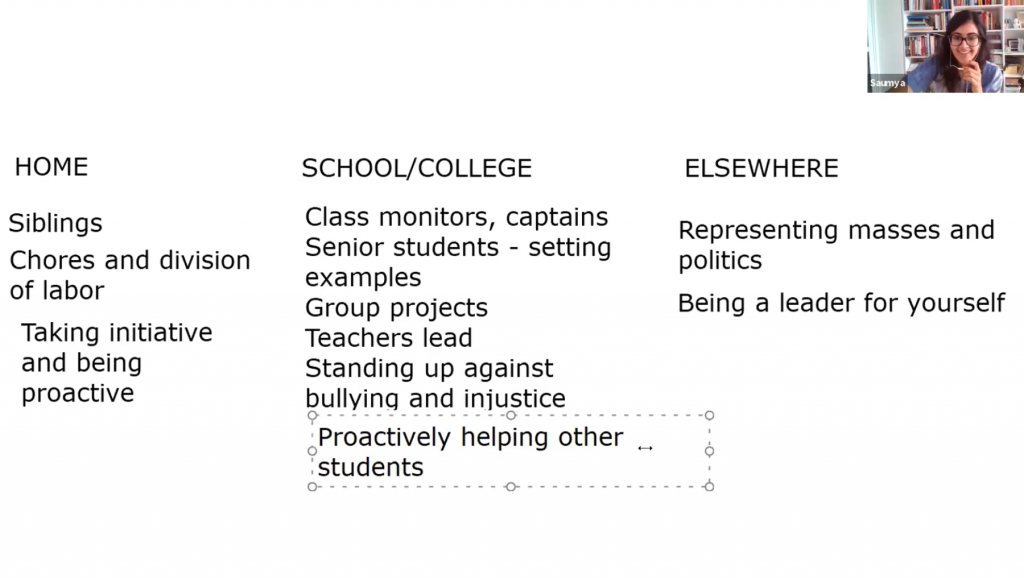 We developed a roadmap for leadership by working our way through a flowchart. We found that anyone could find their path, regardless of where they were in their leadership journey. We also talked about how each leadership skill has an opposite dimension that needs to be balanced. For instance, while a leader must lead with their heart, they also have to lead with their head, balancing passion with practicality. A leader should have a vision and see the big picture, while also focusing on the details and addressing the nitty-gritty. Further, a leader should be willing to get their hands dirty and do any job for the team, but they should also know how to delegate. 
Watching leadership skills unfold
Even in the month following our first session, I could see that leadership skills were beginning to blossom among the mentees. Their responses to reflective activities, messages in our WhatsApp groups and one-on-one discussions made it clear that of the various leadership skills we discussed in our session, many were already coming to the surface. The most remarkable leadership qualities that stood out to me were drive, diligence and people skills. 
Drive: 
Whenever our workshops ended, after more than two hours spent in an interactive session on a Sunday morning, I thought the mentees would be tired. I assumed they would want to take advantage of whatever was left of their weekend to refresh and recharge before returning to their hectic weekly schedules. Yet within hours of the session, they would message me asking me about the homework, or sending follow-up messages to continue our discussion. The mentees wanted more, and they wanted it now. The proactivity some of them showed towards their learning was incredible. It told me that they were excited about the leadership path they were on and that they were hungry to learn more.
Diligence: 
The reflective exercises I assigned before and after the sessions were intended to spur the mentees' thinking and to challenge them positively. They absolutely took on this challenge. I heard from one mentee that she first wrote out her answers on paper, then revised and re-wrote them, and finally, typed them up and uploaded them online to submit them. The process took her a long time, but she wanted to put her best foot forward by polishing her answers – and the results showed it! I also received questions from students about the assignments early in the week and could see in our shared documents that they gradually completed their work over a few days, taking the time to perfect their answers. The tenacity shown by the mentees to complete their assignments despite their academics and extra-curricular activities was incredibly heartening.
People skills:
Mentees eagerly jumped in to answer each other's questions on the WhatsApp group, answering logistical questions and sharing supportive emojis and messages in response to their peers' reflections on the group. When I noticed one mentee was struggling with a particular assignment, I sometimes asked another one if they'd be willing to help out. Each time, they enthusiastically agreed and offered to message their fellow mentee right away. It was clear that they were keen to lift each other up and lend a hand where they could.
Closing thoughts
Drive, diligence and people skills are just a few of the incredible qualities I'm seeing among my mentees. These will take them far. Drive will be the igniting factor that will launch their projects, ventures and personal growth initiatives. Diligence will keep them aligned to their focus and will better equip them to accomplish their goals. People skills will enable them to inspire their peers and create amazing things by leveraging their collective talents. It will also help them spread their great work far and wide and will make the whole process more rewarding. 
I loved that these leadership skills are brimming at the surface after only a month of the programme's launch. As we go through the next three months and beyond, I can't wait to see how the mentees — as well as us mentors — continue to flourish and become the leaders of tomorrow.
---
The opinions expressed by the writer of this piece, and those providing comments thereon (collectively, the "Writers"), are theirs alone and do not necessarily reflect the opinions of Brown Girl Magazine, Inc., or any of its employees, directors, officers, affiliates, or assigns (collectively, "BGM"). BGM is not responsible for the accuracy of any of the information supplied by the Writers. It is not the intention of Brown Girl Magazine to malign any religion, ethnic group, club, organization, company, or individual. If you have a complaint about this content, please email us at Staff@browngirlmagazine.com. This post is subject to our Terms of Use and Privacy Policy. If you'd like to submit a guest post, please follow the guidelines we've set forth here.