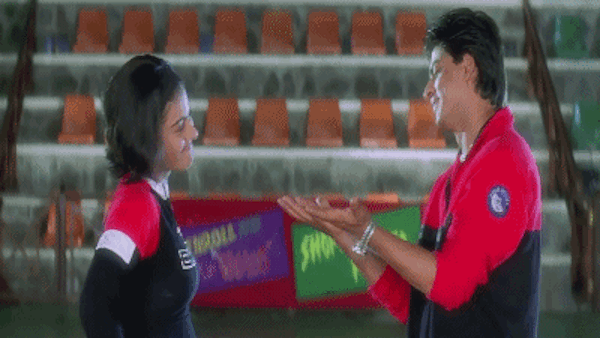 Every year, the International Day of Friendship, aka Friendship Day, is honored by traditional meet-ups, cute boomerangs, and super long paragraphs about how long certain people have been friends – either from when they were in diapers or the good ole' biochem days in college.
We celebrate this year's #FriendshipDay with these 10 classic Bollywood movies on friendship that are bound to get you and your friends laughing and reminiscing about the best moments spent together.
"Kuch Kuch Hota Hai"
This movie is the real deal, and one of the reasons why Friendship Day and the accompanying bands are popular in mainstream Indian culture. While "Kuch Kuch Hota Hai" does tell us that boys and girls who are friends probably means one of them is in love with the other, this movie does have some classic friendship moments that are sure to make you reminisce the good and the bad. Many of us still cry when Aman was sweet enough to let Anjali be reunited with her childhood bestie, Rahul, despite him being oblivious to and/or ignoring her feelings for so long (if this doesn't make my life a Bollywood movie idk what does). But in the end, "Pyaar Dosti Hai."
Mujhse Dosti Karoge
Another movie all about friendship and falling in love – clearly a theme in Bollywood. "Mujhse Dosti Karoge" stars Kareena Kapoor-Khan, Rani Mukherjee, and Hrithik Roshan, and focuses on three childhood friends, young Tina (Kapoor – Khan), Pooja (Mukherjee) and Raj (Roshan), and how love complicates their relationships as they get older. The plot mainly focuses how mistaken identity leads Raj to have feelings for Tina when he should have feelings for Pooja, and Pooja having feelings for Raj, but her feelings are not reciprocated for the first half of the film. As children, the three kids were best of friends, until Raj and his family move to London. He asks Tina to write him emails consistently, which she has no interest in doing. Being the dutiful friend, Pooja writes them under Tina's name. Years go by, and this love triangle endures roller coaster after roller coaster. But in the end, friendship stays true.
"Zindagi Na Milegi Dobara"
"Zindagi Na Milegi Dobara," or ZNMD, is a movie on the road and a story of self-discovery, but it shines because of the deep and complicated friendship of its three main characters. The boys' inside jokes and memories feel like our own, so watching the movie itself is like reuniting with old friends and going on an international adventure. And did we mention it's superbly directed by Zoya Akhtar? — Proma Khosla
"Andaz Apna Apna"
Perhaps one of the funniest Bollywood movies of all time, this cult movie is nothing if not the story of a legendary friendship (and perfect for Friendship Day). Though they start out as enemies (and generally useless humans), Amar and Prem are bonded for life by their scheming to get close to the heiress Raveena. Once they're actually in her life, the friendly rivalry disappears when they uncover a sinister plot by Raveena's uncle and have to fight kidnappers, thieves, and the notorious Crime Master Gogo. — Proma Khosla
"Rang De Basanti"
This movie honestly had it all: There were laughs, there were tears, and everything in between. When watching "Rang De Basanti," one understands that there is a more serious undertone between all the lighthearted jabs made by the protagonists, but it's only after a tragedy takes place later on that they have to take a closer look at the political situations taking place around them. With a bond as tight as this friend group is another group of friends shown in flashbacks: The freedom fighters who came before them and who they come to represent in the film. They remain there for each other and ready to fight all battles together, until the very end. — Jaspreet Singh
"Dostana"
Friendship is in the very title of this movie, which follows the story of two unlikely friends, desperately trying to find a place to live—played by Abhishek Bachchan and John Abraham—who must pretend to be a gay couple in order to move in with Priyanka Chopra. From awkward pretend-gay moments to a tortured mother (brilliantly played by Kirron Kher), beside herself with grief at her son's choice of a bridegroom, instead of a bride, "Dostana" takes us through a comedy of errors, that's just full on Bollywood entertainment. The friendship among all three characters becomes very real, and eye candy is just an added bonus. — Pooja Dhar
Maine Pyar Kiya
No listicle of friendship movies on Friendship Day is complete without this feel-good romance featuring Salman Khan, in arguably one of his best avatars, as the rich immature brat who evolves into a responsible and dedicated young man, and the terribly missed Bhagyashree as the young ingenue who falls in love above her station, and has to deal with the consequences before she's given a happy ending. "Dosti mein no sorry, no thank you," but you can thank us later for reminding/telling you of this movie! — Pooja Dhar
"Anand"
This Rajesh Kumar-Amitabh Bachchan starrer is a classic for more reasons than one. Rajesh Khanna plays the role of Anand, an endearing, happy-go-lucky, eternal optimist, whom we quickly learn has an incurable form of cancer. Amitabh Bachchan plays his doctor and close friend, who is of a much more serious and reserved nature, and must slowly and helplessly watch his friend valiantly fight his illness, as he draws those around him even closer. So many heart-wrenching tributes to love and friendship in this movie, it's sure to be one of those movies you'll binge-watch over and over, especially when you're ready for tears during your Friendship Day movie marathon. — Pooja Dhar
"Kal Ho Na Ho"
The friendship between Shahrukh Khan and Saif Ali Khan is so infectious in this movie, it spurred the trend of the two of them hosting a gazillion award ceremonies together. Chock-full of inappropriate humor, bittersweet moments and tears, this movie follows the character of Shahrukh Khan, who engineers a love story between a girl in love with him, Preity Zinta, and her best friend (who then becomes his friend), Saif Ali Khan. Can't give too much away for those who haven't gotten around to watching it yet (but we are silently judging you)! — Pooja Dhar
Dil Chahta Hai
https://www.youtube.com/watch?v=CMVVJjqYLPY
Before there was ZNMD, there was Farhan Akhtar's groundbreaking 2001 directorial debut, "Dil Chahta Hai." This movie has everything. A killer soundtrack (S-E-L's breakout album), nuanced storylines, excellent character development, and beautiful shots of Goa and Sydney. What stands out is the complicated and beautiful friendship among its three protagonists and the depiction of how friendship evolves due to time and circumstance. Personally, one of my favorite parts is the subplot involving Akshaye Khanna and Dimple Kapadia. I'm not going to spoil it, but very few Hindi movies explored that kind of story before or since "Dil Chahta Hai." This is (thankfully) a movie that has aged well, and is always guaranteed to make you feel all your feels, whether on Friendship Day or for any casual viewing. — Shruti Tarigoppula
BONUS: "SHOLAY"
https://www.youtube.com/watch?v=91z_Q39uu1Q
What better way to end a list of Bollywood films for Friendship Day than to include the iconic film and song that literally personifies friendship?