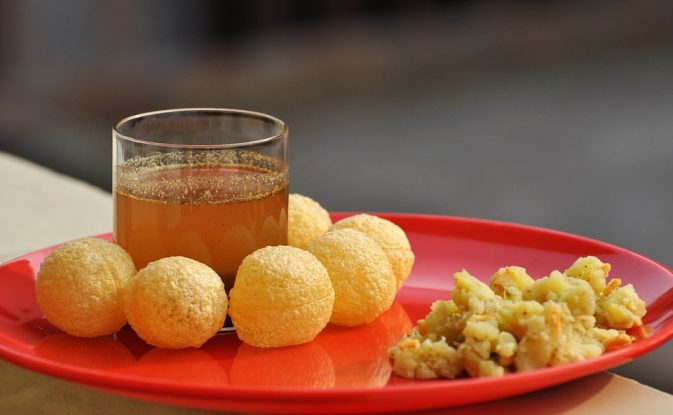 By Karthyani Satish – Follow @browngirlmag

As the world globalizes and nations connect, we are seeing more and more mixing of cultures, whether it's food, music, or dress. This is a fact further enhanced by the increase in immigration.  Food from the West has spread to every corner of the globe—you can grab a sub from your deli right before heading to your local falafel joint. India is no stranger to this phenomenon.
Where only small, mom-and-pop restaurants stood, now stand towering McDonalds and Pizza Huts, promising buy-one-get-one deals that will drown you in credit card savings as well your increasing levels of cholesterol, as the all-encompassing arms of multinationals wrap the economy—as well as the citizens—in an inescapable embrace. After-school snacks of *bhelpuri and *vada-pao have been exchanged for packets of brightly-colored Lays proclaiming exotic flavor names: American Style Cream and Onion! West Indies Sweet Chili! Spanish Tomato Tango! It almost makes you wonder what happened to the old staple: Classic Salted. That one, it seems, has been regaled to the reject pile of factories and of people's minds.
Teens rush past chaat-vendors and peanut-sellers hollering about their wares to get to the mall, where they will, undoubtedly, consume a pumpkin spice latte as they discuss the latest episode of "Rick and Morty." This will of course be followed by pizza, which has become the global staple for casual hangouts. Think about it; teenagers especially: when was the last time you met up with friends over anything EXCEPT pizza? See my point?
Now, I'm not saying any of that is wrong or bad in any way. I'm not immune to a good, greasy slice of pepperoni either, and sometimes, the only thing you want to have is a nice, bright-red carton of fries as golden as the McDonald's arches. I mean, this is the stuff of legends and 9GAG memes, not to mention hundreds of cheesy t-shirt slogans. Fries before guys, anyone?
But sometimes, there's nothing like the old classics, especially when you're home in India after a long year abroad. Firstly, the ubiquitous Indian street food and my personal favorite, the Pani Puri. A thin crispy layer of shell encompasses a beautiful, complex inside of sweet and spicy chutneys, *chana, and of course, the crowning jewel, *sev. It's not a delicate food, certainly not the kind you eat in front of someone you're trying to impress (shove it in your mouth whole or risk ruining your outfit with runaway streams of chutney). Eating Pani Puri is a skill you must gain, and that crunch you hear when you bite in? I'm convinced that is heaven's soundtrack. Excuse the hyperbole; it's been a long time since I've had one of these.
Next, the two dishes that could be culinary cousins, in a sense- Pao Bhaji and Vada Pao. Both are based on a soft chunk of bread, the Pao; but as they say of people, it's what's inside that makes the difference. Vada Pao includes a fried potato patty, the Vada, and two types of chutneys, while it's less portable cousin, the Pao Bhaji, is paired with a thick gravy, known, as you might expect, as the Bhaji. Clearly, while our Indian ancestors were great at coming up with amazing dishes, they weren't very imaginative when it came to their nomenclature.
And finally comes what just might be the most well-known thing on the list, gracing Michelin-starred menus as well as the dingiest cafeterias in the middle east, a love letter to Indian cooking and a suicide note to your heart health: the crisp, deep-fried samosa. There's nothing quite like it, anywhere else in the world; it's a lovingly wrapped packet filled with meat or vegetables or whatever you'd like.
The fact remains that no matter how many pizzas or amazing, golden fries I eat, the allure of Indian street food is something else entirely. It's a connection, a link that flows through my blood and has flowed through the veins of generations before me. It's almost a homing device, in a sense; stray too far and the memories of a hot plate of Pao Bhaji will bring you running back. No matter where I travel or where I live, I will find the nearest Indian restaurant ASAP. And if there isn't one? I will make my own. After all, what are all those MTR instant mixes stocked away for?
*bhelpuri: a traditional Indian snack of puffed rice, sauces and peanuts

*chana: chickpeas

*sev: fried dough sprinkles
---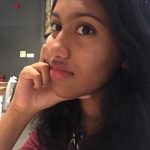 Karthyani Satish is an aspiring doctor/novelist, currently in high school. When she isn't rhapsodizing about George R R Martin or pondering existentialism, she can be found eating California Rolls and re-watching Marvel movies with her dog, Bruno. She also has a passion for Reese's Peanut Butter Cups and the intricacies of Westerosi politics.